In a divisional loss against the Dallas Cowboys, the New York Giants took a huge hit in the injury department, including quarterback Daniel Jones (concussion), Saquon Barkley (ankle), and Kenny Golladay (knee).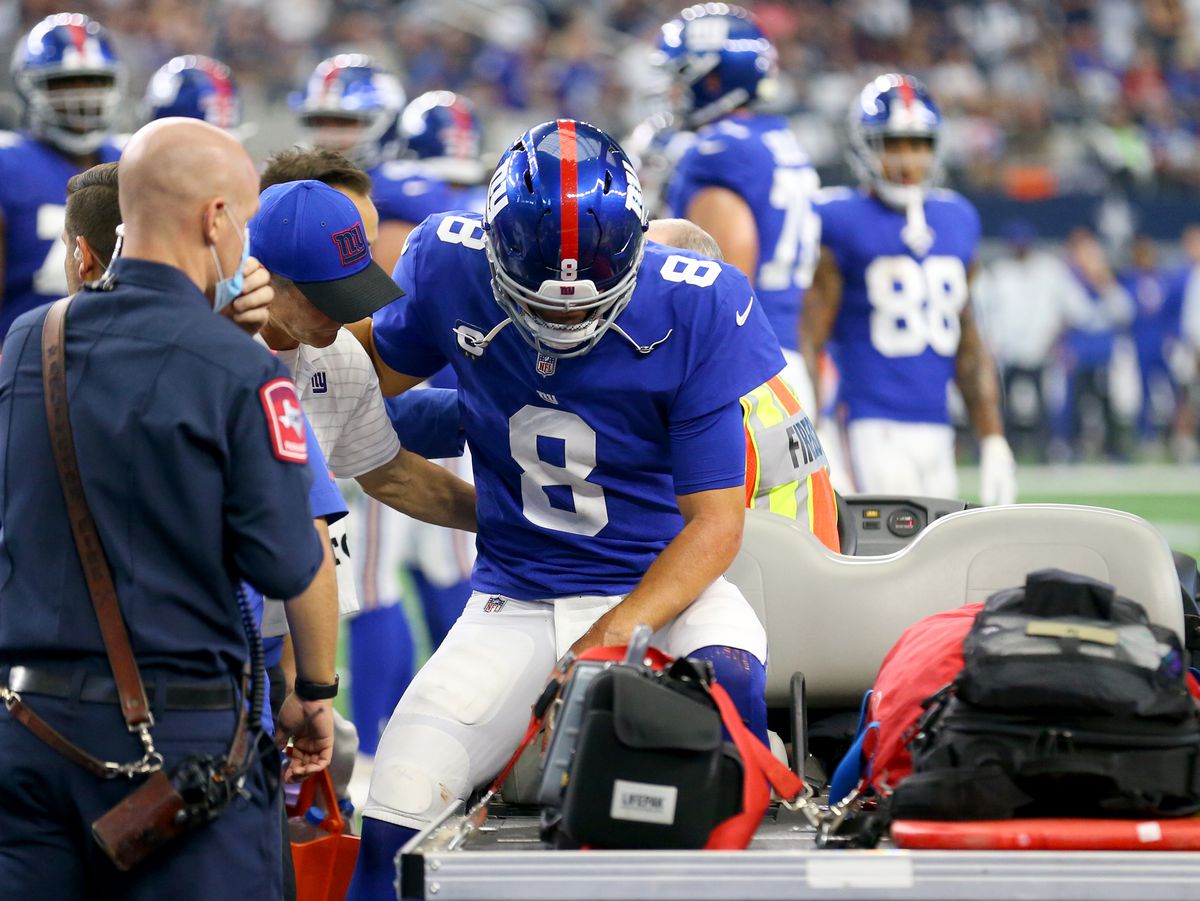 The Dallas Cowboys crushed the New York Giants 44-20 to win their fourth game in a row, while the Giants slipped to 1-4 on the season.
Barkley suffered his injury in the first quarter when he rolled his ankle after stepping on the foot of Jourdan Lewis. Barkley exited the game with a low-ankle sprain. X-rays were negative and the Giants were fortunate that Barkley didn't fracture his ankle.
The Giants incurred another bad beat with the injury as Barkley is expected to miss Week 6 action. This marks the third time in the previous four seasons the Giants' franchise running back went down with an injury, including a blown ACL last season.
"I care about the welfare and health of the player," said Giants head coach Joe Judge said. "We'll do the best thing by him."
Backup running back Devontae Booker played the remainder of the game. Booker rushed for 42 yards and a touchdown. He also added a touchdown reception and accounted for both of the Giants' touchdowns.
Jones went down late in the second quarter when he tried to score a touchdown at the goal line. He failed to score after a helmet-to-helmet hit from a Dallas defender. There was no flag on the play. A visibly woozy Jones, with drool hanging from his bottom lip, struggled to stand up. He wobbled back to the huddle and the Giants pulled him from the game with a concussion.
The Daniel Jones injury looks really bad to me. I apologize for the imagery. Look away if it is too much, but Jones appears to be foaming from the mouth after that helmet to helmet hit. #NFL pic.twitter.com/JyNkUiSElv

— Allen Lively (@AllenLivelyLOF) October 10, 2021
Backup quarterback Mike Glennon played the rest of the game. He finished 16-for-25 for 196 yards, one touchdown, and two interceptions.
The Giants also lost Kenny Golladay to a knee injury in the first half; he didn't have any receptions or targets. The Giants were already short in the wide receiver department with injuries to Sterling Shephard and Darius Slayton.