For a matchup between two top-10 teams, the odds on Georgia vs. Notre Dame are really long. Georgia opened as a 10.5 point favorite, but the line has moved to 14.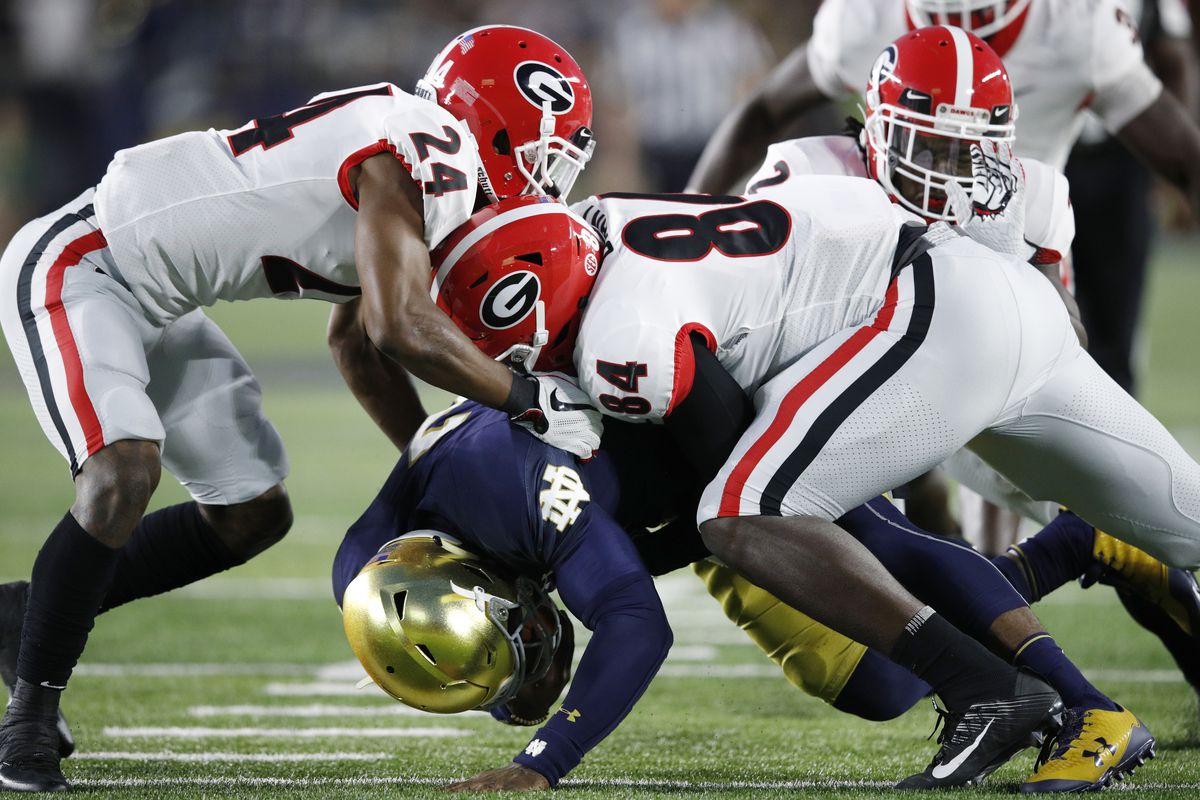 What do the oddsmakers see that would make a #7 Notre Dame squad a two touchdown underdog to the #3 Georgia Bulldogs? Are the top three or four teams in the AP Top 25 really that much better than the rest?
A Quarterback Duel
Both teams rely on an air attack, and both are led by big-number quarterbacks.
Jake Fromm leads Georgia into this game with a 3-0 record. This year, Fromm has a 75% completion rate with five touchdowns and zero interceptions. Of his 601 passing yards, 536 have come in the first half on 43 of his 56 passing attempts. Georgia may be running up big numbers, but they are doing it while resting their starters in the second half.
Notre Dame is quarterbacked by Ian Book. His 553 yards passing and six touchdowns have come in only two games. Like Fromm, Book hasn't thrown an interception this year, and has added two touchdowns running the ball.
If the quarterbacks are so evenly matched, where will the game be decided? 
Notre Dame relied heavily on a strong defense last season, when the Irish made the College Football Playoffs. But graduation has stripped that defense of seven starters and three often-playing backups. The question is, can the young Irish defense deal with the Georgia running game?
The Georgia Running Game
The Irish rank 120th nationally in rush defense (230 ypg). Those yards given up were against Louisville (35-17) and New Mexico (66-14). Georgia has five backs with at least 100 yards each, and we're only three games into the season. The Bulldog rushing attack is led by D'Andre Swift with 290 yards on 31 carries for a 9.4 yards per carry average.
Georgia is relying on an early game passing blitz, and a late-game, grind-it-out running game. Wearing down the Notre Dame defense, and then firing up those multiple backs to pound the Irish, might just be a path to a top-10 victory for the Bulldogs.
The question remains though — is there is any way to justify a two-touchdown spread for the Bulldogs against another top-10 seven team?
A Rivalry With a Short History
Two Power Five opponents should play more often. But, Saturday will mark only the third game between Notre Dame and Georgia. They met in the 1981 Sugar Bowl when #1 ranked Georgia, led by Herschel Walker, bested #7 Notre Dame 17-10. In 2017, as the front end of this home-and-home schedule, Georgia again won 20-19.
But, what makes this brief history a true rivalry, is what happened last year. Georgia felt the Irish took their place in the Championship Playoffs and, when the Irish lost 30-3 to eventual national champs Clemson, the Bulldog players took to social media to vent their frustration. The theme was clear. A former Georgian wide receiver tweeted "They say the best 4 teams, huh?" Other players piled on the Irish with similar social media outbursts.
Many of those words just might be posted on a bulletin board in the Notre Dame locker room this week.
For the savvy bettor, it may all come down to this; if the rankings are even close to being accurate, does Georgia' running game really make them that much of a favorite over Notre Dame? The spread has been going up all week, so maybe we'll see if the gap between the nation's #3 and #7 teams really is that large.