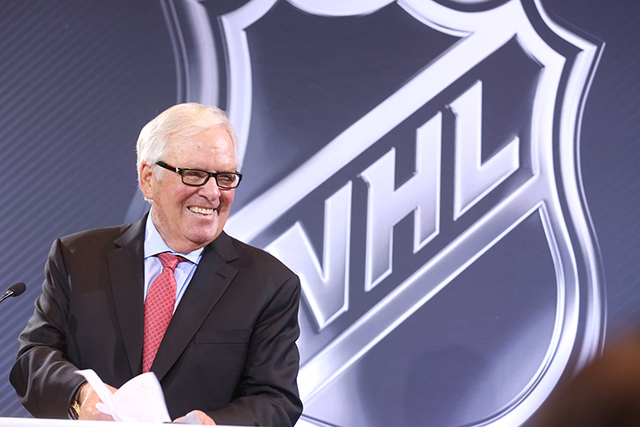 The National Hockey League (NHL) is coming to Las Vegas. On June 22, the league's 30 owners voted unanimously to permit an expansion team to be located in Las Vegas despite the region's legal sports betting market.
Fronted by businessman and Sin City resident Bill Foley and a group of unidentified investors, the team will pay a $500 million expansion fee to the NHL. After that sum is satisfied, Foley is ready to get to work.
"The first thing we're going to do is to establish what the culture is going to be for this team," Foley told reporters. "This team is going to be a team built to win . . . We're going to take care of our hockey players in every way possible."
The NHL's decision is a landmark victory for Las Vegas, the city without a pro sports team throughout its 111-year history largely because of the town's gambling-first mentality. For decades, leagues have expressed apprehensions in allowing a franchise to play their games steps from where gamblers are wagering on the outcomes.
Those trepidations have subsided, at least with hockey's elite.
"This expansion, our first since the 1997 expansion, follows months of extensive study, discussion, and deliberation involving a fair number of constituents," NHL Commissioner Gary Bettman said. "The result of that collaboration . . . is the arrival of the first major professional sports team in the vibrant, growing, and global destination city that is Las Vegas.
Tickets Selling Quickly
If you're wondering whether residents in the Mojave Desert have any interest in attending ice hockey games, tickets are already selling quickly on Foley's website VegasWantsHockey.com.
According to Foley, more than 14,000 people have put down deposits on season tickets, and the lower level center ice section is now sold out. Bettman said the enthusiasm played a role in the league approving the bid.
The T-Mobile Arena, which opened in April, will be the NHL franchise's home. The venue will sit 17,368 fans for hockey.
Foley explained that the team doesn't currently have a name, and he will work with both fans and the NHL to develop its persona. That said, the presumed frontrunner is the "Black Knights" due to Foley's attendance at West Point.
The team will commence play in the NHL with the start of the 2017 season. Las Vegas will draft its roster by selecting one player from each existing franchise, with the current teams able to protect a limited number of players.
Tip of the Iceberg
The Vegas heat on banning the NFL, MLB, NBA, and NHL from calling the desert home is cooling down. In addition to Foley's NHL squad, the NFL and MLB are considering moving a franchise to Las Vegas.
Oakland Raiders owner Mark Davis attended a Southern Nevada Tourism Infrastructure Committee in late April to make his case for relocating his NFL team to the city, and even pledged a lifetime commitment to local officials.
MLB Commissioner Rob Manfred also recently said he believes gambling in Las Vegas no longer prevents an issue for pro sports leagues.
And finally, NBA Commissioner Adam Silver, perhaps the most vocal critic of sports betting prohibition, wants to regulate the market to allow US residents to gamble on basketball games.