NFL Week 6 saw quarterbacks succeeding with both their arms and their legs, and an assistant coach who might think twice before chest-bumping with his much bigger player.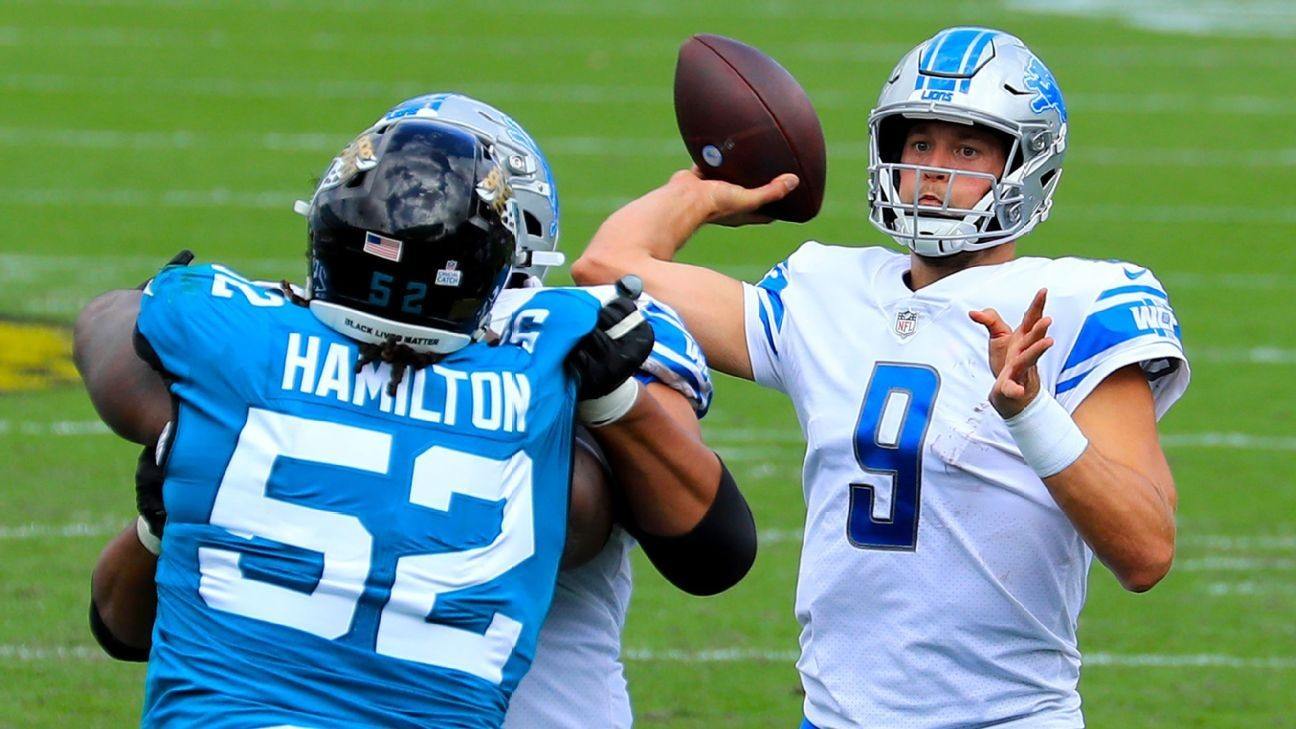 The quarterbacks — Baltimore's Lamar Jackson and Detroit's Matthew Stafford — made plays that illustrated their specific skill sets. Jackson beat defenders with his legs, while Stafford threw a pass that almost defied physics.
Also in Week 6, we saw some incredible plays by wide receivers, and an opportunistic fumble recovery.
Where Did He Go?
Why do coaches insist on celebrating with their players? It never seems to go well for them. Take this Miami assistant who decided to collide with defensive end Emmanuel Ogbah.
Coach tried to chest bump Ogbah and got sent off screen 😂 @EmanOgbah @MiamiDolphins

📺 #NYJvsMIA on CBS pic.twitter.com/5qm9L14VAY

— The Checkdown (@thecheckdown) October 18, 2020
The 6-4, 275-pound Ogbah checks the coach right out of the screen. Coach, a simple high-five will suffice next time.
Avoiding Pass Pressure
A lot is made of Kansas City quarterback Patrick Mahomes' arm strength, but Detroit Lions QB Matt Stafford had a pretty nifty throw during the team's victory over Jacksonville.
MATT STAFFORD DROPPING SIDE ARM DARTS 😤 @Lions

📺 #DETvsJAX on FOX pic.twitter.com/QhAzYYYVH0

— The Checkdown (@thecheckdown) October 18, 2020
Stafford's sidearm delivery eluded a leaping Jaguars defender to complete the pass to tight end Jesse James and keep the drive alive.
Don't Bet Against Lamar Jackson
It's not often wise to bet against Baltimore quarterback Lamar Jackson, especially after the Ravens build up a lead. Baltimore was already leading 17-6 when Jackson provided this nifty 37-yard scamper into the end zone.
Does anybody bet against Lamar?

If you did, there's time to make it right!
➡️ https://t.co/6nFGvNJf5Ypic.twitter.com/3yNbZmuaQ4

— Bovada (@BovadaOfficial) October 18, 2020
Jackson is 20-0 as a starter in games when the Ravens lead by at least 10 points. Baltimore defeated Philadelphia, 30-28, but failed to cover the 10-point spread.
Happy to be Back
No one was happier to see Atlanta wide receiver Julio Jones back on the field than his quarterback, Matt Ryan. Jones missed last week with an injury, but on Sunday against the Minnesota Vikings, looked like his All-Pro self while helping the Falcons get their first victory of the season.
JULIO JONES🔥

The Falcons (+3.5) are pouring it on in Minnesota.

— PointsBet Sportsbook (@PointsBetUSA) October 18, 2020
Ryan connected with Jones on this fourth-quarter touchdown pass, that Ryan credited Jones with making happen.
"You never know, so that was a great play by Julio," Ryan said. "Just his patience on the outside, kind of letting it develop. I think having played together for as long as we have, you kind of have a feel for what each other is going to do."
Look what I Found!
Those who bet Philadelphia running back Miles Sanders was going to get the first score of the game got a bad beat when he fumbled the ball on the five-yard line.
Fumble ➡️ Touchdown 🤯

That's a score for Arcega-Whiteside (+600)pic.twitter.com/ndmSw5jgWS

— BetMGM (@BetMGM) October 18, 2020
Those who had wide receiver JJ Arcega-Whiteside to score the first TD got rewarded at 6/1 when he picked up the loose ball in the end zone for the score.
Eye-Hand-Toe Coordination
Washington tight end Logan Thomas had a lot going on when he made this incredible touchdown catch on Sunday against the New York Giants.
Some one hand swag from Logan Thomas 🚨 @LoganThomasSr_6 @WashingtonNFL

📺 #WASvsNYG on FOX pic.twitter.com/ggghiNlBcL

— The Checkdown (@thecheckdown) October 18, 2020
The 29-year-old had a Giants defender hanging all over him, then had to make a catch in the corner of the end zone, while keeping his feet in bounds.