Mr. Money, the equine ATM machine, is heading to Saturday's $500,000, 1 1/8 mile West Virginia Derby. Trainer Bret Calhoun announced that his son of Goldencents is forgoing a chance to take on the elite of the three-year-old division in $1.25 million, 1 1/4 mile Travers Stakes on Aug. 24 at Saratoga.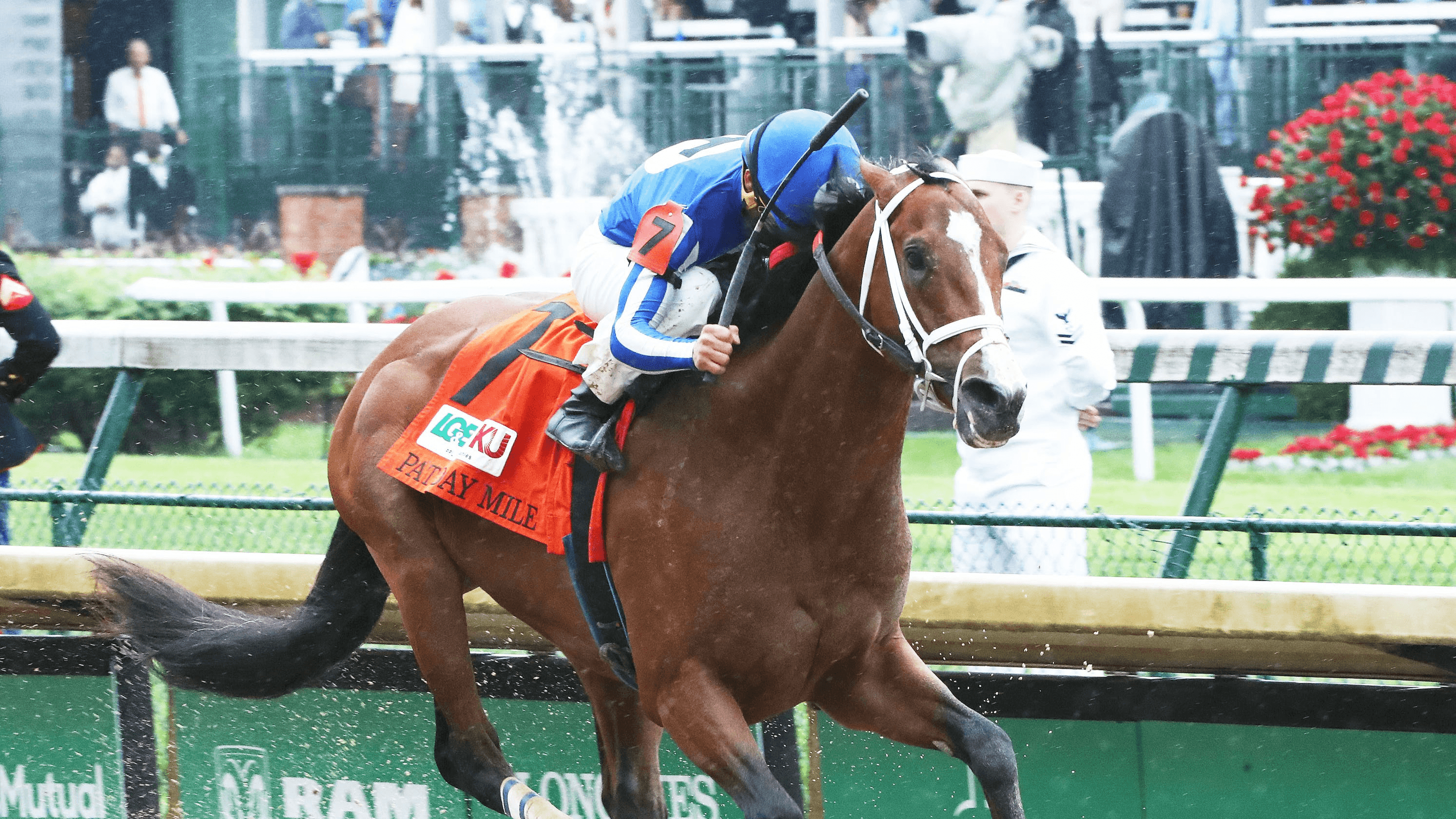 From Mr. Money trainer Bret Calhoun:
"We broke all the numbers down — speed figures — and it looks like he's right at the top echelon," Calhoun said. "I guess at the end of the day, what separated things for us was the jump to a mile and a quarter. That's the big unknown."
Mr. Money is the winner of three straight stakes races including the Indiana Derby just three weeks ago. There, as odds-on choice, overcoming a loose horse shadowing him through the stretch, blitzing the field in a dominating performance. 
Many were expecting a trip to the Travers would be next, but his connections are saying that's not happening.
If any of the division's top guns want a piece of Mr. Money, a win in West Virginia is likely to move him towards the Pennsylvania Derby. That's a high-level race also at 1 1/8 mile. It's Sept. 21 at Parx, near Philadelphia.
Mr. Money's connections are also indicating he's unlikely for the Breeders' Cup World Championships at Santa Anita Park in early November.
Mr. Money's Connections Want More of the Same
More from Calhoun:
"Going to a Grade 1 and getting your butt kicked is no fun. I'm not saying that would happen, but I just think if you put yourself in a position to win, that's a lot funner than going up against insurmountable odds sometimes. There's nothing wrong with running for $500,000 purses and putting that money in the bank. Not to say it's automatic, but obviously you know you're going in there as one of the favorites."
Here's the field in post position order with trainer and jockey:
Chess Chief — Dallas Stewart/Miguel Mena
Grumps Little Tots — Jason Servis/No Rider
Conative — Marat Kozhomzharov/Luis Quinones
Plus Que Parfait — Brendan Walsh/Corey Lanerie
Cornstarch — Marat Kozhomzharov/Charle Oliveros
Fluminense — Steve Asmussen/Joe Bravo
Top Line Growth — Kelly Rubley/Julian Pimentel
Math Wizard — Saffie Joseph Jr./Florent Geroux
Mr. Money — Bret Calhoun/Gabriel Saez
Chilly in Charge — Miguel Vera/Horacio Karamanos
Mr. Money projects as the certain, odds on post time favorite. he's banked more the $750,000 in career earnings. For his complete stats, click here. 
There's no Maximum Security, Game Winner , Tax or Tacitus in this field. However, are they "tomato cans" instead? We'll find out Saturday.
Stakes Abound Saturday at Mountaineer Park
2019 marks the 50th edition of the state's signature race at Mountaineer Casino, Racetrack & Resort. The 1/18 mile contest is just one of seven stakes on a card that beginning at the special post time of 2 pm ET. Expect to see Mr. Money and friends slug it out about 5:35 pm ET. 
The West Virginia Derby was first run in 1923 at Tri-State Park near Huntington, just east of Charleston., the state capital. The race was held there in 1924 and 1926. Returning to the calendar many decades later at Wheeling Downs in 1958. It was run at Wheeling in 1959 and 1961.
The race moved to Waterford Park —now known as Mountaineer — in 1963 and was held there annually through 1981. The race, disappearing once again, returning in 1988 for three years through 1990.
When video lottery terminal gaming in the state was legalized in West Virginia in the early 1990s, the Derby was brought back in 1998.  It's a fixture on the racing calendar ever since.