With the kickoff of the 2020 NASCAR season just 10 days away, the Westgate Las Vegas SuperBook released its Daytona 500 odds. The race, held at Daytona International Speedway on Feb. 16, is the first official Cups Points race of the season.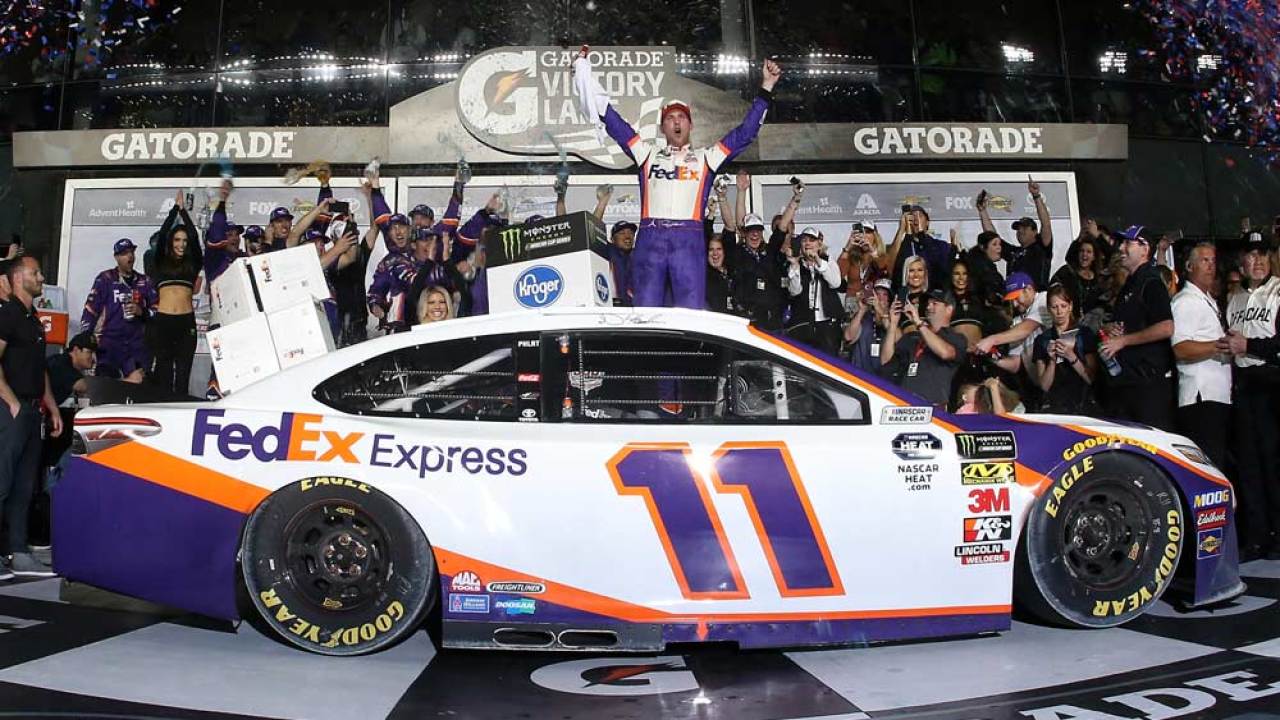 A quartet of familiar names sit atop the betting board for the 62nd annual Daytona 500. Joey Logano, Brad Keselowski, Chase Elliott, and Denny Hamlin are all at 10/1. They are followed by 2019 Cup Series Champion Kyle Busch at 12/1, and Kevin Harvick and Ryan Blaney at 14/1.
NASCAR announced that 43 drivers are on the entry list for the Daytona 500. Of those 43, however, only 36 are guaranteed to be on the track. The other seven need to qualify, either through the two races held the Thursday before the Daytona 500, or in time trials. Seven drivers will be competing for four spots. The seven are: Justin Haley, Reed Sorenson, Chad Finchum, JJ Yeley, Brendan Gaughan, Timmy Hill, and Daniel Suarez.
Daytona 500 Odds Favor Veterans
Of the four favorites, only two have won the Daytona 500. Hamlin, who is the defending champion, also won the race in 2016. Logano captured the checkered flag there in 2015.
Hamlin was part of a 1-2-3 finish by Joe Gibbs Racing in 2019. Teammates Busch and Erik Jones finished behind Hamlin, who dedicated the victory to Gibbs. Gibbs lost his son, J.D. Gibbs, to a degenerative neurological disease the month before.
The 79-year-old Gibbs, fresh from being celebrated at the Super Bowl as one of the top 100 players and coaches in the NFL, told Fox News the preparation his teams undertake for the Daytona 500 is incredible.
"I can't tell you how much we put into this," Gibbs said. "In football, I was a technical person—the coach calling plays—over here, I'm not the technical person, [I] get the right people together."
Will Changes Pay Off For Keselowski?
Brad Keselowski finished 12th last year at Daytona, one of several frustrating races for the Penske Racing Team member. He did win three races in Atlanta, Martinsville, and Kansas, but failed to make the final four at the end of the year for the championship event.
The owners at Penske shuffled their crew chiefs. Keselowski's guy, Paul Wolfe, went to teammate Logano. Keselowski got Jeremy Blevins, who worked with Ryan Blaney in 2019. Logano's crew chief, Todd Gordon, went to Blaney.
Keselowski agreed with the personnel changes, and believes all three drivers will be better this year.
"Last year was a good year for us, but it wasn't great," Keselowski said. "Penske has made a number of changes to all the teams because good isn't good enough, I think I've heard my boss say. We want to win the championship. We didn't have a car in the final four and that's unacceptable to us. Our goal is to win a lot of races and championships. We are going to push really hard for that. I believe we have the lineups to get Team Penske another championship."