Lille OSC became the surprise winner of the Ligue 1 title, beating Paris' glamorous club, PSG, after a fantastic race.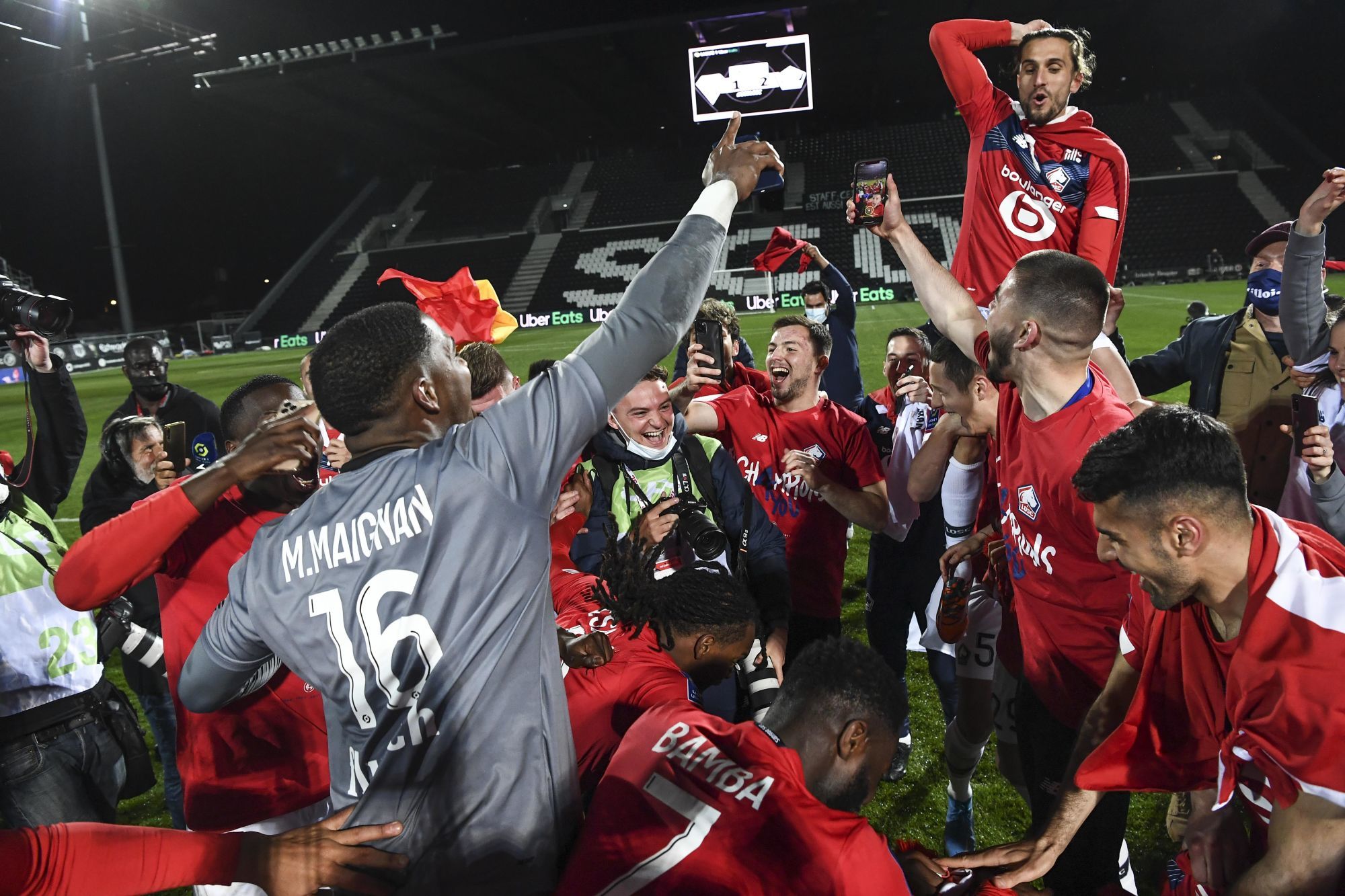 The club located in Northern France overcame the budget differential between them and the Qatari-backed PSG with smart board decisions, great management from coach Christophe Galtier, and team spirit. Glory came with a huge cost, though, as Lille is going to lose Galtier. The 54-year old is going to join ninth-placed Nice this summer.
La désormais célèbre roulade arrière de Christophe Galtier 😍#Champions4You pic.twitter.com/IX5K89u7Fr

— LOSC (@losclive) May 23, 2021
Lille and their amazing adventure
With Lille just one point above PSG in the table before the last round, the tension was immense over the 90 minutes that eventually decided the outcome of the battle. Lille played away against 13th-placed Angers, while PSG visited Brest (17th), who had all to fight for to avoid relegation.
David put Lille up in Angers after 10 minutes, then super-striker Burak Yilmaz scored from the penalty spot to make it 2-0 right before halftime. In Brest, PSG went ahead thanks to Faivre's own goal after 37 minutes. Mbappe confirmed Paris' victory over Brest in the 71st minute, while in Angers, Fulgini put his team back in business with seconds left in the game. But nothing happened until the final whistle when Lille won the vital three points that gave them their first title in 10 years and their fourth ever.
Lille was only beaten three times this season, compared to PSG's eight. Paris' stars couldn't score against Lille in their two Ligue 1 encounters, having drawn 0-0 away from home, and losing 0-1 at Parc des Princes. If it comes as any kind of consolation, PSG did put Lille out of the French Cup in the Round of 16 round following a 3-0 win in which Mbappe scored a double. PSG went on and eventually won the Cup, having beaten Monaco in the final last Wednesday, 2-0.
PSG won seven of the last nine titles in France, with Monaco interfering in their dominance in 2017.
The Burak Yilmaz affair
35-year-old Turkish striker Burak Yilmaz was signed by Lille as a free agent in 2020. He contributed to the team's success with 16 goals, providing deadly punches over the last month. Yilmaz scored six times in his last five games, including two times in the big 3-2 away win against Lyon on April 25.
Before joining Lille in a highly surprising move, Yilmaz played in his home country for the likes of Galatasaray, Fenerbahce, and Besiktas — the three biggest clubs in the Turkish Superliga. Also, between 2016 and 2017, he scored goals for Beijing Guoan in the Chinese top flight. At an international level, Yilmaz has 66 caps and 28 goals for Turkey.
What next for Mbappe?
The rumors linking Mappe with moves to either Real Madrid or Liverpool were denied by PSG president Nasser Al Khelaifi. The official told Canal+ that there's "no way for Mbappe to leave … I assure you he will stay at PSG. He wants to stay and he's not going anywhere."
Mbappe is out of contract at PSG in 2022, so the club was expected to make him available this summer so they won't lose him for free next year. Khelaifi hopes the 22-year-old attacking diamond will extend his stay, just like Neymar, Keylor Navas, and Draxler recently did.
"We are not blocked [with Mbappe's extension]. Not at all. We are really calm, very relaxed," Al Khelaifi said.
Mbappe himself hinted on various occasions that he's considering his options, refusing to make any firm statement on the contract extension talks with PSG. Mbappe finished as Ligue 1's top goalscorer this season, with 27 goals to his name.