Knicks Go, the current clubhouse leader for 2021 Horse of the Year, will retire to Taylor Made Stallions in Kentucky at the end of his racing career, the farm announced in a release Monday.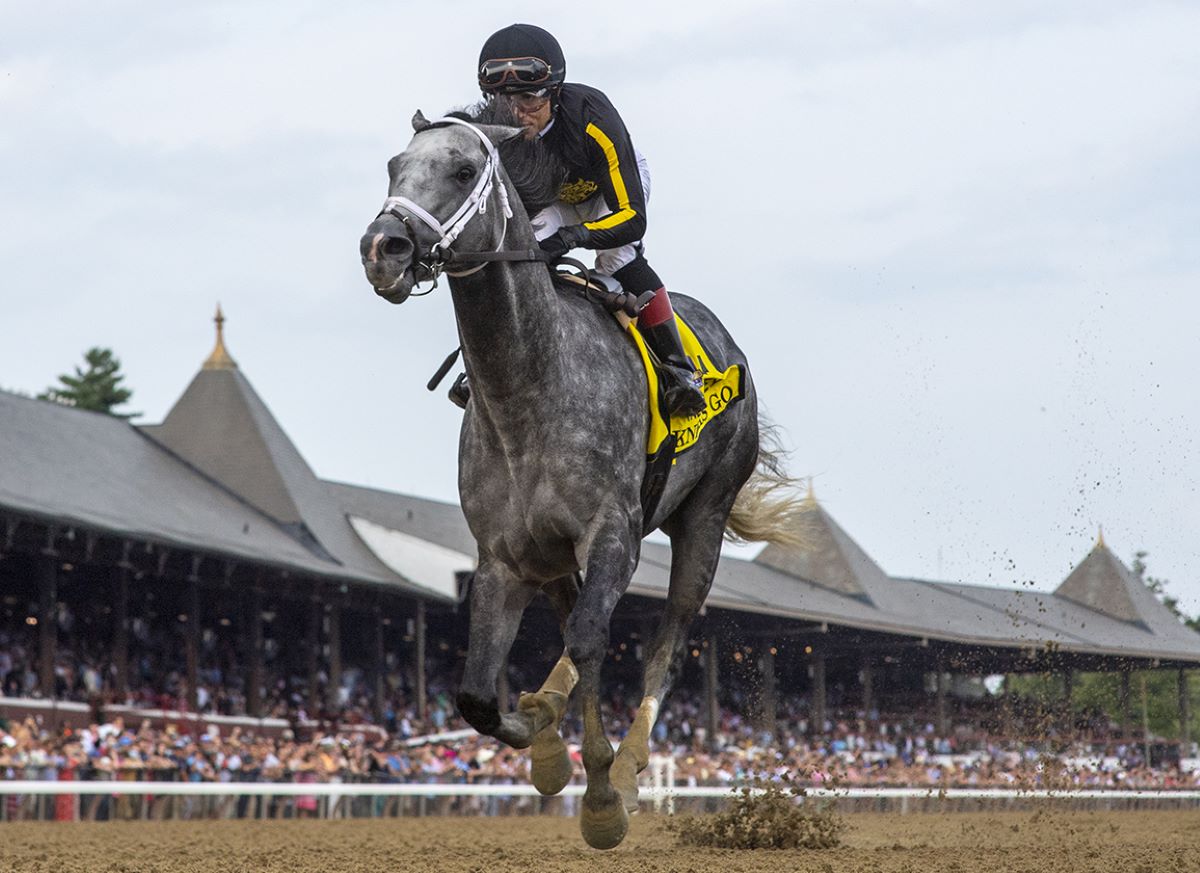 The stud fee for the four-time Grade 1 winner will be announced after next month's Breeders' Cup Classic at Del Mar. Knicks Go is currently the 5/2 favorite to win the $6 million Classic, the event's marquee race.
Right now, the 5-year-old son of Paynter is the country's marquee Thoroughbred. He is the No. 1-ranked horse in the National Thoroughbred Racing Association's Thoroughbred Poll. That's a byproduct of his four victories in six races this season – all in graded stakes events. Those 2021 victories include Grade 1 scores in the Pegasus World Cup in January and the Whitney Stakes in August.
In the Whitney at Saratoga, Knicks Go and his 111 Beyer Speed Figure took apart a field by 4 1/4 lengths that included Grade 1 winners Maxfield, Silver State, and Swiss Skydiver. Last time out, Knicks Go captured the Grade 3 Lukas Classic at Churchill Downs by four lengths as the 1/10 favorite. His 1:47.85 clocking for 1 1/8 miles was less than a half-second off Victory Gallop's 1999 track record for that distance.
Knicks Go + Prairie Meadows = Not fair to his rivals
Earlier this year, Knicks Go reeled off a 10 ¼-length dismantling of the Grade 3 Cornhusker Handicap at Prairie Meadows in early July. That win as the 3/5 favorite came with a career-best 113 Beyer.
He's recorded Beyers of 113, 111, 108 (twice), 107, and 104. Last year, Knicks Go ended his 4-year old campaign setting the Breeders' Cup Dirt Mile record in 1:33.85. That came with a 108 Beyer and a track record for that distance.
Knicks Go broke his maiden on his July 2018 debut by 3 ½ lengths. He'd win the first of his four Grade 1s – the Breeders' Futurity – in his fourth race three months later.
'A throwback horse'
"He really is what a horse is supposed to be," trainer Brad Cox said. "They are supposed to get faster and stronger as they get older. He's a little bit of a throwback horse as far as accomplishing things early and then still being in training three years later."
All of these accomplishments validated owner Korean Racing Authority's goal of producing a genetically sound stallion prospect. And as Cox pointed out, taking a longer view toward accomplishing that goal than is customary in today's racing environment.
"The KRA's goal was to buy and race in the US with an eye toward developing stallions," Jun Park, the racing manager for the KRA's US stable said in a statement. "As his name suggests, Knicks Go is a horse that was selected by a genome selection process called K-Nicks, which was designed to help select optimally excellent racehorses and stallions. To have done this for such a short time and to already have a multiple Grade 1 winner like Knicks Go is very gratifying. We are excited to stand him at Taylor Made, and we look forward to his next career as a stallion."