Kentucky Downs officials announced the boutique meet's 2022 schedule, which features record purses, expanded stakes, and the richest maiden races in the world.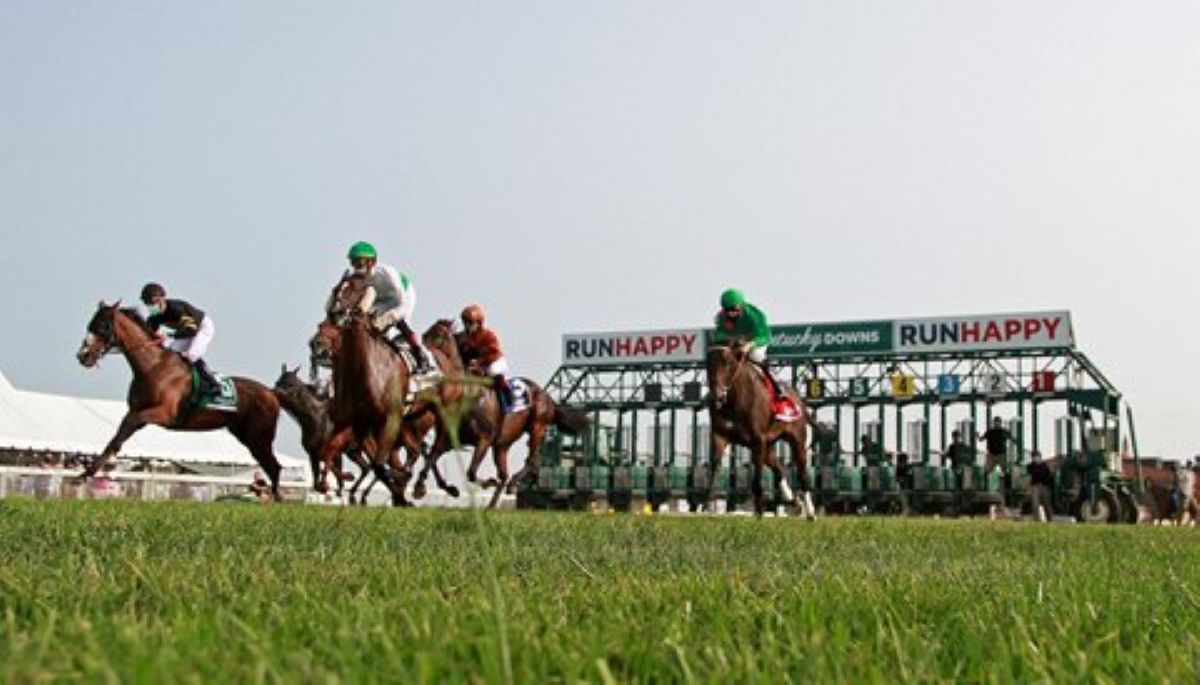 The seven-day meet, which runs Sept. 1, 3, 4, 8, 10, 11, and 14 over the all-turf, kidney-shaped track, offers 17 stakes worth a record $10.7 million. Total purses come in at a record $17.95 million. But what promises to capture the eye of horsemen all across Kentucky are the 26 maiden races offering record $150K purses.
Those represent the richest maiden purses in the world. And because of many Kentucky Downs races over-fill, track officials added 10 more maiden races from the 16 of 2021. They were able to do that because of an extra seventh day of racing.
Of those 26 maiden races, 15 are for 2-year-olds. Last year's maiden fields averaged nearly 11 starters per race.
'Like hitting a home run to start the game'
"Given the immense popularity of our maiden races, and with an extra day, we've expanded the opportunities to compete for the most lucrative purses in the world," Ted Nicholson, Kentucky Downs' vice president for racing, said in a statement. "Winning a Kentucky Downs maiden race is like hitting a home run to start a ballgame. There's nothing better than having runs on the board right away. In some instances, an owner can be out on a horse very early on."
Look no further than California Angel. Last year, the George Leonard-trained filly won a $135K maiden race at Kentucky Downs. That vaulted the 2-year-old into a Grade 2 score at the Jessamine Stakes at Keeneland. In turn, that sent California Angel into the Breeders' Cup Juvenile Fillies Turf.
"That money is like winning a minor stakes. It's a boost for the game," Leonard told Kentucky Downs. "Owners are encouraged to have a horse when they can run for that kind of money. For a trainer, it's a great opportunity to make some money."
Kentucky Downs running four $1 million races
Along with that, Kentucky-bred first-level allowance runners run for $160K, and second-level allowance runners will chase a $170K purse if they're Kentucky-bred. Starters finishing sixth through last in non-stakes races are guaranteed $1,000. That's in acknowledgment of the expense of running horses.
On the stakes front, eight of the 17 stakes are graded. Two of the Grade 2s, the Kentucky Turf Cup and the Turf Sprint — both Sept. 10 — are Breeders' Cup Challenge Series races for the Turf and Turf Sprint, respectively. Those two, the Sept. 10 Grade 3 Ladies Turf and the Sept. 3 Grade 3 Million, offer $1 million purses.
Here's where HHR machines come in
New to the stakes schedule is the $400K Gun Runner, which sends 3-year-olds out a mile on Sept. 14.
The enhanced purses are the product of Historic Horse Racing (HHR) money cascading into the state's horse racing industry. In 2011, Kentucky Downs ran a four-day, 30-race meet offering $769,810.
This year's meet features 74 races over seven days — with a $17.95 million purse.