Country House, a 65/1 long shot, is the stunning winner via disqualification of the 2019 Kentucky Derby in this, the 145th edition of the US's most prestigious race.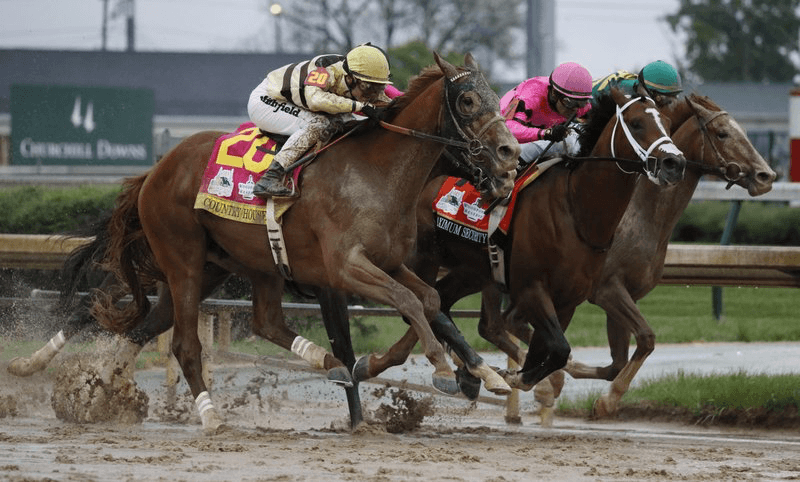 Former claimer Maximum Security at off odds of 9/2 crossed the finish line first over a sloppy racing surface. But, stewards, following a nearly 20-minute deliberation period declared trainer Bill Mott's Country House as the winner of the $3 million, 1 1/4 mile "Run for the Roses."
Pratt Quickly Objects
Country House's jockey Flavien Pratt quickly objected to Churchill Downs stewards, although he appeared to be impeded at the head of the stretch less than War of Will, Long Range Toddy and others. The disqualification of the winner marks the first time in history that the winner of the Kentucky Derby has ever been disqualified from first because of a riding infraction.
Dancer's Image was disqualified from his 1968 Kentucky Derby victory days later when it was determined he failed a post race drug test.
Maximum Security's rider Luis Saez told NBC while awaiting the steward's decision that he moved out slightly in the stretch because his mount was reacting to crowd noise but did not feel a disqualification was warranted.
War of Will appeared to be more heavily impacted by Maximum Security than Country House, nearly causing the unseating of jockey Tyler Gaffalione.
2019 Kentucky Derby DQ Produces Hefty Pari-Mutuel Payoffs
The disqualification produced boxcar win/place/show payoffs: Country House $132—$56.60—$24.60; Code of Honor $5.20—$9.80; and Tacitus — $5.60.
The $.50 trifecta 20-13-8 meant a $5737.65 windfall for winning bettors. The $1 superfecta, 20-13-8-5, paid a whopping $52,400.10.
Country House is a son of sire Lookin and Lucky. This was his seventh lifetime start now at six different tracks. The win also marks the first ever Kentucky Derby win for the highly respected Mott, a member of racing's Hall of Fame. The surprise winner was third to Omaha Beach just three weeks ago in the Arkansas Derby. The projected Derby favorite, Omaha Beach was scratched earlier in the week.
The win also is the first Kentucky Derby victory fo California-based Pratt, a Santa Anita regular. The highly regarded Bob Baffert trio of contenders Improbable, Game Winner and Roadster finished 5th, 6th and16th respectively.