The quest of Tiger Woods to win back-to-back major championships ended Friday with the 15-time major winning missing the cut at the PGA Championship. The 43-year-old had a two-day total of 5-over par, with rounds of 72-73 to miss playing on the weekend by one stroke.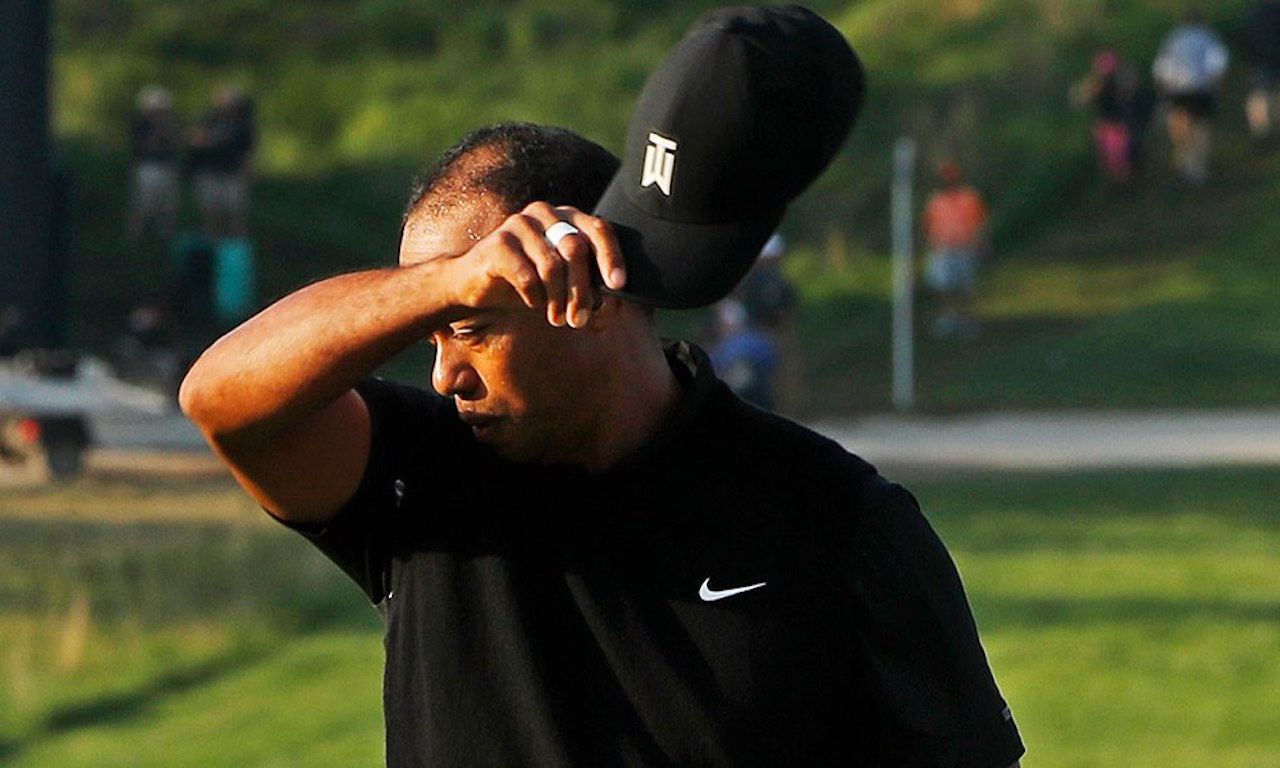 It was the ninth time Woods has missed a cut in a major championship, and second time in three events. Woods said afterward that his game wasn't where it needed to be.
"Well, I'm not playing the weekend," Woods said. "That's disappointing. Just didn't quite — just didn't quite have it."
Strategy Questioned
After Woods won the Masters in April, he chose not to play in any tournaments, saying he needed some rest after winning his fifth Green Jacket. In years past, Woods would usually play an event leading up to a major, and it was a surprise that he did not enter the Wells Fargo Championship, held two weeks before the PGA Championship.
Woods also did not play a practice round the day before the tournament began, another anomaly in Woods' pre-major routine. He did say after the first round that he felt ill, and was trying to get as much rest as possible. He didn't use it as an excuse, though.
"It's just the way it goes," Woods said. "You know, just don't feel well and just not able to do it. But resting would be better, so I would have energy to play. You know, unfortunately I just didn't — made too many mistakes and just didn't do the little things I need to do. You know, I had a couple three-putts. I didn't hit wedges close. I didn't hit any fairways today. Did a lot of little things wrong."
He did have a comeback when asked about his preparation.
"No, no, no. Definitely not," Woods said. "You know, I'm the Masters Champion and 43 years old and that's a pretty good accomplishment."
What Went Wrong
Woods fought his driver and putter all day on Friday. He had just three of his drives find the fairway. His putting was just as woeful. He tied for 114th in putting.
"There's going to be days and weeks where it's just not going to work, and today was one of those days," Woods said.
His 36 holes was punctuated with two double bogeys in the first round, and three consecutive bogeys on the back nine on Friday. Still he had a chance to get to the weekend if he had made birdie on the final hole. He found the fairway and had 113 yards to the pin for his second shot. His wedge, though spun off the green and into the rough. He failed to chip in from there, and just like that his tournament was over.
Coming off the exhilaration of winning his first major since 2008, Woods said the Masters victory in April 7, 2019 took a lot out of him.
"Yeah, well, it's a nice problem to have," Woods said. "You know, so I've enjoyed being the Masters Champion again, and the PGA was a quick turnaround, and unfortunately I just didn't — I just didn't play well. As I said, I didn't do all the little things I need to do correctly to post good scores and put myself in position to shoot good scores."