McKenzie Milton, quarterback and team leader of the No. 9 Central Florida Knights, left the UCF and South Florida game prematurely due to a gruesome knee injury.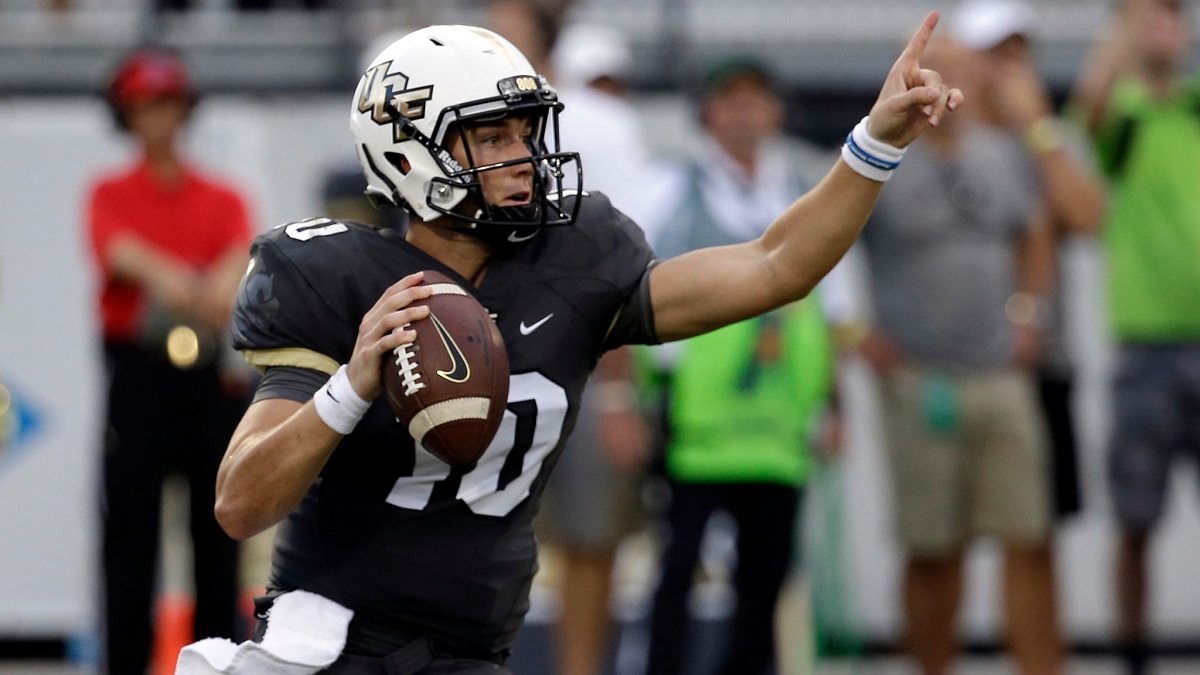 Milton required the assistance of a stretcher and cart to remove him from the field. During Rivalry Week in college football, UCF defeated South Florida 38-10 to extend their overall winning streak to 24 games.
Hawaii to Orlando
McKenzie Milton, 21-year old from Kapolei, Hawaii, is a dual threat quarterback for UCF. The junior tossed 24 touchdowns and 59.5 percent of his passes for 2,577 yards. Milton only threw five picks all season. Coming into the South Florida game, Milton added 291 rushing yards and nine touchdowns.
Last season, Milton won the 2017 AAC Player of the Year as a sophomore, with 39 touchdowns and only 9 interceptions.
This season, Milton guided the UCF Knights to an undefeated record. His statistics garnered him attention as a one of the favorites for the Heisman trophy.
Milton's Lost Paradise
Prior to his injury against South Florida, Milton got off to a solid start with 86 passing yards on 5 of 10 attempts. Milton threw a touchdown in the first quarter and added 16 rushing yards before the play that knocked him out of the game.
With UCF leading 7-0 with 11 minutes to play in the second quarter, they were driving deep into South Florida territory. On QB option play, Milton ran toward the USF sidelines and defender tackled him at the 25-yard line.
"Milton is down on the field and it doesn't look good," said the announcer.
Trainers and medical staff rushed to the down Milton. In a display of sportsmanship, both teams knelt on either side of Milton while medical workers stabilized his knee.
"It breaks your heart for a kid that's worked so hard to go out there and compete, loves his brothers and plays for them," said UCF head coach Josh Heupel.
Milton underwent emergency surgery at Tampa General to repair his twisted knee. No updates have been released by school officials since then and as of Saturday morning, Milton remained at Tampa General.
Oh my God! McKenzie Milton's knee………………Just terrible man! pic.twitter.com/8flW7iILpQ

— #FreePhillipDorsett (@ftbeard_17) November 23, 2018
No Respect for Central Florida
UCF finished the 2017 season with an undefeated 13-0 record, yet Central Florida was snubbed by the bowl committee. Despite their undefeated season, UCF did not get an opportunity to play for the national championship.
UCF had taken on the moniker as the Rodney Dangerfield of College Football because of their inability to get proper respect in the ranking polls and by the bowl selection committee.
The loss of Milton will certainly hurt UCF's future efforts to contend for the national championship.
Emotional Victory
Central Florida continued their epic winning streak. A victory over South Florida represented UCF's 24th consecutive win. Despite the loss of their star and locker room leader, UCF held on for an emotional win.
Back-up QB Darriel Mack contributed 81 passing yards and 51 rushing yards in a relief effort. Running back Greg McCrae scored three times to put the game out of reach.
After the Milton injury, UCF finished the drive with a field goal to extend their lead to 10-0. By halftime, UCF led 17-0.
"Our team is very strong-minded," Mack said after the win. "We've been battling adversity all year, so it was just another form today in what happened, and we took it on the chin, rallied together and stayed close to each other at all times, and we knew we had to go get the victory."
In the second half, South Florida managed to get on the board with 10 points to avoid a shutout. UCF added three scores by McCrae to lock up an impressive 38-10 final score.
McKenzie Milton was a Heisman hopeful entering Friday.

After he went down with an ugly leg injury, his teammates shook his hand and the crowd chanted "UCF" as Milton was carted off the field. pic.twitter.com/Z2V0SIsvc5

— SportsCenter (@SportsCenter) November 23, 2018
"It was heartbreaking because McKenzie Milton is a great person. It wasn't about McKenzie Milton the football player; it's him as a person," RB Greg McCrae said. "Seeing that happen to him, it was devastating to the whole team, so we all rallied around that and tried to use that as our motivation to play for him, to play for #10."
McCrae had one of his best games of his career with 181 rushing yards and three touchdowns.
UCF hosts Memphis next week in the AAC title game.