Get ready for another exhilarating battle between the Denver Nuggets and Portland Trail Blazers when these two NBA heavyweights square off for Game 6 of their first-round playoff series. Damian Lillard and the Blazers are down 3-2 against Nikola Jokic and the Nuggets, who won two games in a row to seize the series lead after surviving a double-overtime thriller and the craziest game so far in the 2021 NBA Playoffs.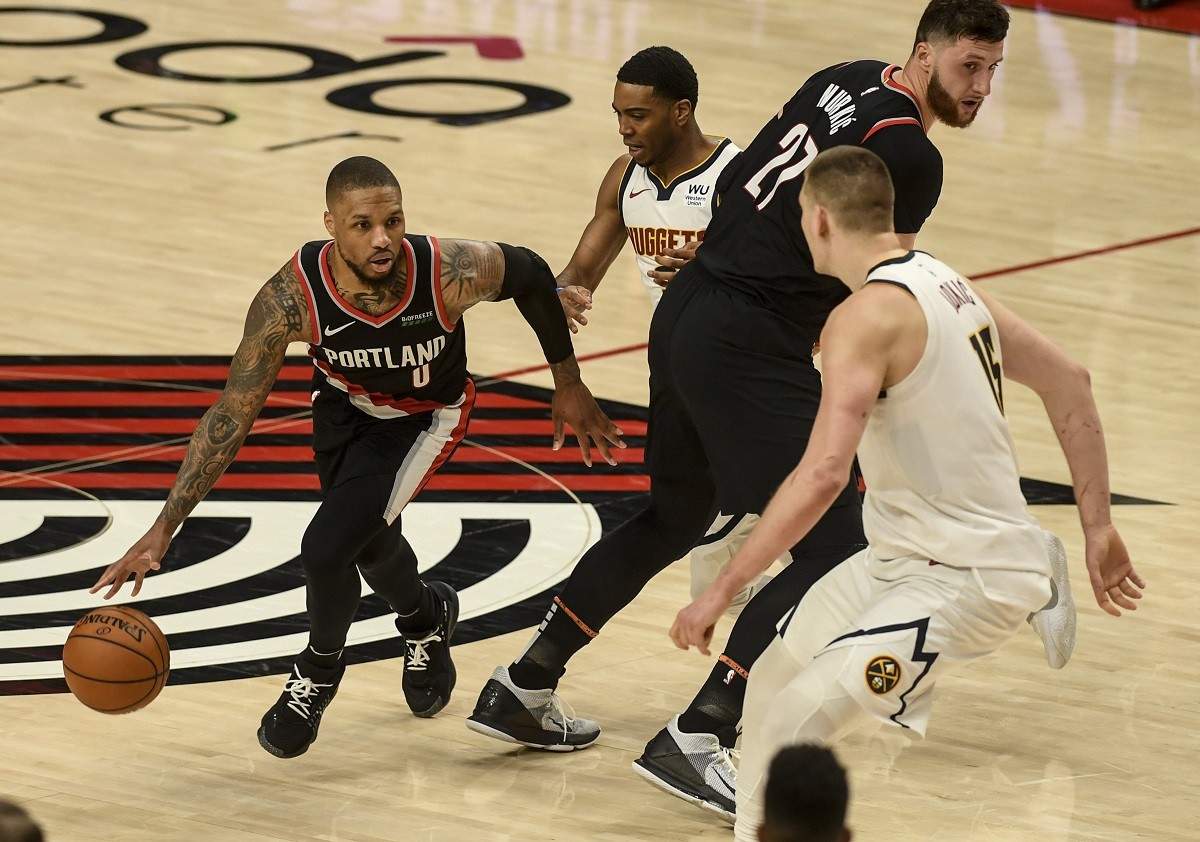 Despite Lillard's 55-point eruption in Game 5, the Blazers lost a heartbreaker in double-overtime against the Nuggets in Denver. The Nuggets are one win away from advancing to the Western Conference semifinals.
The series shifts to Rip City for Game 6, where the Blazers host the Nuggets in Portland in an elimination game. The Blazers opened as a -5 favorite. If you're an NBA totals bettor, the over hit 4-1 in this series. The total for Game 6 is 228 over/under.
---
Game 6: #3 Denver Nuggets (3-2) vs. #6 Portland Trail Blazers
Tip-off: 5 pm PT
Location: Moda Center, Portland, OR
Point Spread: POR -5
Total: 228 o/u
Money Line: DEN +175 / POR -195
Series Line: POR +200 / DEN -250
---
The Blazers are an underdog to win the series at +200 odds, whereas the Nuggets are -250 odds to win one more game. The Nuggets are +2500 odds to win the 2021 NBA Championship, according to an update at the Circa Casino in downtown Las Vegas.
Rip City Blazers: Do or die in Game 6
The legend of Dame grows. Lillard has been phenomenal this series, averaging 35.6 points and 9.5 assists per game. He's shooting 47.8% from the floor, including an insane 47.4% clip from 3-point range. Lillard hasn't been shy with his deep bombs and logo treys from 10 or more feet beyond the NBA's 3-point line. He knocked down two long-range missiles to send Game 5 into the first and second overtimes.
"It's a shame we wasted one of the all-time best performances by not being more supportive of him," said teammate CJ McCollum.
The Blazers cranked out 120.2 ppg this series, but it's their Swiss Cheese defense that bit them in the butt.
Even with 55 points from Lillard, the Blazers still lost Game 5 because center Jusuf Nurkic fouled out again. Nurkic has been the closest thing to kryptonite for Jokic. Nurkic has done a bang-up job defending Jokic, but it's come at a price. Jokic has an uncanny way of inducing Nurkic into foul trouble to neutralize his defensive capabilities.
If Nurkic can stay out of foul trouble against the Nuggets, then it puts the Blazers in the best defensive spot to win Game 6.
Nuggets: The Joker and the midnight tokers
Jokic's performance in Game 5 was overshadowed by Lillard's 55 points and his shots to extend the game. Jokic scored 38 points and missed a triple-double with 11 rebounds and nine assists in the victory. As much as everyone is gushing over Lillard, Jokic has held his own in their heavyweight fight to the death. He averages 32.4 points, 11.0 rebounds, and 7.4 assists per game. Denver's big man is also shooting nearly 42% from downtown.
---
Tale of the Tape: Lillard vs Jokic
| | | | | | |
| --- | --- | --- | --- | --- | --- |
| | Points | Assists | Rebounds | FG% | 3-PT% |
| Damian Lillard | 35.6 | 9.5 | 4.4 | 47.4% | 47.8% |
| Nikola Jokic | 32.4 | 7.4 | 11.0 | 51.7% | 41.9% |
---
The calm and cool Jokic and the resilient Nuggets never flinched during the double-overtime thriller. "We won and lost that game so many times before ultimately winning it," explained Nuggets coach Michael Malone. "We never got down. Every time the Blazers threw a haymaker and got us down on the canvas, we got up and were able to pull it out in the end."
Michael Porter, Jr scored 26 points on an efficient 10-for-13 shooting in Game 5. Porter also drilled a clutch 3-pointer late in the second overtime session to seal the victory. Backup point guard Monte Morris stepped up with 28 points off the bench. Morris provided clutch free-throwing shooting down the stretch with a 10-for-11 effort from the charity stripe. Austin Rivers, starting in place of Jamal Murray, chipped in 18 points including four 3-pointers.
Two years ago, the Blazers knocked out the Nuggets in the West semifinals thanks to a tremendous victory in a four-overtime game. The Nuggets have a chance to exact revenge tonight in Game 6 with a win over the Blazers on their home court.
Check out more coverage of the 2021 NBA Playoffs.