The NBA Finals shifts to TD Garden in Boston for Game 6 with the Celtics on the brink of elimination and down 3-2 against the Golden State Warriors. The Warriors are just one win away from clinching the championship, yet enter Game 6 as a +4 road dog.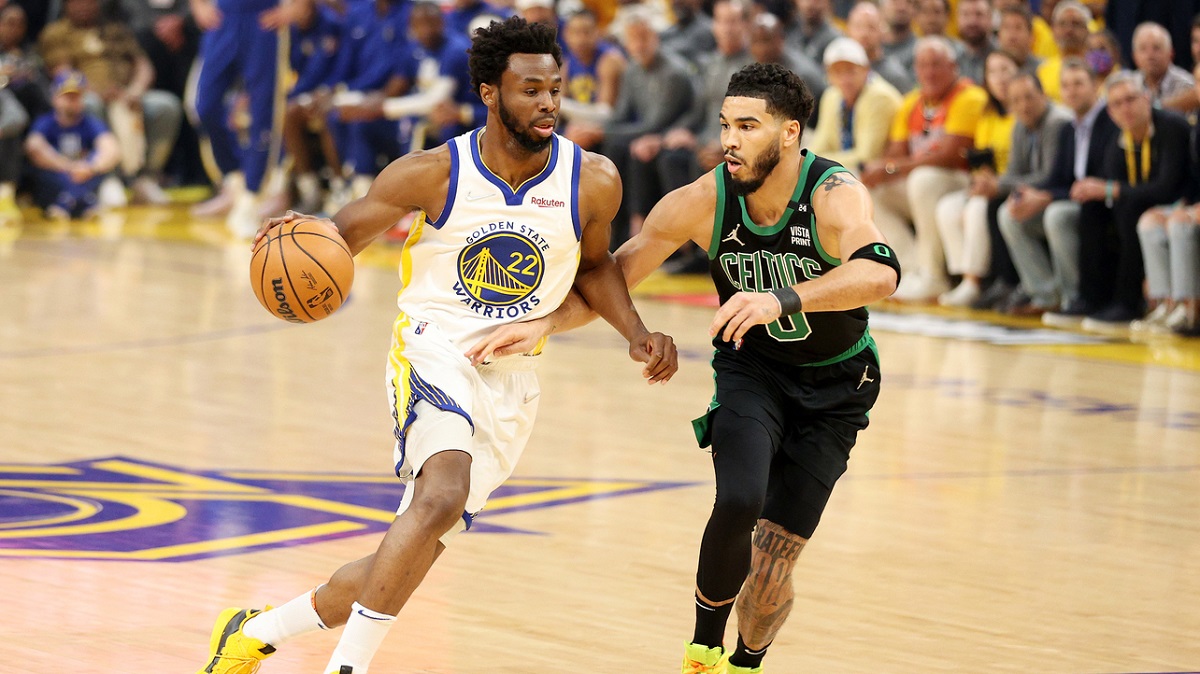 The Celtics won Games 1 and 3 of the series, while the Warriors won Games 2, 4, and 5 to take a 3-2 lead in the NBA Finals. The Celtics were 7-0 following a loss in the postseason until they dropped Game 5 in San Francisco.
---
NBA Finals Betting Preview

Game 6: Golden State Warriors (3-2) at Boston Celtics (2-3)
Tip-off: 6 pm PT
Location: TD Garden, Boston
Point Spread: BOS -4
Total: 210 o/u
Moneyline: GSW +145 / BOS -165
---
The Warriors are favorites to win the 2022 NBA Championship at -350 odds, while the Celtics are +280 odds to stave off elimination in the next two games.
Much to the Celtics' dismay, they won't have Scott "The Extender" Foster as one of the officials. The NBA released referee assignments with Zach Zarba as the crew chief along with David Guthrie, John Goble, and Courtney Kirkland (alternate).
Celtics: Wake up, Tatum!
Jayson Tatum has been the subject of heavy airplay on New England sports talk radio. Everyone is waiting for Tatum to wake up from his deep slumber, and the Celtics hope he has another Game 6 reckoning like his 46-point outburst against Giannis "Greek Freak" Antetokounmpo and the Milwaukee Bucks to fade an elimination and force a Game 7 in the Eastern Conference semifinals.
Tatum has been money from 3-point range, yet the legion of Celtics fans — especially Bill Simmons — can't figure out why he's missing so many layups and shots inside the paint.
Tatum admitted he needs to shoot better when he's inside the paint in Game 6, but the Celtics need to cut down on their turnovers. If the Celtics weren't throwing the ball away so much and gifting the Warriors easy buckets in transition, then they wouldn't have to sweat so many of Tatum's missed layups.
Can the Celtics bounce back in a do-or-die elimination game after a gut-wrenching loss in Game 5?
"We've had some tough losses, losing Game 5 against Milwaukee was extremely tough," said Tatum. "Knowing we had to win two, go on the road. Losing Game 6 against the Heat was extremely tough. In those moments, we just responded. I don't know exactly what it is, but I think just our will to want to win, just trying to figure it out."
"We don't let it hang over our heads," said Jaylen Brown. "We bounce back. We've been able to respond well all year. We're looking forward to the challenge. Last game on our home floor to kind of embody our whole season. We are not scared."
"We're defending well enough to win," said head coach Ime Udoka. "It's really some stagnant lulls offensively that have really hurt us."
Warriors: Get ready for Game 6 Klay
Klay Thompson thrives on pressure, especially in close-out or elimination games. That's how he earned the "Game 6 Klay" moniker because Thompson never falters late in a playoff series. This year has been special for Thompson because he missed the previous two seasons with a blown-out ACL and Achilles injury. It's been a long road to recovery and now he's just one win away from another championship.
"We know they're going to play with a sense of desperation," said Thompson. "So for us to match that or exceed that, it's going to take the most effort we've had to give all year."
Thompson averages 18 ppg in the NBA Finals while shooting 36.7% from 3-point range. He's knocked down 14 treys in his last three games, including 5-for-11 in the big victory in Game 5
Veteran Andre Iguodala didn't mince words about the Warriors' arduous task heading into Game 6 on the road in Boston.
"Clinching is probably the hardest game you'll play," said Iguodala.
Steph Curry will also look to bounce back after his lowest scoring output in the NBA Finals. He shot 0-for-9 from 3-point land and didn't hit a trey for the first time in 133 playoff games, yet the Warriors were able to win thanks to Andrew Wiggins, Thompson, Jordan Poole, and Gary Payton II.
Check out more coverage of the 2022 NBA playoffs.