Rafael Nadal remains the favorite to win the 2020 French Open title, but he's far from a sure thing to win his 13th championship at Roland Garros heading into the men's semifinals.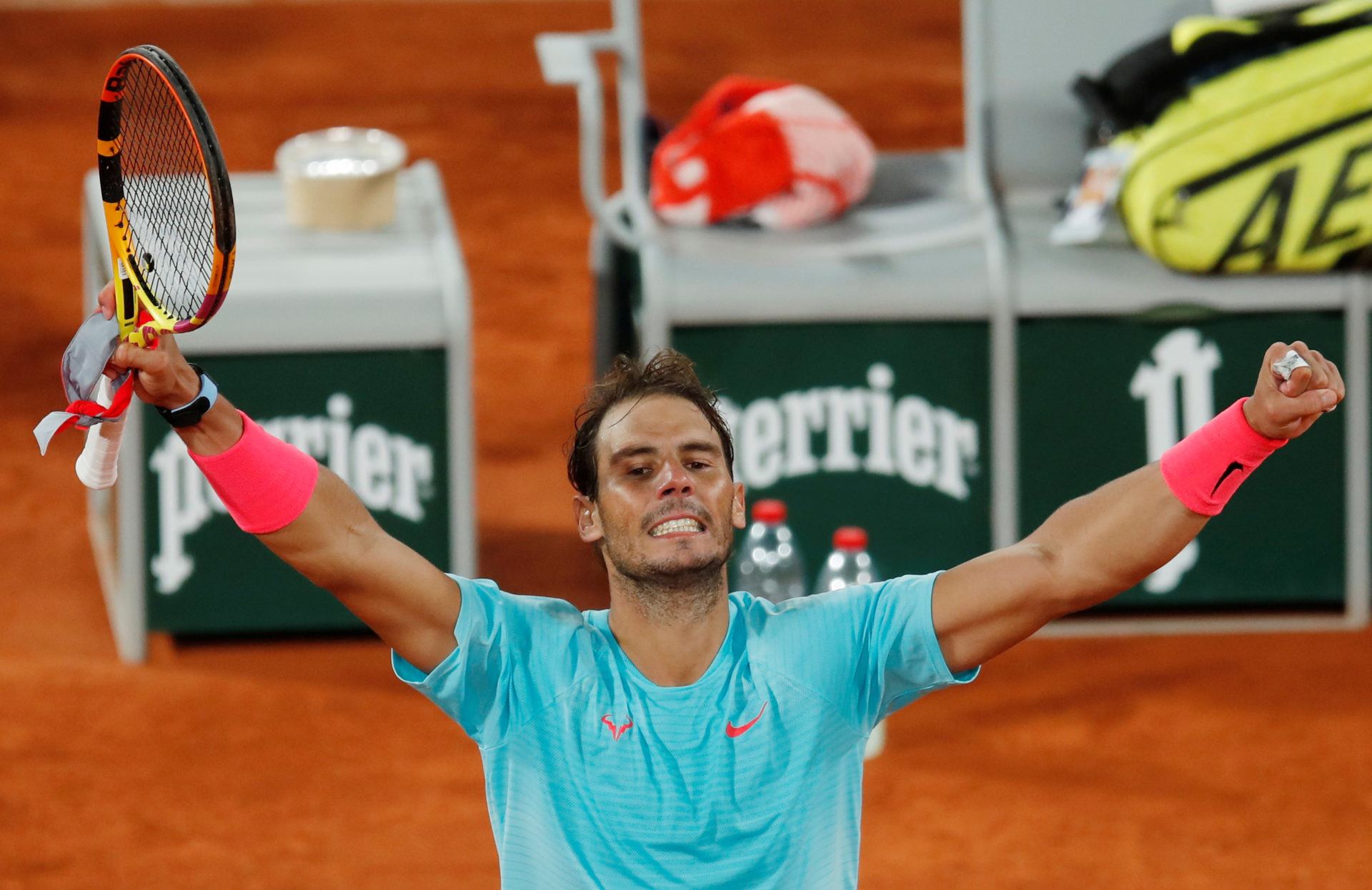 Nadal faced an early challenge from 19-year-old Jannik Sinner in his Tuesday quarterfinal, but pulled away to win in straight sets, 7-6 (7-4), 6-4, 6-1.
Nadal Questions Late-Night French Open Matches
The match began late and didn't finish until about 1:30 Wednesday morning in Paris under the artificial lights the French Open is using for the first time this year. Not only did the match end late, but the temperature dipped down near 50 degrees Fahrenheit – hardly ideal for professional tennis.
"It's not ideal [to] finish a match at 1:30 in the morning. But the problem is the weather," Nadal said after the win. "I think it is a little bit dangerous for the body to play with these very heavy conditions. But that's what happened today. I really don't know why they put five matches on the Chatrier today. That was a risk."
Next up for Nadal is a semifinal clash with No. 12 seed Diego Schwartzman who upset No. 3 Dominic Thiem in five sets. Schwartzman won 7-6 (6-1), 5-7, 6-7 (7-5), 7-6 (7-5), 6-2, pulling away in the final set by taking the last four games of the match.
"I was just so nervous," Schwartzman said afterward. "I saw the chance today."
---
French Open Odds – Men's Semifinals (via FanDuel Sportsbook)
No. 12 Diego Schwartzman (+590) vs. No. 2 Rafael Nadal (-850)
No. 1 Novak Djokovic (-320) vs. No. 5 Stefanos Tsitsipas (+260)
Men's Tournament Winner
Rafael Nadal: +110
Novak Djokovic: +125
Stefanos Tsitsipas: +1000
Diego Schwartzman: +2300
---
Nadal lost to Schwartzman on clay last month in the Rome quarterfinals. The Argentinian beat Nadal 6-2, 7-5, a result that could give him confidence heading into Friday's French Open semifinal.
Nadal has only lost twice in 100 career matches at the French Open, and has never lost in a semifinal or final at the tournament. FanDuel Sportsbook lists Nadal as a -850 favorite over Schwartzman (+590) in the match.
Djokovic Avenges Only Loss of 2020
No. 2 seed Novak Djokovic got off to a slow start in his quarterfinal on Wednesday, but overcame some early stiffness to beat Pablo Carreno Busta 4-6, 6-2, 6-3, 6-4 and book his place in the final four.
"I had some neck issues and some shoulder issues. I'll just say that," Djokovic said afterwards. "I mean, I don't want to get really too much into it. Obviously, I'm still in the tournament, so I don't want to reveal too much."
The win served as a measure of redemption for Djokovic, who lost by default at the US Open while playing Carreno Busta after he accidentally hit a line judge in the throat with a ball struck in frustration. That match remains Djokovic's only loss in 2020.
Djokovic will face Stefanos Tsitsipas who reached his first French Open semifinal by beating No. 13 seed Andrey Rublev 7-5, 6-2, 6-3. Rublev had handed Tsitsipas his last loss in the final of the Hamburg Open on Sept. 27, just before both men joined the French Open draw.
"I [have] expected since a young age to potentially triumph at these Grand Slams. I'm happy that I'm able to be in a position where I am today," Tsitsipas told reporters. "I'm chasing something spectacular."
Djokovic enters the semifinal as a -320 favorite over Tsitsipas (+260).
Overall, Nadal and Djokovic stand as near co-favorites to win the French Open. FanDuel gives Nadal (+110) the slight edge over Djokovic (+125), with Tsitsipas (+1000) and Schwartzman (+2300) the dark horses to pick up the title.