The Dallas Cowboys have ended their contract dispute with running back Ezekiel Elliott, signing the star to a six-year, $90 million contract extension on Wednesday.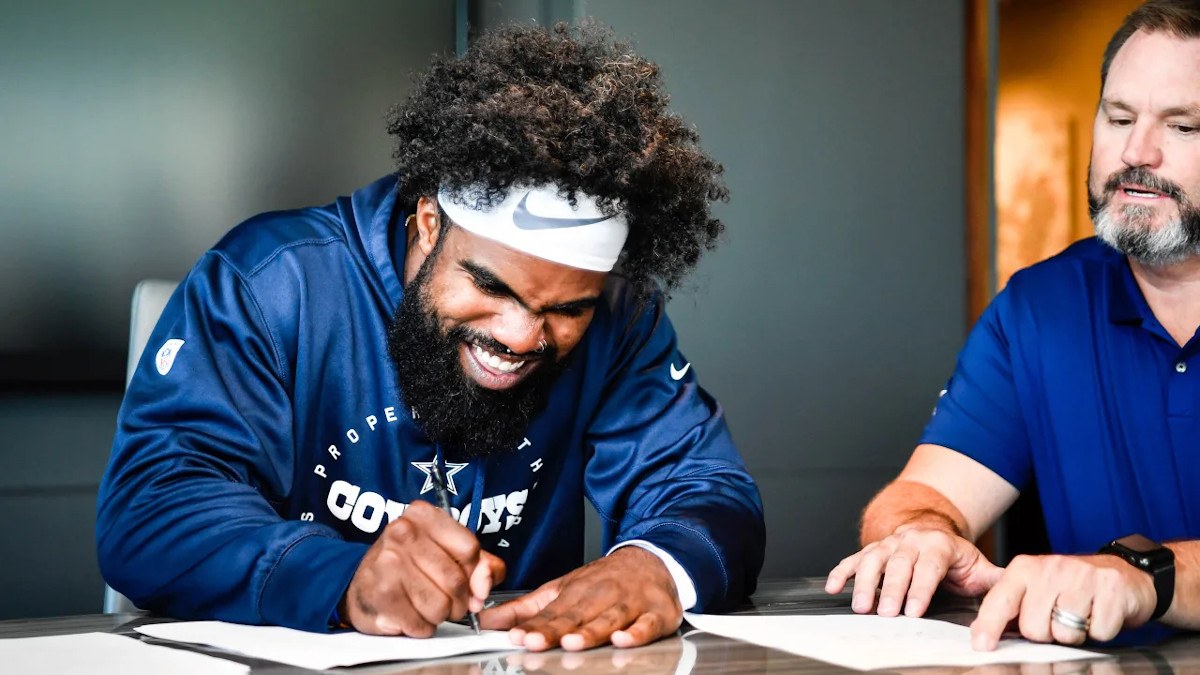 The deal will guarantee the 24-year-old Elliott $50 million, a record for running backs that surpasses the $45 million Todd Gurley received from the Rams.
Elliott Critical to Cowboys Offense
The Cowboys now have Elliott under contract through the 2026 season, over which time the running back will make over $100 million, making him the highest-paid player at the position in NFL history.
Elliott has emerged as one of the best running backs in football over his first three years in the NFL. He has twice led the league in yardage, and has scored 28 touchdowns over his first three years. He is also a capable pass catcher out of the backfield, making 77 receptions for over 500 yards last season.
That makes Elliott a dynamic weapon that the Cowboys couldn't really do without.
"Zeke has been arguably our best player," Cowboys owner Jerry Jones said on CNBC. "Zeke allows us to create such problems for the defense that he can open it up to our passing, open it up for Dak Prescott."
Elliott told DallasCowboys.com that he had held out to get the largest contract ever for a running back, saying it was "because I believe I'm the best." But after weeks spent training on his own away from the team, he says he's glad to be back with the Cowboys in time for the season to begin.
"I feel good," Elliott said. "I'm excited to be back. I'm excited to be back on the field. I'm excited to go win some ballgames."
Status Unclear for Sunday Opener
Presumably, the Cowboys will want to get Elliott on the field for their Sunday opener against the Giants, but the team would have to make a roster move first in order to do so. And according to head coach Jason Garrett, the team will have to see him in action before making a determination if he's game ready.
"We anticipate him practicing. We'll see how he does," Garrett told reporters on Wednesday. "He's in very good shape, he looks good but he hasn't practice with pro football players. We'll just see how he fits back in but he's a quick study, he's a smart guy, an excellent football IQ so we'll just see where he is and adjust accordingly as we go."
According to the NFL Network's Jane Slater, the Cowboys are likely to get Elliott into Sunday's game, but only for 20-25 snaps given his late arrival to the team.
Ahead of Ezekiel Elliott's first team practice since June, I'm told the plan right now is about 20-25 reps on Sunday, rookie Tony Pollard behind him and FB Jamize Olawale as your best blitz pickup guy on 3rd downs. Things can always change but this is the plan heading into today.

— Jane Slater (@SlaterNFL) September 4, 2019
It was far from certain during the preseason that Elliott would be back with Dallas for the start of the season – or at all, for that matter. Elliott made it clear that he didn't plan to report to training camp unless he reached a deal on a new contract with the team, and that he was willing to hold out as long as it took to make that happen. As the preseason wore on, even Jones admitted last week that there might not be an agreement made in time for Elliott to play in the home opener.
While Elliott's availability for Sunday's opener against the Giants is unclear, the Cowboys are currently a seven-point favorite in the game at FanDuel Sportsbook. Dallas is a +155 second-choice to win the NFC East behind the Philadelphia Eagles (-125), and a 28/1 pick to win the Super Bowl.