The New York Yankees clinched the AL East crown on Thursday night, but they'll be without starter Domingo German for the remainder of the regular season and playoffs after he was placed on administrative leave under Major League Baseball's domestic violence policy, according to a report by Buster Olney of ESPN.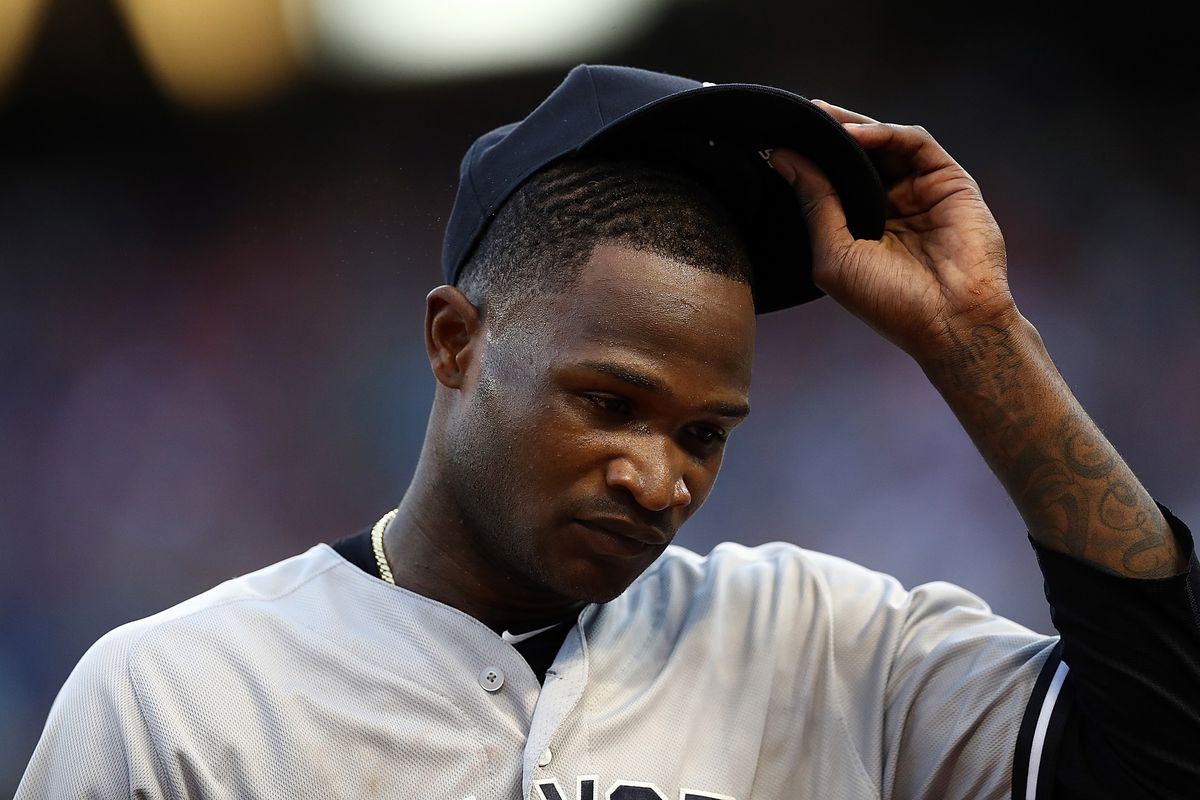 Olney cited sources as saying that German won't pitch again in 2019 due to a domestic violence allegation discovered by MLB officials on Tuesday.
Report: Several Witnesses Saw Incident
Under the joint domestic violence policy agreed upon between MLB and the MLBPA, players can only be placed on administrative leave for up to a week unless both sides agree to an extension. However, multiple media reports have said that German will not be pitching again until MLB officials are able to resolve his case.
According to The New York Post, the allegations involve German injuring his girlfriend, Mara Vega – who is also the mother of Vega's two children – on Monday, the same night two couple attended a party for the retiring CC Sabathia. Jim Bowden of CBS Sports cited sources as saying the incident involved "physical contact" that took place in front of several witnesses, making it impossible for German to deny what happened.
No police report was filed in relation to the incident, but Olney cited sources as saying that both the MLB and the players' union agreed that the allegations were enough to place German on leave while an investigation took place.
According to Boone, there were whispers that the league was looking into German before the 27-year-old Dominican pitcher made his most recent start on Wednesday, and he agreed with the decision to take the matter seriously.
"This is something that, baseball aside, this is a bigger issue," Boone told reporters. "When you hear the words 'domestic violence,' it's one of those things that stops you in your tracks. I give Major League Baseball and the players' association credit for doing their part in, several years ago, trying to be ahead of this and putting disciplinary action in place, hopefully being part of the solution to what is a problem in our society."
Both the MLB and the New York Yankees confirmed that German was placed on administrative leave on Thursday, with the Yankees saying they "fully support all measures being undertaken by the Commissioner's Office."
Even Without German, Yankees Among World Series Favorites
While the ramifications of his case go well beyond baseball, the loss of German will have serious on-field consequences for the Yankees.
German was 18-4 with a 4.03 ERA in 143 innings this season. That made him the team leader in wins, and gave him the second-lowest ERA among Yankees starters, trailing only James Paxton (3.88).
The Yankees are considered one of the leading contenders to win the World Series in 2019. At FanDuel Sportsbook, New York is the third choice to win a title this year at +400, behind only the Houston Astros (+220) and the Los Angeles Dodgers (+250).