The last time Domestic Spending and Colonel Liam tried determining who was the best older male turf horse in the country, they decided nothing but what a dead-heat looks like.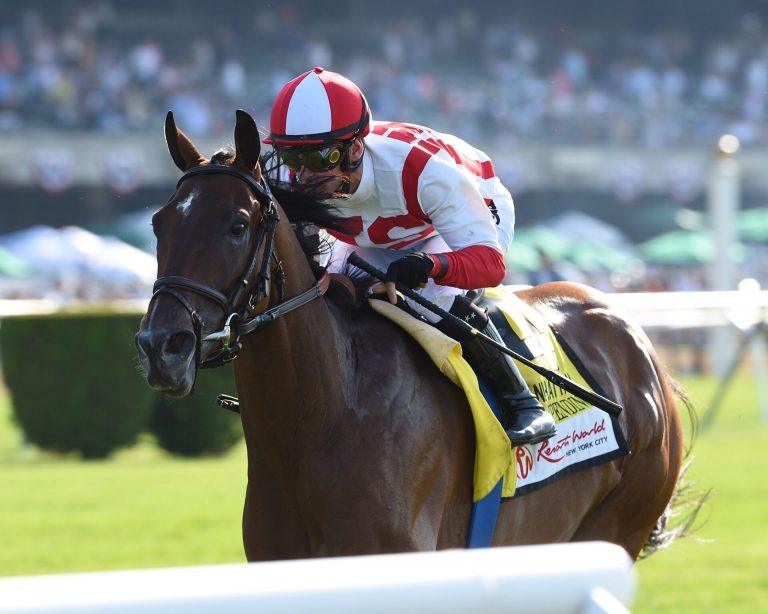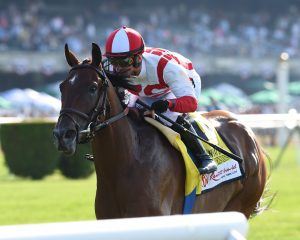 That came at the Grade 1 Turf Classic, on the Kentucky Derby undercard. There, Domestic Spending made the most of his 4-year-old debut, rallying furiously in deep stretch to catch leader Colonel Liam at the wire. The final lunge got Domestic Spending a share of the first dead-heat in the 35-year old history of the Turf Classic.
So, the pair moved to Belmont Park for last Saturday's Grade 1 Manhattan Stakes. Domestic Spending came in with a three-race winning streak, including two Grade 1s. Colonel Liam came in with a four-race winning streak, including that Turf Classic. He also won the Grade 1 Pegasus World Cup Turf Invitational and the Grade 2 Muniz Memorial at Fair Grounds. He came in 6-for-8 and with the legitimate mantle of best male turf router in North America.
For now, however, Colonel Liam no longer holds that title. Not after his head-scratching eighth-place finish. And not after Domestic Spending captured a decisive 2 ¾-length victory in the Manhattan, one of the seven Grade 1 races on Belmont Park's Belmont Stakes undercard.
Brown putting away quite a few Manhattans
At this pace, the New York Racing Association may eventually change the name of this race to the Brown Stakes. Domestic Spending's victory gave trainer Chad Brown his third consecutive Manhattan title and sixth in the last eight events. Brown won three consecutive Manhattans from 2014-2016 and just downed his second Manhattan triple.
"This has been an important race for us," Brown told the NYRA after the race last week. "It is one of the premier turf races for males at a classic distance in the country and I hold it in high regard. We point for it every year, and I've been so lucky, me and my team, to have some good horses through the years to work with."
Domestic Spending stopped the clock in a scintillating 1:59.08 for that classic 1 ¼-mile distance. To do that, he had to catch his stablemate, Tribhuvan, who was in danger of wiring the field. Flavien Prat had Domestic Spending in seventh through the opening three-quarters of a mile. He was sixth at the mile mark — more than 11 lengths back — before Prat took him outside into the five-path.
Domestic Spending responds to Prat's urgings
That gave Prat the opening he needed. He was second at the top of the stretch and relentlessly reeled in Tribhuvan down Belmont's endless turf stretch. After catching and passing Tribhuvan with a furlong to go, Prat was amazed at what he had left.
"He showed a good turn-of-foot last time and today, with the strong pace, it's hard to show the same turn of foot and he did," Prat said after the race. "I think I had more in reserve. He was floating a little bit down the lane, but I felt that I had more horse."
This had to be music to Brown's ears because Domestic Spending was the proverbial handful. The son of standout English sire Kingman, Domestic Spending won't be carrying on his particular genes after his racing career.
Not as much horse in a matter of speaking
"We had to geld him after his 2-year-old year, even with that breeding, because he wouldn't train," Brown said. "We had several different people on our team working with this horse, down at Stonestreet (in Kentucky) and down in Ocala (Florida). So many people have touched this horse and really worked with him and got his natural ability out of him. The latest is Flavien, who is now getting along just terrific with this horse. … There was a point in time when he was a baby that I didn't think we'd ever get him to the races."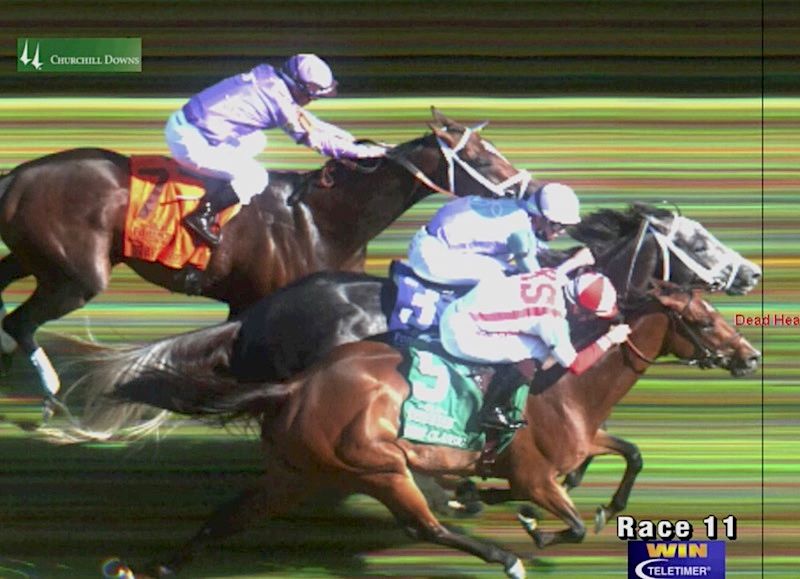 Now that he's here, Domestic Spending is getting along well enough to bank $1.3 million in his seven starts. He's 6-for-7 and the Manhattan win gave him five in a row. It also gave Brown and other observers visions of Bricks and Mortar, the 2019 Horse of the Year.
That Brown mainstay won the Turf Classic, the Manhattan, the Arlington Million, and finally, the Breeders' Cup Turf – four of America's top turf routes. Brown refused to get ahead of himself, saying that he didn't think Bricks and Mortar was a three-turn horse, hence he wasn't going to run him in the 2019 Breeders' Cup Turf, but instead, the Mile.
"These horses, as they get older and get some seasoning under them, you're starting to see them have more range. Anything is possible, let's see, but his next start – all going well – is Arlington," Brown said.
Formerly known as the Arlington Million, that would be the Aug. 14 Mister D Stakes, named in honor of longtime Arlington Park owner Dick Duchossois. But whatever you name the Grade 1 race, Domestic Spending will come in as the No. 1 male turf router in America. Of that, there is no doubt.