A new documentary on the legendary Diego Maradona is now available on HBO. Chronicling his rise and fall with Napoli, "Diego Maradona" is directed by Asif Kapadia, who won an Oscar for Best Documentary with the 2015 film "Amy" about the short life and death of singer Amy Winehouse.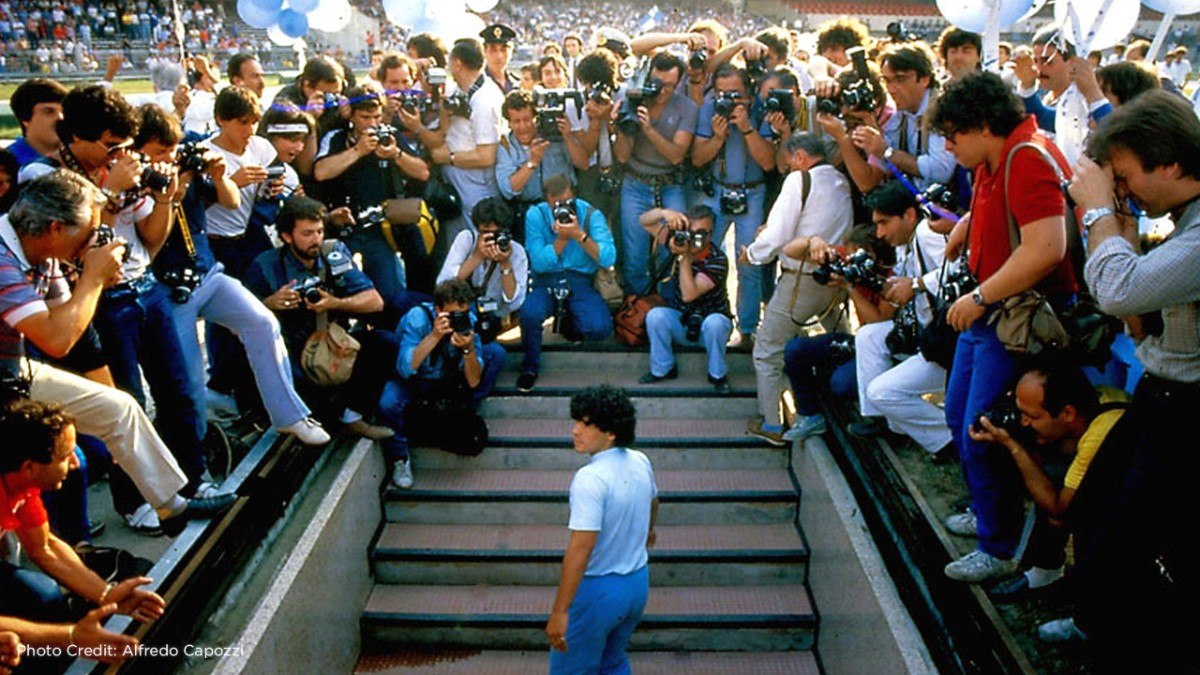 Maradona helped Argentina win the 1986 World Cup by defeating West Germany in the finals. The next year, Maradona led Napoli to their first Italian League title in 60 years. The best year of his life marked the beginning of the end for Maradona, as he fell deeper into cocaine addiction.
British filmmaker Asif Kapadia also directed a documentary on Brazilian race car driver Ayrton Senna, titled "Senna" (2010).
For "Diego Maradona", Kapadia enlisted the help of the player's ex-wife, Claudia Villafane, who provided tons of never-before-seen footage through home videos and Super 8. The majority of the film is spoken in Spanish or Italian with English subtitles.
From Argentina to Italy
Diego Maradona grew up in poverty in the Villa Florito slum in Argentina. Although he was small for a pro baller at 5-foot-5, the quick Maradona rapidly rose through the ranks of Argentina's junior leagues. By age 13, Maradona played pro ball, and supported his parents and four sisters.
The documentary begins with Maradona's arrival at SSC Napoli after Barcelona sold his contract to the highest bidder in Italy. Napoli almost got relegated to Series B the season before Maradona's arrival. He was on a mission to turn around the worst team in the Italian Series A league, which also was located in one of the worst cities in Italy. Naples residents were called dirty peasants and thieves. Mostly every song by the opposition includes a taunt about Naples being the sewer of Italy, which is why Neapolitans smelled so bad.
86-87 God Mode Napoli
Diego Maradona had his best years in 1986 and 1987. He won the FIFA World Cup for Argentina in the summer of 1986.
Maradona scored two huge goals against England, including an obvious handball on his first goal. In the era before VAR, it was considered payback for the Falklands War. The second goal is one of the most famous goals in the history of soccer. The commentary from announcer Victor Hugo Morales captures the exhilaration of Maradona Mania at its peak.
"Genius of football," screamed Victor Hugo Morales as Maradona shot and scored. "Gooooooooooooal! Sorry, I want to cry. Dear God, long live football. Gooooooooal Diegol! Maradona! It's enough to make you cry, forgive me. What an unforgettable run! A cosmic kite. What planet do you come from so that the whole country is a clenched first shouting for Argentina? Thank you God for football and Diego Maradona for these tears!"
In 1987, Maradona and Napoli won the Italian League for the first time since the team began 60 years earlier. Maradona felt the win for Napoli was even bigger than Argentina's World Cup victory. The entire city celebrated the victory for two months.
During those years in Naples, Maradona would play games on Sunday afternoons, and then have dinner with his family on Sunday night. When his family went home, Maradona and his teammates went out to party. They'd snort endless amounts of cocaine and drink champagne with strippers until Wednesday. That's when the bender ended, and Maradona went home to sleep and train for the next match on Sunday.
After Maradona won a title for Napoli, he asked to be sold to a different team. He had his eye on Marseille, but the president of Napoli refused to let him go. Maradona sunk deeper into addiction and despair.
The PK That Ruined His Life
Don't mess with the Neapolitan mafia and crooked Italian officials. That should have been a given to anyone in Naples. However, Maradona didn't realize how quickly everyone had turned on him. Even though everyone in Naples hated the rest of Italy, they hated Maradona even more for ruining their shot at a World Cup title.
At the 1990 World Cup semifinals hosted at San Paolo Stadium in Naples, Argentina defeated Italy in penalty kicks. Diego Maradona nailed the PK shot to seal Italy's fate. If he missed, he would have been trashed in the South American press for tanking the game to help the Italians. The Euro press would have skewered him for taking a dive for his mobster friends and Napoli teammates on the Italy squad. But, he scored the goal, and that opened up a volcanic eruption of hate that manifested in a set up.
The press called him "Lucifero" or the devil during the nasty backlash.
Maradona had many vices and weakness, including drugs and women. The Napoli police overlooked the hookers and blow until he beat the Italians in the World Cup.
The police popped Maradona for distrubiting cocaine to prostitutes, which is pretty funny, but also very sad. It wasn't hard for the Comarra and crooked cops to set him up with wire taps. He literally walked right into that trap of deviancy.
The Italian football officials really put the screws to Maradona. Who knows how long they had covered up his previous drug tests, or if a square teammate provided urine for Maradona? After the 1990 World Cup debacle, bitter Italian football officials busted him for failing a drug test. That anti-doping rap was tough to beat, because Maradona was a known coke fiend.
The Italian League and FIFA banned Maradona for 15 months. He fled Italy as a pariah and resurfaced in Argentina. He spent two weeks back in his home country before he got raided by drug cops in Buenos Aires.
Maradona HBO Doc Rave Reviews
The best thing about the Diego Maradona documentary on HBO is that you really don't need to know anything about soccer (football) to enjoy the film. It's a compelling tale of a star's rise to fame, and inevitable fall from grace.
Unlike in the Amy Winehouse or Ayrton Senna docs, Kapadia's subject this time around was still alive. Maradona sat down for a series of interviews, but you never see the modern-day version of the legend. You see plenty of Maradona through archived footage and home video recordings provided by his wife and family.
Kapadia did another exquisite job with Maradona documentary. He's been getting positive reviews from both the film world and the sporting world.
Richard Deitsch from the Athletic raved, "Asif Kapadia's 'Diego Maradona' is the best the sports documentary of the year."
Bill Simmons tweeted, "It is one of the best sports documentaries of all time."
Charlie Sheen added, "I thought I did a lot of blow… but wow… Maradona partied as hard as he played."
"Diego Maradona" debuted on HBO on October 1, 2019. The Maradona documentary is currently available on HBO's streaming services, HBO Go and HBO Now.
So "Maradona" premieres on @HBO on October 1 (Tuesday) at 9pm.

It's one of the best sports documentaries of all-time.

We're only 4-plus days away. Put a reminder in your iPhone calendar for Tuesday with a description like…

9PM — WATCH ONE OF BEST SPORTS DOCS EVER.

Thanks

— Bill Simmons (@BillSimmons) September 27, 2019
Check out other documentary films including "Dennis Rodman: For Better or Worse" (30 for 30) and "What's My Name: Muhammad Ali?" (HBO).