Denny Hamlin picked up his fourth win of the season, surpassing Matt DiBenedetto with 12 laps to go to win the Bristol Night Race on Saturday.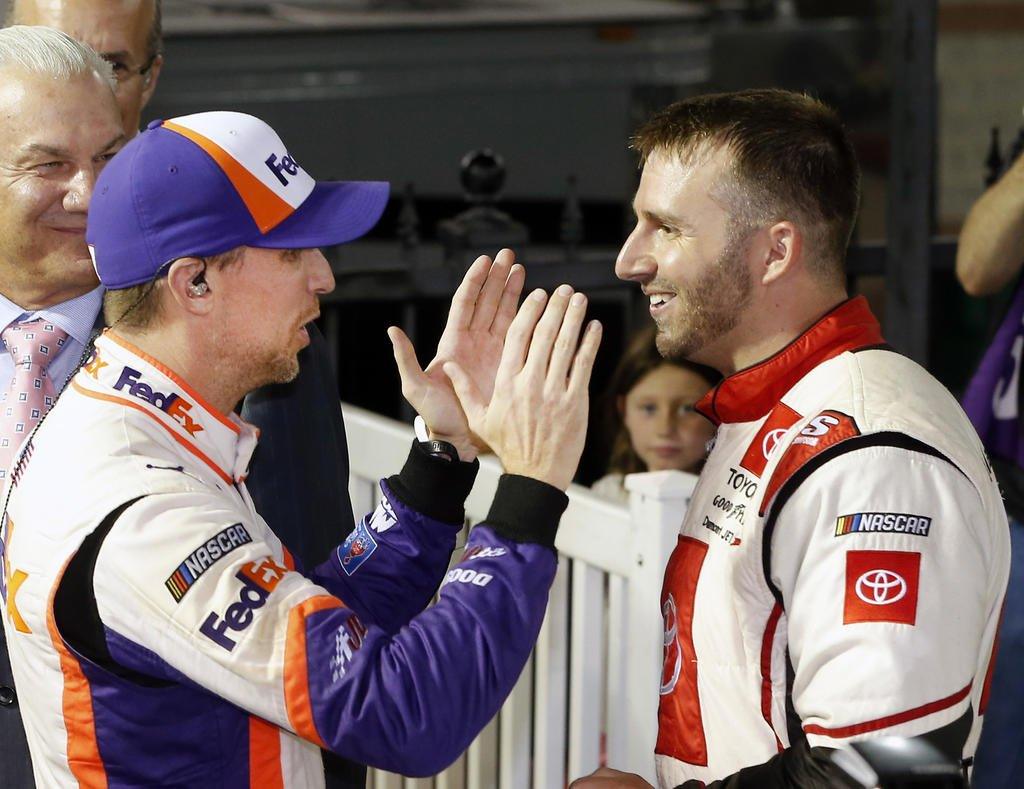 The comeback denied DiBenedetto his first career NASCAR Cup Series win, and moved Hamlin up into third place in the driver standings.
Hamlin Apologies for Denying DiBenedetto
The victory would have been a sweet one for DiBenedetto. Not only would it have clinched a playoff spot for the 28-year-old – one he likely can't achieve without a victory, as he currently sits 22nd in the NASCAR Cup Series standings – but he also learned Wednesday that Leavine Family Racing won't be bringing him back for the 2020 season, meaning he currently doesn't have a team lined up for next year.
All of that put together made it a bittersweet victory for Hamlin, who chose to apologize to the runner-up after the race.
"I'm so sorry to Matt DiBenedetto, [crew chief] Mike Wheeler," Hamlin told reporters after the race. "I hate it. I mean, I know a win would mean a lot to that team. But I have to give it 110 percent to FedEx and my whole team. Just sorry."
DiBenedetto became the story of the race, starting from when he took the lead during Lap 396. He then held on to the lead for a race-high 93 laps, not surrendering the advantage to Hamlin until Lap 488. According to DiBenedetto, watching the win slip away in the final laps was heartbreaking.
"To see it slip away was oh my gosh, I can't even," DiBenedetto said after the race, via NASCAR.com. "The pain was like being stabbed 100 times in the chest. It was killing me. But it's a sign of things to come. I'm not done yet. I feel like a team is going to hopefully grab me and be glad they did because I'll go out and do nothing but win and give them my all."
Second place was still a career-best finish for DiBenedetto. Brad Keselowski, Kyle Busch, and Chase Elliott rounded out the top five.
NASCAR Playoff Bubble Tightens
Just two races now remain before the start of the NASCAR Cup Series postseason. Only nine playoff-eligible drivers have scored wins this year, which leaves seven spots remaining on points – provided there isn't a new winner in the final two weeks of the regular season.
Sitting right on the cut line in 16th place is Daniel Suarez, but his lead is far from safe. He stands just two points ahead of Clint Bowyer, while Jimmy Johnson is 26 points back. While Bowyer actually finished one spot ahead of Suarez on Saturday – seventh, compared to eighth – Suarez also finished second in Stage 2, giving him more overall points from the race and flipping their spots in the playoff standings, at least for now.
"You're not worried about that," Bowyer said of points considerations during the race, according to NASCAR.com. "A short track like this, you're worried about keeping up with the race track, keeping up with your adjustments, track and stuff like that. You ain't got time to screw with that."
As playoff season approaches, the usual suspects remain the favorites to win this year's title according to bookmakers. 888sport has Kyle Busch listed as the +350 favorite to win the NASCAR Cup Series championship, ahead of Martin Truex Jr. (+400) and Kevin Harvick (+450).