Thursday night's Cowboys-Bears game features two teams with identical 6-6 records, and potential job implications for head coaches Jason Garrett and Matt Nagy. Both are rumored to be on the hot seat, and when the regular season ends on Dec. 29, the two could be out of their jobs if they don't make the playoffs.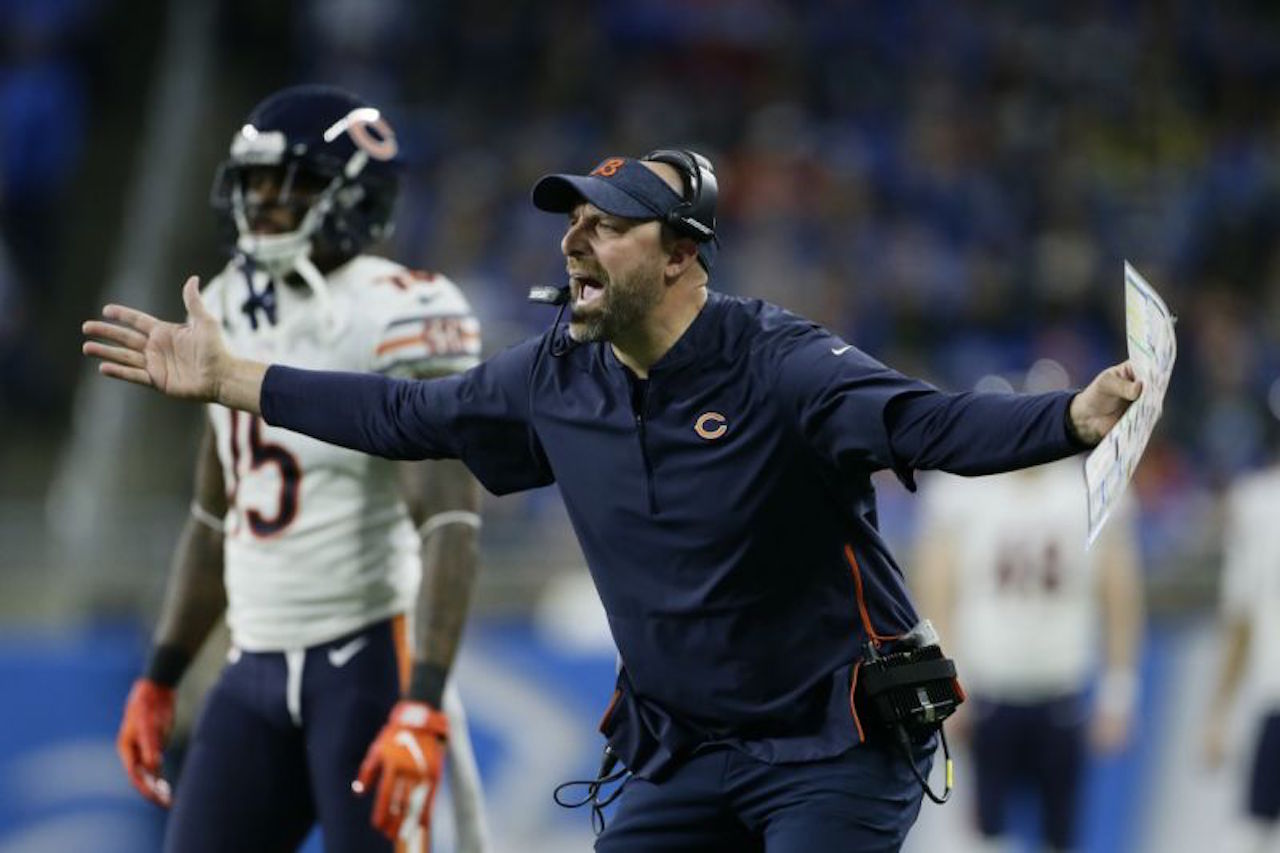 Dallas is a 3-point favorite in Thursday's game at Soldier Field. The over/under is 42.5 points.
In the battle of the two, 500 teams, it seems more likely that Dallas will make the playoffs. They are currently atop the NFC East, one game better than the surging Philadelphia Eagles. If the Cowboys can hold off Chicago on Thursday, they will have at least a short-term, two-game lead on the Eagles. Philadelphia plays the 2-10 New York Giants on Monday, and are 9-point picks.
Dallas running back Ezekiel Elliott told reporters the Cowboys know the immediacy of the situation.
"We need to start to get this going now," Elliott said. "Not many games left. It's really crunch time now. We've got to win some ballgames."
A Test for Dallas
The Cowboys have had problems with opponents outside the NFC East. While they are a perfect 4-0 in the division, they are 2-6 out of it. Their two victories came against Miami and Detroit, who both sport losing records.
If Dallas prevails on Thursday, it will be the first time they have beaten a non-division opponent with a winning record. They Cowboys lost their last two games in matchups against New England and Buffalo, which has only turned the heat up on Garrett's job status.
Talk of Garrett's shaky status began in October when the Cowboys suffered an embarrassing defeat to the New York Jets. Garrett has not publicly commented on the rumors, but owner Jerry Jones seems to be sending conflicting messages.
At one point in the middle of their 26-15 Thanksgiving Day loss to Buffalo, Jones was seen putting his hands over his face in disbelief. After the game, he told reporters that Garrett was still the coach.
"I'm just not going to make a coaching change," Jones said. "It's not impossible for us to do more than just show up in the playoffs."
On Tuesday, though, Jones went on a local radio show and uttered a cryptic comment about Garrett's future.
"Nobody has the exclusive skills to get the job done so that collectively you can win a Super Bowl," Jones said. "But there are qualified people. Jason Garrett is one of them. In my opinion, Jason Garrett will be coaching in the NFL next year."
Notice, he didn't say coaching in Dallas next year.
Nagy Not Safe
It seems inconceivable that Nagy, the 2018 Coach of the Year, would be shown the door just 12 months later, but it is definitely a possibility. In 2018, the Bears were 12-4, and in the playoffs. This year, Las Vegas oddsmakers set the over/under on victories at nine.
They need four more wins to go over that number, and have that many games left in the season. They might prevail at home against the Cowboys, but they also have upcoming contests against Green Bay (9-3) and Kansas City (8-4).
Chicago has won their last two games, and Nagy said the team can overcome a four-game losing streak that happened midway through the season.
"It speaks to the direction of where we could've went in that four-game slide," Nagy said. "No one, not one time, started pointing fingers, no one started blaming. I hate blamers. Hate's a strong word, but I dislike blamers. We never did that."