College Football Week 6 highlights included a television announcer going berserk, a high snap from a center, and a questionable call from the referees. Those, along with a missed field goal that cost a team the game, and a four-overtime contest that looked like it would never end, were some other highlights.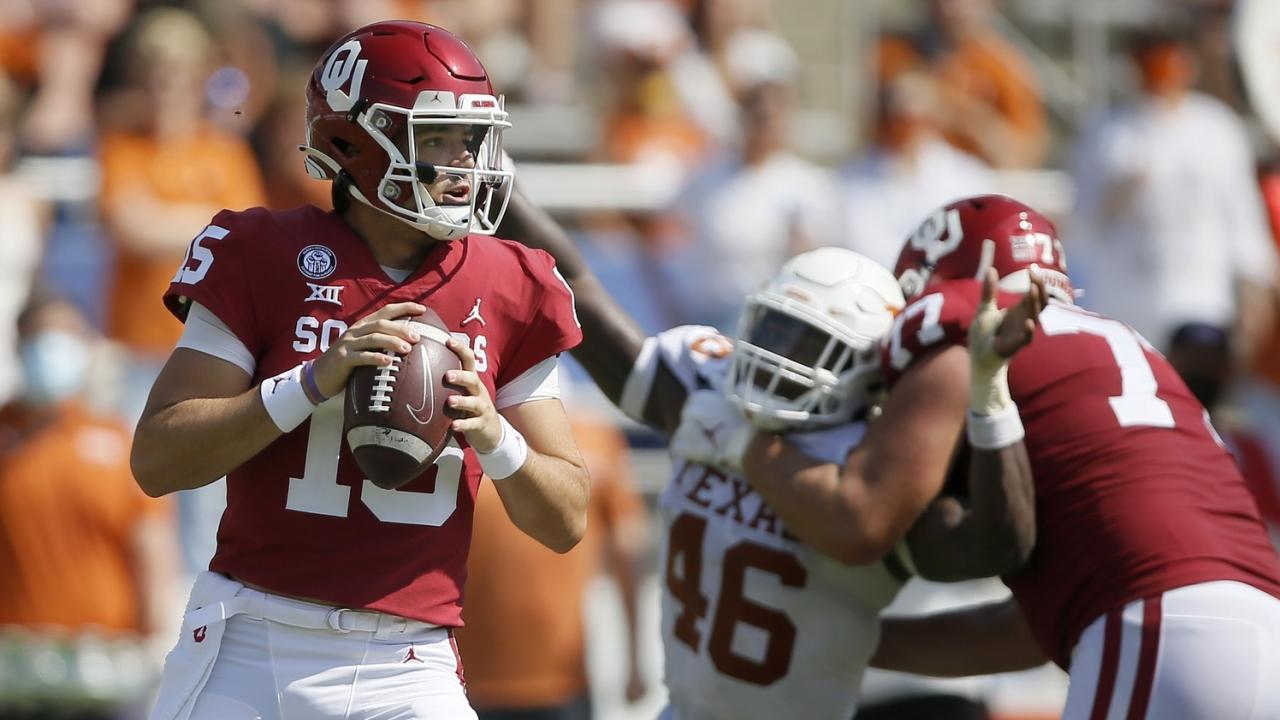 Your Georgia Center: Curly from Three Stooges
In college, and the pros, centers practice snapping the ball hundreds of times so something like this doesn't occur. Still, mistakes do happen, as Georgia center Trey Hill learned the hard way.
#14 Tennessee (+12.5) scores two plays into the game thanks to a botched snap!!

Live odds: TENN +200 UGA -245 (-5.5)#BeatGeorgia #Vols pic.twitter.com/uLOgRUAea9

— SportsBettingDime (@SBD) October 10, 2020
It could have been a disaster for the Bulldogs when the botched snap on the second play of the game was recovered by Tennessee's Kivin Bennett for the first score of the game. The Bulldogs bounced back, however, winning the game 44-21.
Welfare Check for Fox Announcer
Gus Johnson is one of the best announcers in college football, but he can get a bit excited at times. In Saturday's Oklahoma-Texas game, he reached a new level of mania.
We have reached DEFCON "Gus Johnson shouting random words" pic.twitter.com/Hlnv9gM0Dd

— Timothy Burke (@bubbaprog) October 10, 2020
We can confirm that Johnson did not have a stroke or some sort of seizure on the air, though he might have created a new announcing style of just screaming random words at loud decibels.
Somebody Had to Win
How long was the Oklahoma-Texas game? Four excruciating overtimes. It could have been finished in the third overtime, but both teams missed potential game-winning field goals.
Oklahoma wins the Red River shootout in 4OT with a pick on Texas' Sam Ehlinger!

OU wins 53-45 after nearly blowing a 14pt lead in Q4.

💰OU ML, OU -3, O74#OUDNA pic.twitter.com/KWJHaYctNS

— SportsBettingDime (@SBD) October 10, 2020
Ironically, it was a defensive play that ended the game when Texas quarterback Sam Ehlinger threw an interception in the end zone, allowing Oklahoma to escape with a 53-45 victory.
You Make the Call
Did Auburn quarterback Bo Nix throw a backward lateral, and not a spike? The call on the field was a spike. It allowed Auburn the chance to kick a 39-yard field goal and escape the upset to Arkansas, 30-28.
This is a fumble… or…?

— CBS Sports HQ (@CBSSportsHQ) October 10, 2020
Arkansas head coach Sam Pittman sure thought it was a fumble.
"The ball went backward six yards," Pittman said during his postgame Zoom with reporters. "I saw a fumble and a spike that went backward six yards."
Pitt Kicking Themselves
This is why football players hate kickers. Pitt, who was favored by 6.5 points over Boston College, scored a touchdown and lined up to kick the PAT to force a second overtime.
Pitt ties Boston College in overtime, but a missed extra point loses them the game!

💰BC (+190), BC +6.5, O42.5pic.twitter.com/mwx2sL63aM

— SportsBettingDime (@SBD) October 10, 2020
The PAT went wide right, however, and Boston College, who was +190 on the moneyline, pulled off the upset.
Turning on the Jets
Clemson running back Travis Etienne showed the world on Saturday that quarterback Trevor Lawrence isn't the only star on the team. The senior blew past Miami defenders for the 72-yard touchdown.
Travis Etienne just turned on the jets 🚀 🚀 🚀

He darts 72-yards to extend the Clemson (-14) lead.pic.twitter.com/6pE1VjFWli

— The Action Network (@ActionNetworkHQ) October 11, 2020
It was one of two scores for Etienne on the day, who finished with 149 yards in the 42-17 victory by the No. 1 Tigers.