The Los Angeles Clippers were down 3-2 against the Dallas Mavericks and went on the road to beat the Mavs on their home court to stave off elimination and force a Game 7. Kawhi Leonard tied a career-high with 45 points and lifted the Clippers to a must-win game to extend the series to a full seven games.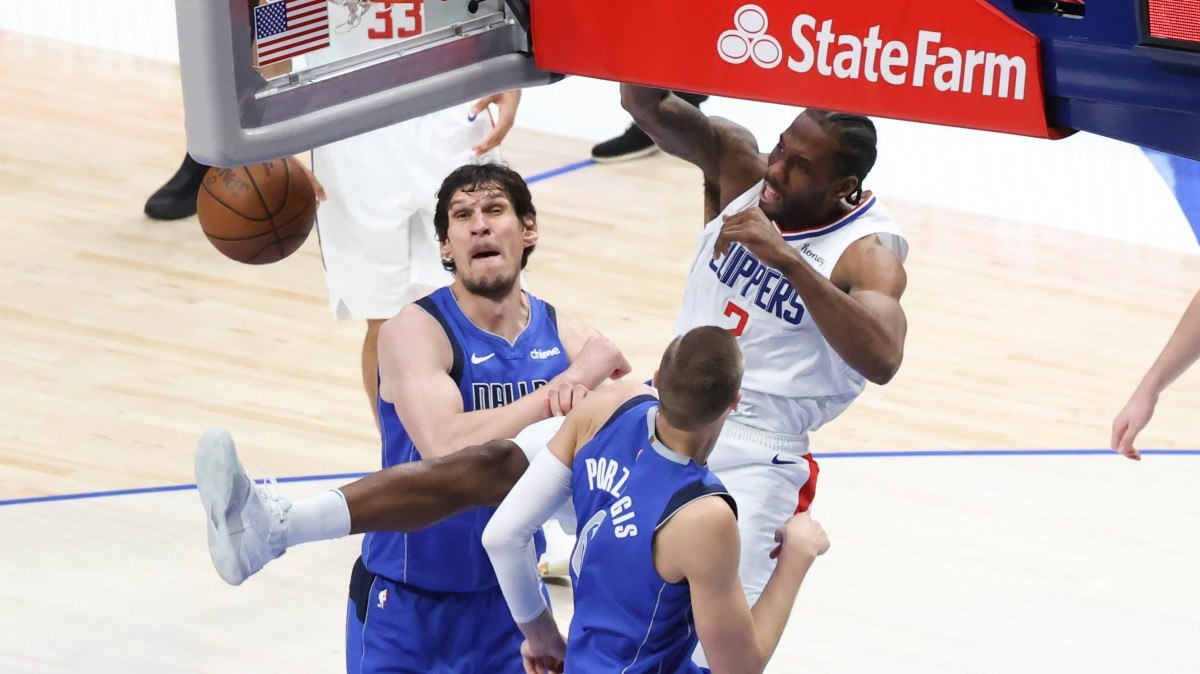 The Clippers lost the first two games of this first-round series at home in LA, and the Mavs were thrilled to leave Tinsel Town with a 2-0 series edge. In Dallas, the Mavs lost both home games after the Clippers evened the series at 2-2. When the series returned to LA for Game 5, Doncic scored 42 points and seized a 3-2 lead. When the series shifted back to Dallas for Game 6, the Mavs failed to close out the Clippers on their home court.
GAME 7: #5 Dallas Mavericks (3-3) at #4 LA Clippers (3-3)

Tip-off: 12:30pm PT
Location: Staples Center, LA
Point Spread: LAC -6.5
Total: 212 o/u
Money Line: DAL +225 / LAC -250
---
Heading into Game 7, the Clippers opened as a -6 favorite over the Mavs via the overnight line. On Saturday morning, the number moved to -6.5, with early money fading Doncic and the Mavs.
The road team won every game this series, which had never happened before in NBA playoffs history, aside from the NBA Bubble last year. If you want to back that road-win trend, the Mavs offer an opportunity at +225 on the money line to win Game 7 in Hollywood.
LA Clippers: Super Kawhi
In the battle of good and evil, it often takes a superhero to overcome an apocalyptic scenario. In this case, the Clippers Curse haunts the franchise because of their embarrassing history of premature postseason exits. When the Clippers fell behind 2-0 and then trailed 3-2, no one would shut up about the dreaded Clippers Curse. The Clippers signed Kawhi to a mega-deal because they felt he possessed supernatural abilities to overcome the pervading darkness and reverse the hex.
Kawhi put on his cape and saved is best performance for Game 6. When the Clippers needed their superhero the most, Kawhi tallied 45 points to avoid another early bust out. He shot an efficient 18-for-25 from the floor, plus 5-for-9 from 3-point land.
"It's just based on the mentality," explained Kawhi. "Definitely, you don't want to go home."
"He destroyed us," said a dejected Luka Doncic. "That's what it is. Kawhi had a hell of a game. And that's what he does."
Ty Lue opted for a small ball lineup for Game 6 with Nicolas Batum starting instead of Ivan Zubac. Lue shortened his bench rotation for Game 6. Every starter logged at least 38 minutes.
Patrick Beverly was also benched in favor of backup Reggie Jackson, who provided the Clippers with a third-scoring option behind Kawhi and Paul George. Jackson scored 25 points and added nine rebounds. George scored 20 points and hauled down a team-high 13 rebounds in the victory.
Kawhi brought intensity on both ends of the court. The few times he guarded Doncic, Kawhi kept the Slovenian wunderkind in check on 2-for-6 shooting.
"He was doing everything to stop, making it tough on the other end," said George. "You saw one of the best, if not the best two-way players at his best."
Dallas Mavs: Texas Twin Towers and kitchen sink time
Doncic had outplayed Kawhi in the first five games, and scored 39 points three times and posted a pair of 40-point games. However, Kawhi outplayed Doncic in the do-or-die Game 6. Game 7 should be another fantastic matchup between Doncic and Kawhi, which makes it must-see TV on Sunday afternoon.
Doncic only scored 29 points in Game 6. The Clippers did a much better job defending him on the perimeter. Doncic struggled with a 2-for-9 clip from beyond the arc after shooting 6-for-12 in Game 5.
"We have done everything in this series, and we'll have to be ready with the kitchen sink in Game 7," said head coach Rick Carlisle.
The Mavs opted for their Texas Twin Towers lineup featuring Boban and the Unicorn once again to counter act the Clippers' smaller lineup. Kristaps Porzingis (20.1 ppg this season) added only seven points, while Boban Marjanovic (4.7 ppg this season) scored 12 points.
Carlisle wanted a bigger lineup to stuff the paint and force the Clippers to beat them from long distance. The zone defense with two giants stacked in the lane paid off dividends with a win in Game 5. However, the Texas Towers were ineffective and backfired in Game 6. What defense and lineup will the Mavs use against the Clippers in Game 7?
Check out more of OG's coverage of the 2021 NBA Playoffs.