In a futile effort to jumpstart a winless Cincinnati Bengals team that began the season 0-8, head coach Zac Taylor benched starting quarterback Andy Dalton in favor of rookie backup Ryan Finley.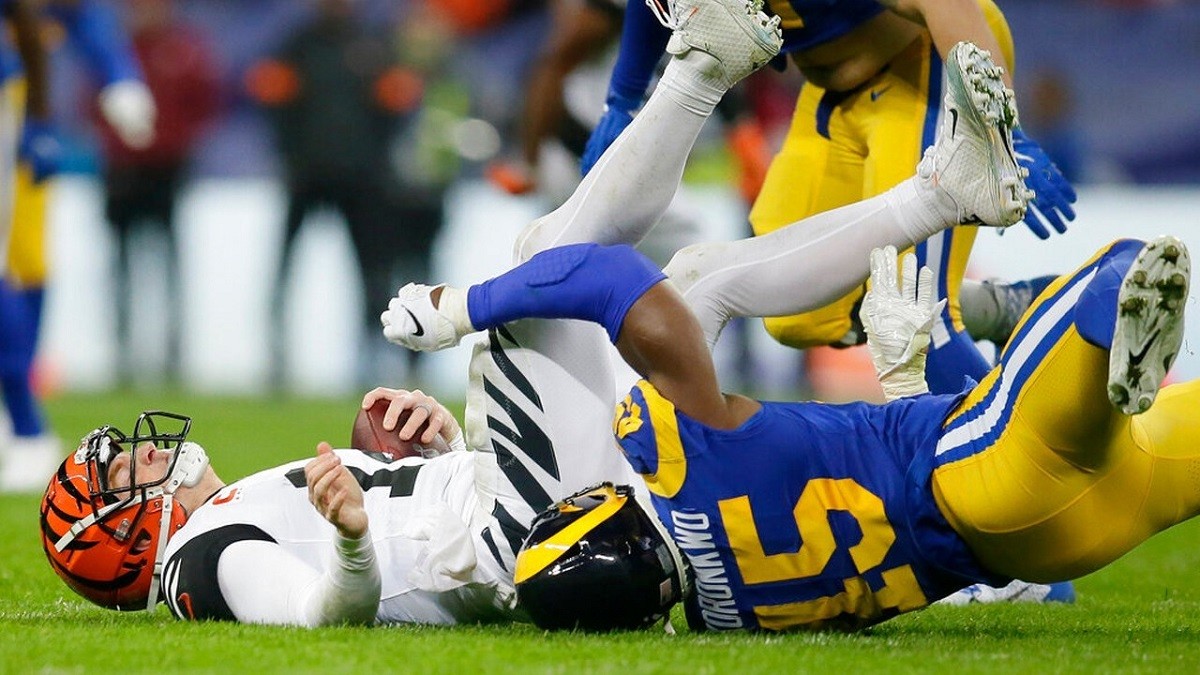 Finley, a rookie out of North Carolina State who has never taken a snap in an NFL game, will start Week 10 in a divisional matchup against Lamar Jackson and the Baltimore Ravens.
The Bengals have a bye week in Week 9 after losing to the Los Angeles Rams in a London game that put them in an 0-8 hole. The openly-tanking Miami Dolphins (0-7) join the Bengals as the only other winless team in the NFL.
The bold move is a major shakeup considering the Bengals have multiple problems across the board. First-year head coach Zac Taylor felt benching Dalton was a necessary jolt that the team desperately needs.
Dalton is playing poorly, but he's the scapegoat. The Bengals cannot run the ball to save their lives and Dalton has been tasked with winning games by himself. All-Pro WR AJ Green has been sidelined all season with an ankle injury and Dalton had to generate offense without his favorite target on the field.
According to Caesars Palace Sportsbook in Las Vegas, they have a Cincinnati Bengals winless prop bet that currently has odds at 20/1 or +2000 that the Bengals will finish the season 0-16. The consensus is that the Bengals will win a game because you'd have to lay $10,000 to win back $100 if you selected no on the 0-16 winless prop.
Birthday Blues and Scapegoat
In eight games in 2019, Dalton threw nine touchdowns but eight interceptions. He averaged 281.5 yards per game, yet completed only 60.4 percent of his passes. Dalton's anemic 38.8 QBR ranked him #28 in the league. As bad as Dalton has been, the running game is utterly worse.
The Bengals have the weakest rushing attack in the NFL. They averaged 59.5 yards per game, which is ranked #32 in the NFL. In comparison, Dalvin Cook rushed for 823 yards this season with the Minnesota Vikings. The top rusher in the NFL averages 104 yards per game.
The Bengals lackadaisical defense is a huge problem as well allowing 435.8 yards per game, which is dead last in the NFL. The Bengals rushing D is atrocious by allowing an NFL worst 177.6 yards per game.
Not only did Dalton find out the Bengals benched him on his 32nd birthday, the shakeup also coincided with the NFL trade deadline that ended at 4pm ET on Tuesday.
"It happened three hours before the trade deadline," Dalton told reporters. "I wish they would have, at least if he was thinking about it, at least try to let me see if I could end up somewhere or at least see if there was interest in possibly getting traded. At that point, the way it was all handled, there wasn't enough time to even have that happen."
Dalton did not demand a trade and accepted the demotion like a pro.
"Obviously there's a lot to come in the next eight weeks and beyond after this year. I want to have an opportunity to play. I want to have an opportunity to be somewhere where I'm wanted. If that's here, great. If it's not, we'll see. Right now, that's not my focus. My focus is just playing my role on this team."
Long Road for Dalton
The Cincinnati Bengals drafted Andy Dalton (out of TCU) with the #35 pick overall early in the second round of the 2011 NFL Draft. He's been the starter since his rookie season and played 128 games as quarterback.
In nine seasons, Dalton recently tied the franchise record for all-time touchdown passes with 197. He's second overall in all-time Bengals passing yards with 30,352.
Dalton missed the final five games last season after he tore ligaments in his thumb. The Bengals ended their season on a sour note when they finally fired long-time head coach Marvin Lewis.
Dalton looked good in preseason, but prognosticators were not high on the Bengals once they lost AJ Green for an indefinite amount of time. Baker Mayfield and the Cleveland Browns drew all the media attention and preseason hype in the AFC North.
In Week 1 of this season, Dalton threw a career-high 418 yards but the Bengals lost to the Seahawks 21-20. It's been all downhill since then.
Next Man Up: Ryan Finley in Week 10
The Bengals selected Ryan Finley in the fourth round of the 2019 NFL Draft. Finley played collegiate ball initially with Boise State before transferring to North Carolina State. He tossed 60 touchdowns in three seasons with the Wolfpack, including 25 in his senior season.
Finley has yet to play a snap this season. Yet, head coach Zac Talyor thinks his rookie QB is ready to make his debut.
"Everything that I've seen from Ryan Finley shows us that he's capable," explained Taylor. "Again, you have to get into some games against some starting defenses to know what you have there, and that's what we'll find out."
The Bengals are currently on a bye week after losing to the LA Ram overseas game hosted at Wembley Stadium in London, England. Taylor wanted to give his rookie QB extra time to prepare for his first game.
"I just felt like now is the time," said Taylor. "If you're going to do it, let's go ahead and make this switch and get behind Ryan and try to win these next couple of games."
The Bengals host the Baltimore Ravens in Week 10. When the Bengals benched Dalton, bookmakers in Las Vegas adjusted their early line on the Bengals/Ravens game. The Bengals with rookie Ryan Finley at the helm are a 10-point underdog. Yup, home dogs… again for the Bengals.
The Ravens defeated the Bengals 23-17 in Week 6, but the game was nowhere as close as the score indicated. The Bengals jumped out to a 7-0 lead after a 92-yard kickoff return by Brandon Wilson, but the Ravens dominated the rest of the game. Dalton scored a garbage-time rushing TD with 90 seconds remaining.