The hot streak for Milwaukee Brewers All-Star Christian Yelich continues after the MLB home run leader smacked his 25th homer the other night against the first-place Houston Astros.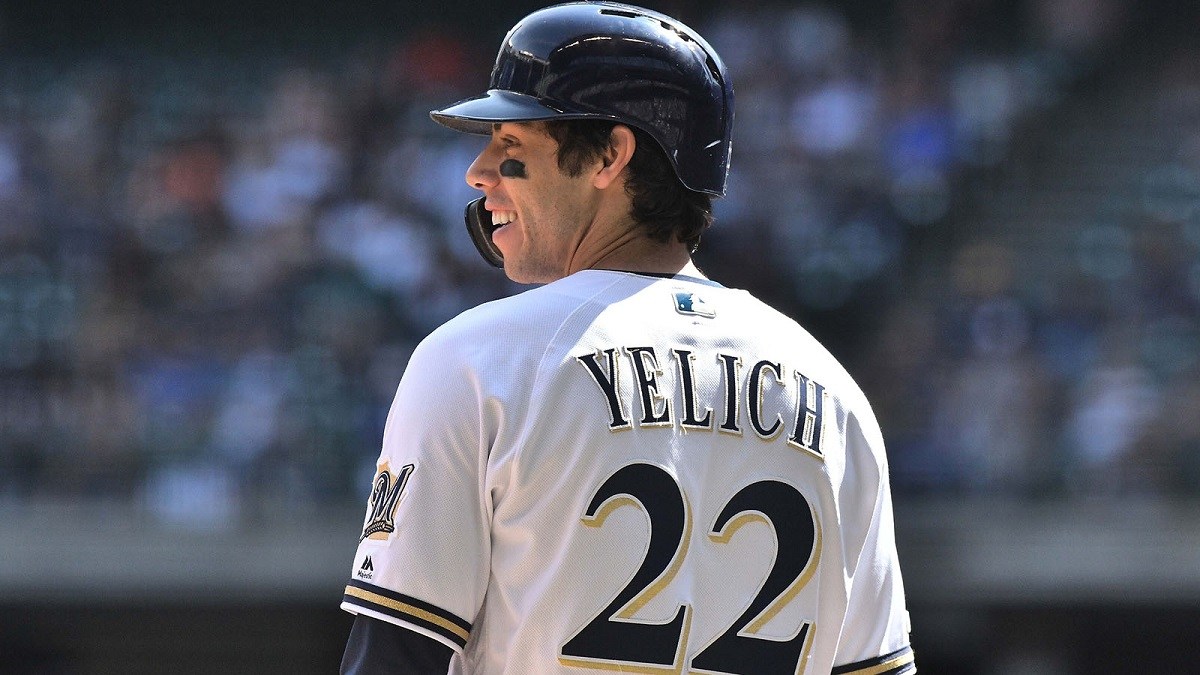 Yelich is competing with the LA Dodgers first baseman Cody Bellinger for a Triple Crown title in the National League. Yelich leads the majors with 25 home runs, but he's second in batting behind Bellinger's .352 average, and tied for fifth in RBI with 54.
CHRISTIAN YELICH (MIL)
Games: 61
AVG: .345
HR: 25
RBI: 54
OBP: .446
SLG: .749
Yelich played in 61 out of 68 games for the Brewers this season. He missed a couple of games due to a lingering back problem.
Yelich is on pace for 55 home runs and 120 RBI. He is in the middle of another MVP season with a .345/.446/.749 slashline for the Brew crew.
20+ Dingers
Only five players in the majors hit 20 or more home runs through approximately 68 games thus far. Only two players in the American League have more than 20. George Springer held the AL lead with 19 dingers before he injured his hamstring on an awkward slide. The Astros outfielder has been passed by the Edwin Encarnacion and Gary Sanchez.
Edwin Encarnacion and the Seattle Mariners got off to a hot start, but have since hit the skids. Encarnacion's bat stayed hot though and he leads the American League with 21 home runs and 49 RBI.
Yankees catcher Gary 'Kraken' Sanchez has been the big bat for the Bronx Bombers this season with big dogs Aaron Judge and Giancarlo Stanton sidelined with injuries. Sanchez leads the Yankees with 20 home runs.
20 HOMER CLUB
Christian Yelich (Brewers) 25
Pete Alonso (Mets) 22
Mike Moustakas (Brewers) 21
Edwin Encarnacion (Mariners) 21
Gary Sanchez (Yankees) 20
Cody Bellinger (Dodgers) 20
NY Mets rookie Pete Alonso made a name for himself early on this season. The slugger quickly became a cult hero in Queens. He crushed 22 home runs and trails only Yelich in total long balls.
Mike Moustakas, one of Yelich's teammates with the Brewers, has quietly hit 21 home runs. He slugged five over the last week while riding a seven-game hitting streak.
Cody Bellinger sprinted out of the gate after the Dodgers first baseman found his groove at Chavez Ravine with a smoother swing. He's fallen off slightly in the power department, but he's leading the majors with a .352 batting average. Bellinger is fourth in homers with 20 and he's tied with Yelich with 54 RBI.
Reserve Power
Keep an eye out for Aaron Judge and Giancarlo Stanton. Judge's oblique healed and he's ready to take real cuts again in the minors. Meanwhile, Stanton crushed a few homers during his rehab stint on the Yanks' farm team in Tampa.
Mike Trout is having a quiet season for the LA Angels hitting only .290 with 18 home runs. Trout, who signed a record massive contract extension, is ready to break out of his funk.
KC Royals outfielder, Jorge Soler, is having a breakout season. He's already posted a career-high 17 home runs and counting. Soler is a rare gem on a last-place team.
San Diego Padres centerfielder, Franmil Reyes, is having a sensational sophomore season. With 19 dingers, Reyes is on the cusp of joining the 20 Homer Club.
Braves first baseman, Freddie Freeman, is having a heck of a season in his tenth year in Atlanta. Freeman is hitting .308 with 18 homers and 44 RBI.