Two of the most dynamic running backs in the NFL, Alvin Kamara from the New Orleans Saints and Christian McCaffrey from the Carolina Panthers, were not selected to the Pro Bowl despite outstanding seasons.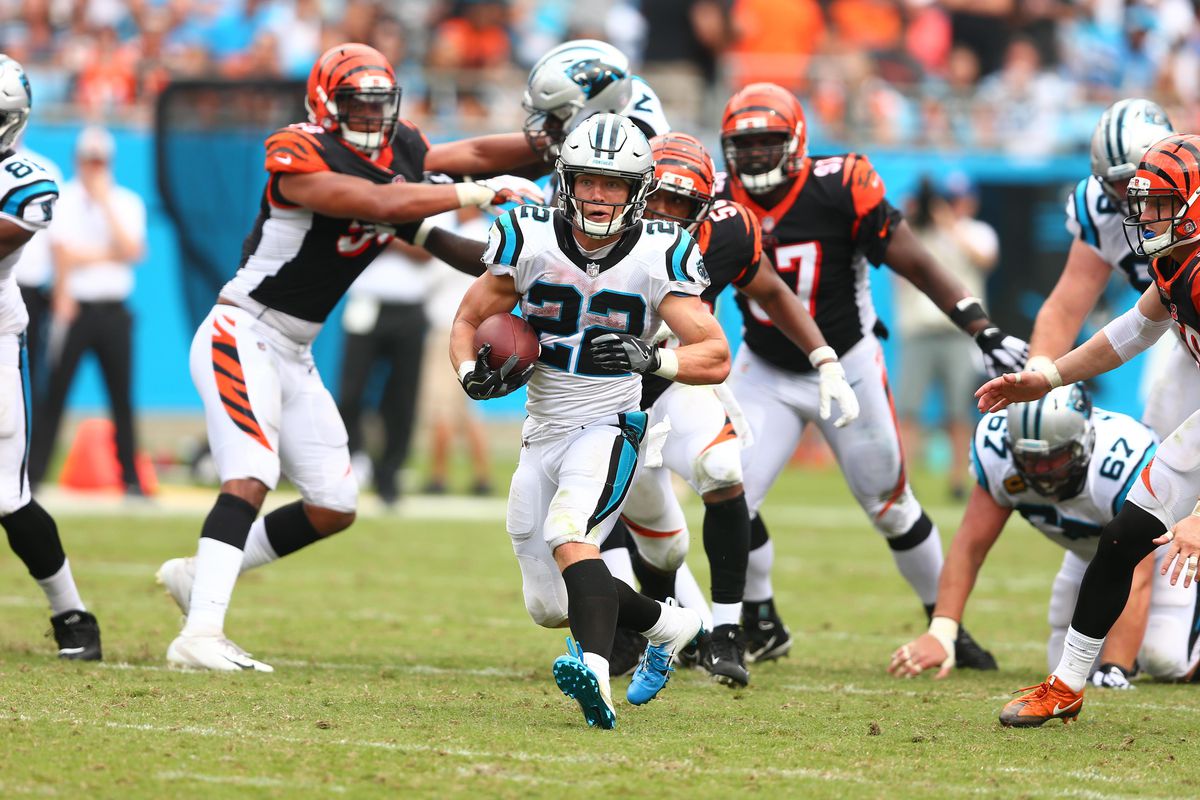 "It is what it is. It's been my whole life," McCaffrey told reporters when asked about the snub.
McCaffrey followed up by paraphrasing a lyric from hip-hop artist Drake, "I don't have to prove nothing to nobody but myself."
All-star selections are never perfect and someone worthy of a Pro Bowl spot gets snubbed every year. However, this season a pair of sophomore running backs – McCaffrey and Kamara – were shafted because of their ability to catch the ball.
With an increase in scoring, NFL offenses are drastically changing. We are witnessing the transformation of the traditional running back into a hybrid running back/wide receiver. Any NFL scout or fantasy football enthusiast will gush over the importance of players like McCaffrey and Kamara. As the game evolves, positions are blending together, but the criteria for determining the top running backs remains stuck in the past.
Chip Off the Old McCaffrey
Christian McCaffrey comes from an athletic family. His uncle played basketball for Duke. His father Ed played 13 seasons in the NFL as a wide receiver for the New York Giants and Denver Broncos and won three Super Bowl titles.
McCaffrey followed in his father's footsteps and attended Stanford University. McCaffrey dazzled with his running ability, but irritated Stanford fans when he decided to sit out a bowl game in order to prepare for the NFL draft. McCaffrey's decision sparked outrage among fans and inspired a dearth of think pieces on risking millions in potential earnings to play in a meaningless bowl game. These days, skipping bowl games is now a common practice for potential lottery picks.
The Carolina Panthers selected McCaffrey as the eighth overall selection in the 2017 NFL Draft.
CHRISTIAN MCCAFFREY
Nickname: CMAC
Age: 22
Height: 5-foot-11
Hometown: Denver, Colorado
College: Stanford
Draft: First Round, 8th overall pick in 2017
2018 Touchdowns: 13 (7 rushing)
2018 Rushing Yards: 979
2018 Receiving Yards: 768
McCaffrey is tied for seventh overall in receptions. He's 26th overall in receiving yardage. McCaffrey has been a fantasy stud the last four weeks. Overall, McCaffrey is the second-best running back according to ESPN's fantasy football scoring system.
In Week 12 against the Seattle Seahawks, McCaffrey pulled off a rare feat when he posted 100+ yards on the ground and in the air. He scored two touchdowns and rushed for 125 yards and added 112 receiving yards.
This season, McCaffrey scored 7 rushing touchdowns and 6 receiving touchdowns. He even threw a touchdown pass last week in a trick play against the Saints. During a halfback option, McCaffrey found Chris Martinez for a 50-yard strike.
Saint Kamara
Alvin Kamara's numbers took a hit when Mark Ingram rejoined the team after missing the first four games. Kamara is currently 12th overall in rushing yards with 860. He scored 12 rushing touchdowns, which is third best in the NFL.
The tandem of Ingram/Kamara is one of the deadliest one-two punches in the NFL. They're nicknamed Boom and Zoom for their speed and ability to bust out a big run. Kamara adds more value to the Saints offense because he can play all three downs as a reliable receiver for Drew Brees. Kamara added four receiving touchdowns this season to bring his total to 16 scores.
ALVIN KAMARA
Nickname: Boom and Zoom
Age: 23
Height: 5-foot-10
Hometown: Norcross, Georgia
College: Tennessee
Draft: Third Round, #67 pick overall in 2017
2018 Touchdowns: 16 (12 rushing)
2018 Rushing Yards: 860
2018 Receiving Yards: 627
Kamara became a breakout star last year during his rookie season with 1,554 combined yards from scrimmage and 13 touchdowns. He also scored 3 touchdowns in the Superdome during a huge victory against the LA Rams in Week 9.
This season, Kamara's best game occurred during Week 3. Against the NY Giants, Kamara exploded for 181 total yards including 134 on the ground and 3 touchdowns.
For fantasy football nerds, Kamara is ranked in the top five overall. Kamara is currently fifth overall according to ESPN's fantasy scoring system.