The Chicago White Sox defeated the struggling New York Yankees 10-2 on Friday evening and White Sox pitcher Lucas Giolito (10-1) became the first pitcher in MLB to win 10 games this season.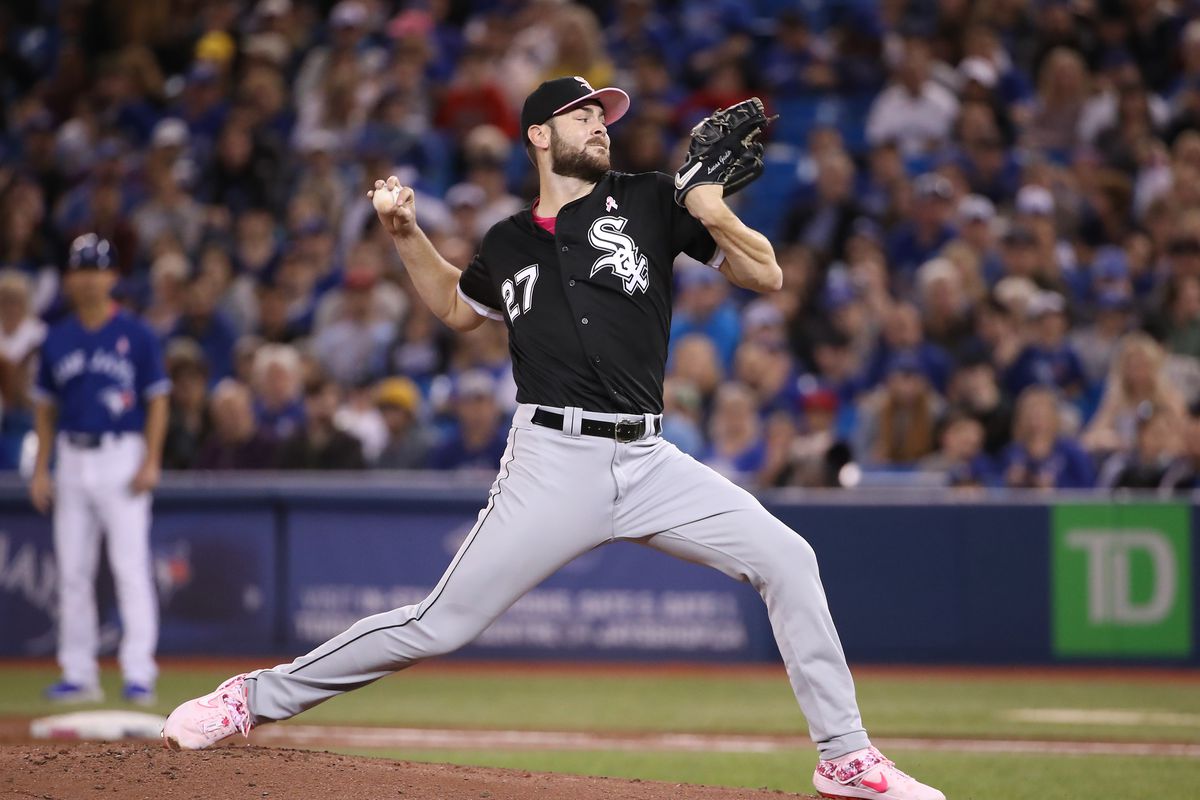 Giolito leads the majors with 10 wins in just 13 starts. He's sixth overall with a 2.22 ERA and ranked fifth with a 0.95 WHIP.
While the Minnesota Twins are running away with the AL Central crown, the White Sox (34-34) have been flying under the radar this season.
WHO IS LUCAS GIOLITO?
Age: 24
Hometown: Los Angeles, CA
Throws/Bats: Right/Right
Record: 23-18
Draft: 2012 First Round by Washington
Teams: Washington Nationals, Chicago Whitesox
The White Sox went 62-100 last season, but luckily the KC Royals had a worst season and spared the Chisox from las place in the division.
Lucas Giolito went 10-13 last season for a team that reached the dreaded century mark in losses. He started 32 games and didn't get a ton of run support. Then again, he had a 6.13 ERA and 1.48 ERA which didn't help his own cause.
What a difference a season makes, eh? In 2019, Giolito is the best pitcher in the American League. Last year, he had the worst ERA among starting pitchers.
The Washington Nationals signed Giolito out of high school in 2012. He should have been the #1 pick but dropped to 12th overall. Giolito was one of the best baseball players in the Los Angeles area when he got scooped up by the Nats, but he had arm problems. He underwent successful Tommy John surgery and it took him a couple of years to bounce back to old form.
10-1 for Giolito
Despite not having his best stuff, Giolito kept the Yankees big bats like Gary "Kraken" Sanchez quiet and gutted out his ninth-straight victory.
"I called it a grinder game," Giolito told reporters after the game. "I didn't feel great. There were spurts where I was in sync, everything was coming out right. And then I'd regress. I was a little off. But grinded through it."
"That's one of the signs of a guy that puts himself in the elite status in terms of starters," said White Sox manager Rick Renteria said. "You know you're grinding on a particular day, don't feel like you necessarily have your best stuff, and you're able to still go out there and do a nice job of containing and minimizing damage. As we were all watching it, we're all amazed."
MLB WINS (THRU 6.15.19)
Lucas Giolito (White Show) 10-1
Hyun-Jin Ryu (Dodgers) 9-1
Justin Verlander (Astros) 9-2
Jake Odorizzi (Twins) 9-2
Domingo German (Yankees) 9-2
This season, Giolito is pitching like a Cy Young winner. In only 13 starts, he's 10-1 with just 2 no decisions. The Whitesox are 11-2 when he takes the mound. To think he started out the season with a rough patch. He was 1-1 and got knocked around a bit, but settled down and has gone 9-0 since then.
Giilito pitched two complete games this season including an impressive complete game shutout against the Houston Astros in late May.
For a while it looked like the Hyun-Jin Ryu from the Dodgers would become baseball's first 10-game winner.
The Yankees Domingo German looked like he was about to win 10 games first. The replacement for ace Luis Severino jumped out to a 9-1 record. However, he injured his left hip and hid the ailment to the training staff. After a couple of horrendous starts, the Yankees finally got wind of the injury and sent German on the IL. In the meantime, Giolito swooped in and became the first pitcher with double-digit wins.