The AFC West teams may have more issues with its players off than field than on it. Los Angeles Charger running back Melvin Gordon is in the midst of a contract dispute, and didn't report to camp. Kansas City Chief wide receiver Tyreek Hill needs to stay out of trouble.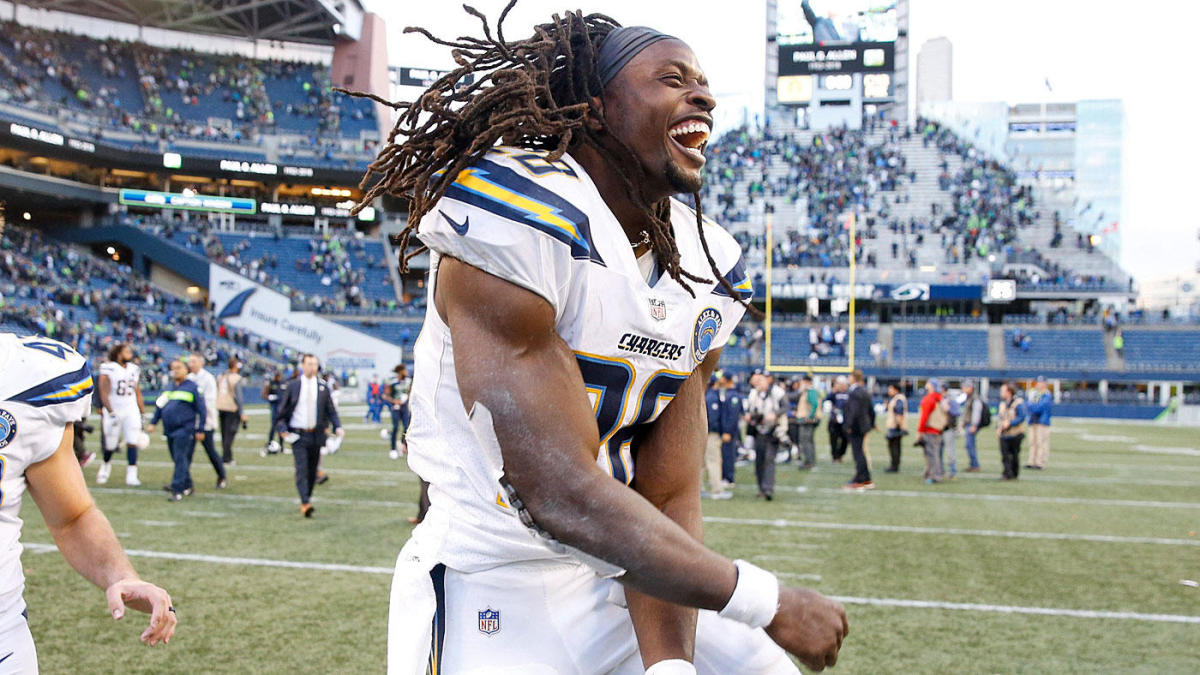 This will also be a big year for Oakland quarterback Derek Carr. The team has surrounded him with talent and protection, and coach Jon Gruden expects more from him.
This is the routh of an eight-part series of players that teams cannot afford to lose. We take a look at four players in the AFC West that are vital to their team's success.
Chargers, Gordon Needs to End Holdout
Not too many teams have been hit harder by injuries in the preseason than the Los Angeles Chargers. The squad has lost left tackle Russell Okung, star receiver Keenan Allen, and safety Derwin James. Okung and James will miss part of the regular season.
As a result of injuries to key players, Los Angeles' odds to win the Super Bowl have gone from 14/1 in April to 18/1.
That is why the team and holdout running back Melvin Gordon have to come to an agreement before the start of the season. Gordon is a vital part of the team's offense, and quarterback Philip Rivers could struggle if there is not a quality running back behind him to help open up the field.
Tyreek Hill Needs Poise On, Off Field
Probably the biggest contribution Tyreek Hill can make for the Kansas City Chiefs is off the field. The wide receiver has escaped charges by Kansas City prosecutors, and the NFL in regards to allegations he broke his three-year-old son's arm.
This is not the first incident with Hill. At Oklahoma State he was kicked off the team for choking and hitting his then pregnant girlfriend. He pleaded guilty to domestic violence and received probation.
There is no doubt that Hill is talented, but if he can not keep out of trouble, he will not only derail his own career, but distract the Chiefs as the 6/1 favorites try and win a Super Bowl.
Raiders QB Carr has Needed Tools
Derek Carr comes into 2019 with more to prove than just about anyone in the league. The quarterback, who has been in and out of favor with head coach Jon Gruden, now has been given the tools to succeed.
He has a running back in Josh Jacobs that could provide a balance offense, two wide receivers in Antonio Brown and Tyrell Williams that will provide deep threats, and a healthy offensive line that should give him protection.
Gruden told Sports Illustrated that he expects Carr to succeed.
"I'm anxious to see Derek with the cast that we think we brought in," Gruden says. "I think to really evaluate the quarterback, you gotta evaluate the supporting cast. And when we got here, we didn't have one healthy tackle on our team, not one."
Denver's Sanders Step in Right Direction
Denver wide receiver Emmanuel Sanders returned on Monday eight months after tearing his Achilles heel and showed the same explosiveness that makes him a great deep threat.
"To be able to come back and feel how I feel and feel better, still be able to hang out with these 24-year-old kids and still be able to run with them, it's amazing," Sanders said. "I don't take anything for granted."
Quarterback Joe Flacco now has a quality receiver he can count on, and that should give the Broncos another facet to the offense.
"It was great to see him out there the last few days getting after it, and now to get him some live reps in the game is a positive," Flacco said. "Getting him going was definitely huge for our offense."