The 2019 fantasy football season is around the corner and you'll find the usual suspects like ODB among the consensus top 5 WR in the NFL with DeAndre Hopkins (Houston Texans), DaVante Adams (Green Bay Packers), Julio Jones (Atlanta Falcons), Michael Thomas (Drew Brees), and Odell Beckham, Jr. (Cleveland Browns).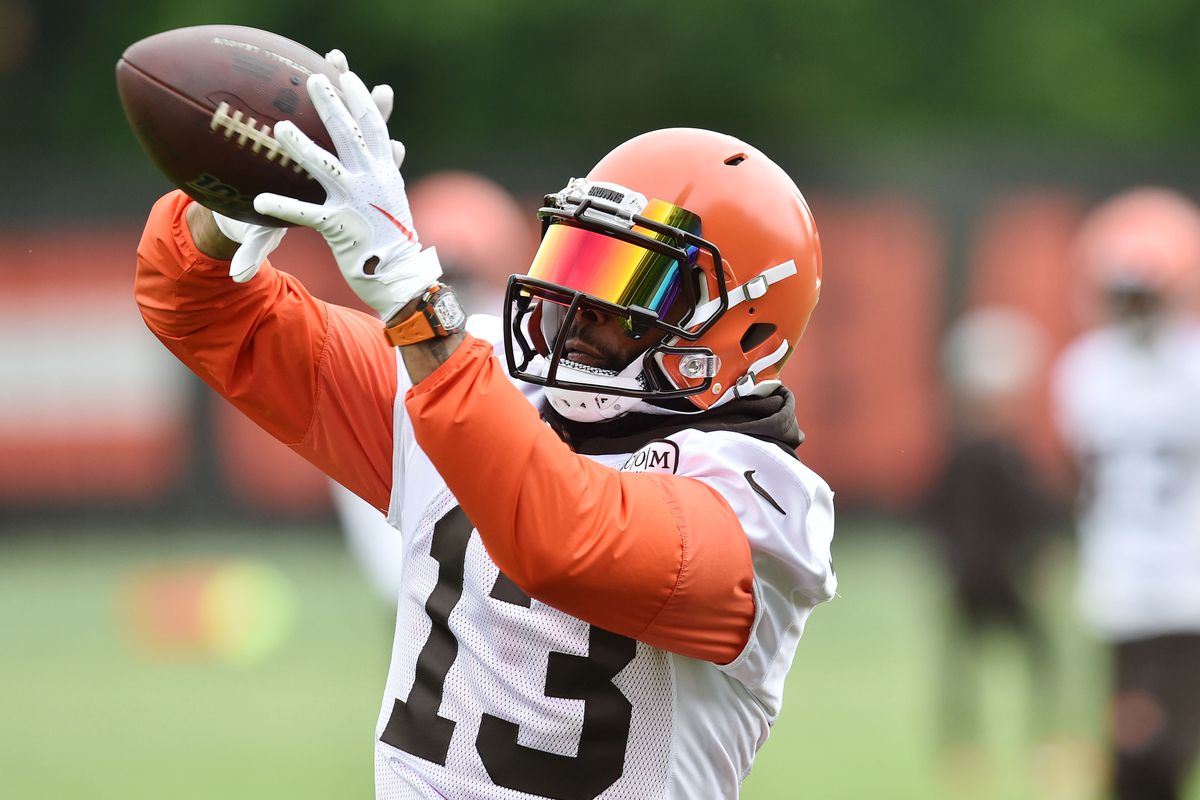 Rounding out the top 10 fantasy football WRs are Antonio Brown (Oakland Raiders), Tyreek Hill (Kansas City Chiefs), Adam Thielen (Minnesota Vikings), Keenan Allen (LA Chargers), and JuJu Smith-Schuster (Pittsburgh Steelers).
2019 FANTASY WR – TOP 10:
DeAndre Hopkins (Houston)
Davante Adams (Green Bay)
Julio Jones (Atlanta)
Michael Thomas (New Orleans)
Odell Beckham Jr. (Cleveland)
Tyreek Hill (Kansas City)
Antonio Brown (Oakland)
Adam Thielen (Minnesota)
Keenan Allen (LA Chargers)
JuJu Smith-Schuster (Pittsburgh)
It's no surprise that many of the top WR in fantasy football are often teamed up with the top fantasy QB in the league (e.g. Patrick Mahomes, Aaron Rodgers, DeShaun Watson, and Drew Brees). Everyone wants to get their hands on superstar Patrick Mahomes. Of course, his top target will be a high pick, which is why Tyreek Hill is ranked among the Top 5 fantasy football WR.
Former teammates in Pittsburgh, JuJu Smith-Schuster and Antonio Brown, find themselves among the Top 10 fantasy wideouts this upcoming season. AB now has Derek Carr throwing to him, but it's his feet that are the big concern.
Meanwhile, JuJu has Big Ben looking for him as his #1 target this season. ODB looks like he's ready for a fantasy football resurgence with a new QB and new home.
Tier 1: DH, DA, JJ, MT, and ODB
With a healthy DeShaun Watson ready to air it out this year, DeAndre Hopkins (11 TD, 115 receptions) looks like a juicy pick at the top of the wideout heap. Hopkins ranked second in the NFL last season with 1,572 receiving yards.
Davante Adams (13 TD, 111 receptions) has become Aaron Rodgers' favorite target. Adams tied for second in the NFL last season with 13 score. So long as both stay healthy, fantasy nerds are thrilled to see Rodgers return to old form.
So long as Matty Ice is still on the field, Julio Jones (8 TD, 113 receptions) will always be a popular pick. The Falcons are not as good as they once were, but Matty Ice and Julio Jones are like peas and carrots.
Drew Brees started out hot last season, but cooled down in home stretch. But it was still impossible to stop Michael Thomas (9 TD, 125 receptions). If Brees was five years younger, Thomas might be at the top of this list. Then again, at 40-years old, Brees can still fling it with the best arms in the league. Thomas led the NFL with 125 catches last season.
Odell Beckham Jr. (6 TD, 77 receptions) wore out his welcome in New Jersey. At least he didn't get whacked by someone from the DiMeo crew. The Giants shipped ODB to the Cleveland Browns and they might've done him a huge favor. So long as ODB keeps his head on straight, Baker Mayfield lucked out with a tremendous upgrade in the WR spot. Fantasy football owners like this new opportunity for ODB to shine and thrive.
Tier 2: More Than a Thielen
Adam Thielen (9 TD, 113 receptions) started out en fuego last year (9 scores through first 12 games), but then things went off the rails and he went scoreless in December. Let's hope Thielen and Kirk Cousins worked out their logistical issues. On a positive note, the Vikes' offense took several notes from Gary Kubiak, who came on a special advisor to help them tweak the playbook.
Tyreek Hill (12 TD, 87 receptions) is probably the fastest guy in the NFL. If the Chiefs can replicate last year's ridiculous scoring output, then Hill should be the Top 3 overall. Even if Mahomes' numbers dip a but, Hill is still Andy Reid's favorite downfield weapon. Hill scored 12 times on just 87 catches. He also rushed for a touchdown.
Antonio Brown (15 TD, 104 receptions) will go as far as his feet and head take him. How long will it take for AB's feet to heel? And once he puts the helmet issue to rest, which new incident will flare up? It doesn't take much these days to make the media go crazy over anything, but the Oakland Raiders seem to always be on the verge of imploding. Let's hope AB can out up some sick stats before everything blows up. He scored 15 touchdowns in 15 games last season.
Keenan Allen (6 TD, 97 receptions) would get a ton more press if he didn't play on the second pro team in Los Angeles. So long as Philip Rivers can chuck the ball downfield, Allen will always crank out fantasy stats.
JuJu Smith-Schuster (7 TD, 111 receptions) steps into the #1 spot in Pittsburgh. He looked great last season and didn't skip a beat. JuJu's numbers rest upon Big Ben's durability. How many games will he play hurt this season? And how many games will he miss? If this is Big Ben's last season, don't you think he's going to go all out?
Take a peek at our fantasy football coverage including Top 5 QBs, Top Fantasy QB Busts, and Top QB Fantasy Sleepers.