USC backup quarterback Matt Fink came off the bench and led the Trojans to an upset 30-23 victory over the #10 Utah Utes in LA Memorial Stadium on Friday night, after starting QB Keldon Slovis suffered a concussion .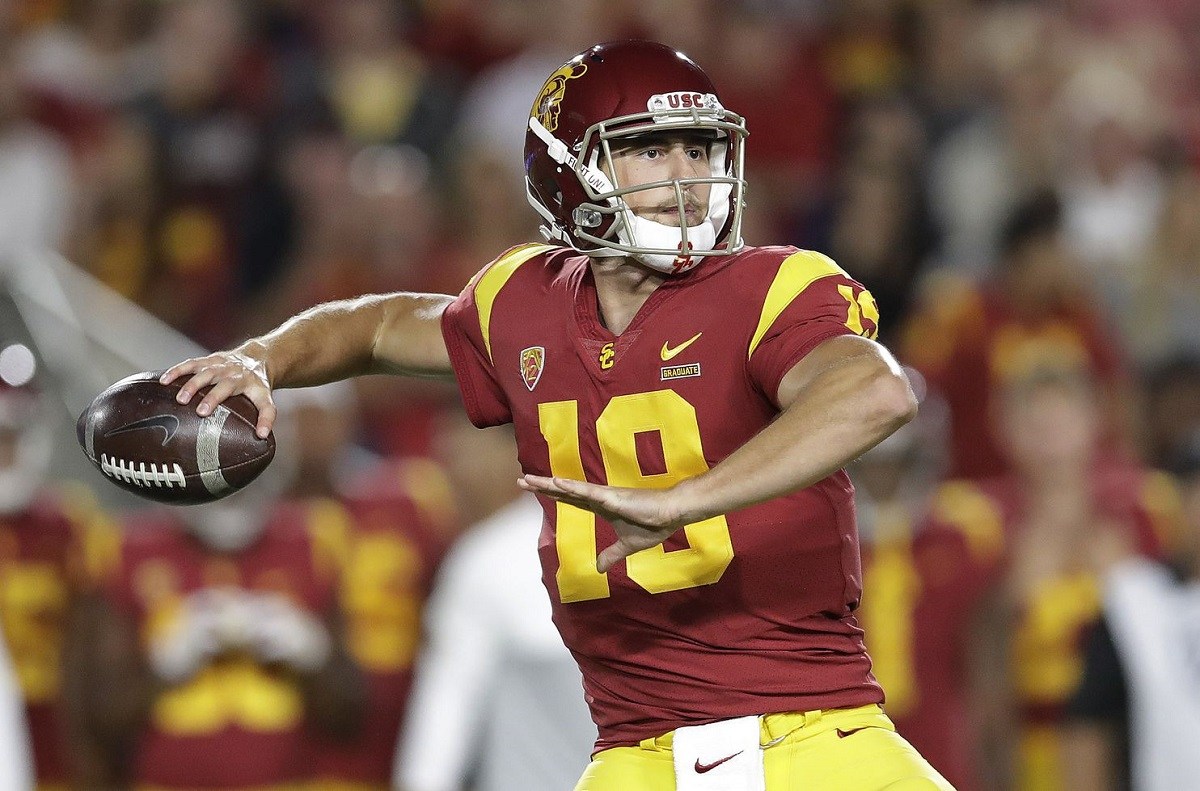 Fink, a redshirt Junior, jumped into action after Slovis got dinged on the second play of the highly anticipated Pac-12 conference game. Head coach Clay Helton pulled a visibly woozy Slovis out of the game.
In relief, Fink threw three touchdowns and finished with 21-of-30 passes for 351 yards in the victory. WR Michael Pittman Jr. hauled in 10 receptions for 232 yards and a touchdown.
USC scored two touchdowns in the first quarter, but only led 14-10 at halftime. The Trojans held off the Utes, and outscored them 16-13 in the second half to secure the victory, and improve to 3-1 on the season. Utah, ranked #10 at the time, fell to 3-1 overall. Utah will most likely tumble out of the Top 10 in the next AP and coaches' poll.
Next man up mentality. 💪 @FinkMattfink steps for @USC_FB and delivers a career-high performance passing for 351 yards and 3️⃣ touchdowns. #Pac12FB pic.twitter.com/Lh6HvDAaTy

— Pac-12 Network (@Pac12Network) September 21, 2019
Next Man Up, Daniels to Slovis to Fink
Fink backed up USC starting QB JT Daniels last season. This season, Fink lost the backup job to freshman Keldon Slovis. In the opening game against Fresno State, Daniels blew out his knee. Helton called Slovis into action, and the freshman impressed everyone with his debut performance, leading the Trojans to a 31-23 victory.
In his second game, and his first as a starter, Slovis threw three touchdowns in an upset 45-20 win over #23 Stanford. However, in a loss against BYU, Slovis looked like a freshman with three interceptions and two sacks.
Slovis was seeking a bounce back game against #10 Utah, but he lasted only two plays before he staggered to the sidelines. The medical staff kept him out of the rest of the game. He returned to the sidelines after halftime, but was spotted wearing ear plugs to reduce the discomfort of a potential concussion.
Transfer Portal or No Portal?
USC was fortunate to have Fink, who logged some minutes last season as Daniels' backup, ready to roll. In the offseason, Helton gave Fink an opportunity to enter the transfer portal and seek a new home, while also allowing him the opportunity to return to SoCal. For many coaches and programs, once you close the door on a program, it's shut for good. In Fink's instance, Illinois courted him heavily, but that was his only option. Instead of starting for one of the bottom feeders in the Big Ten, Fink opted to stay home and close to his family.
"In a world where everybody goes different place, this one stayed for his family," noted coach Helton. "Waiting for his moment, waiting for his memory, and what a memory it was tonight. He's one of the more special people I've ever been around. When his number was called, he made the most of it tonight."
Fink grew up in nearby Rancho Cucamonga. In two seasons as a backup at USC, he threw just one touchdown in six games.
Next week, USC flies up to Seattle to battle #22 Washington. In three weeks, USC heads to South Bend to battle #7 Notre Dame. At least the Trojans have a bye week to prep for the big game against the Fighting Irish.