The John Henry Turf Championship is the perfect race at the perfect place for United — a meeting of opportunity and talent in a setting the standout turf runner should devour.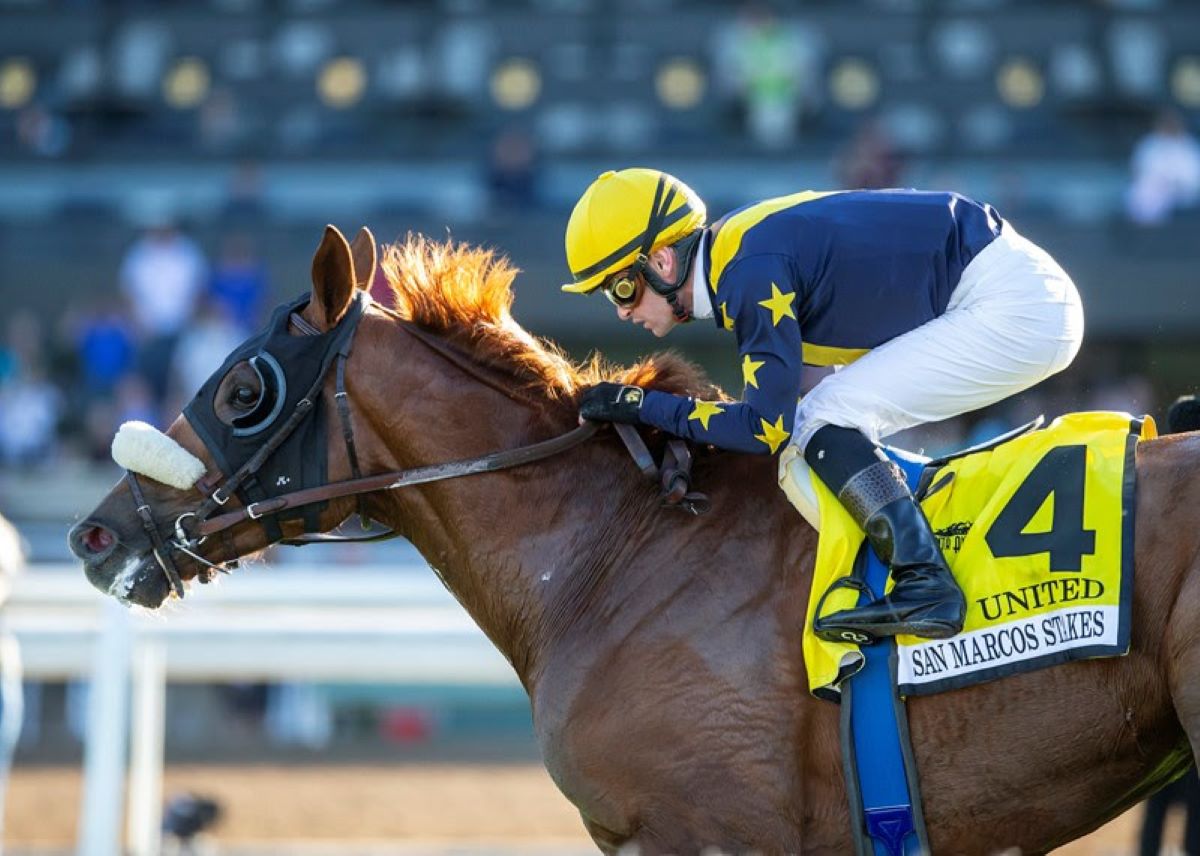 And United has devoured Santa Anita Park. Three of his six career victories came at Santa Anita. Missing on that resume, however, is a championship that – while it doesn't have his name on it – is one the 5-year-old gelding seemingly deserves to win.
That's Sunday's 1 ¼-mile John Henry Turf Championship, one of three stakes races on Sunday's Santa Anita card. The John Henry bears the name of one of the greatest geldings of all time. If United and his fellow geldings had a role model, it would be John Henry. The seven-time Eclipse Award winner earned America's Horse of the Year honors in 1981 and 1984 when he was 9 years old.
That final year of his career, John Henry won six of nine races, including his last four. Four of those six were Grade 1s. John Henry ended his iconic career in 1984 earning more than a quarter-million dollars per start in his final season.
John Henry Occupies Prime Santa Anita Real Estate
Retired at age 9 with 39 victories in 83 starts, John Henry hit the board 63 times in those 83 starts, banking $6,591,860. He's one of only three statues at Santa Anita. Seabiscuit and Zenyatta are the other two.
So this is a race seemingly in United's wheelhouse. But as the 2/1 favorite in the John Henry last year, United finished third, beaten by 1 ¼ lengths despite a 115 Equibase Speed Figure. Five weeks later at Santa Anita, United and his career-best 121 Equibase finished second at 51/1 to Bricks and Mortar in the Breeders' Cup Turf.
A month later at Del Mar, United finished second in the Hollywood Turf Cup, a Grade 2. That prompted murmurs of seconditis in a horse who showed clear and present speed every time he ran. He was just getting beat.
New Year Brought a New Horse
Then, the calendar flipped to 2020. Trainer Richard Mandella, one of the most underrated conditioners on the West Coast, turned the son of the legendary Giant's Causeway loose in the Grade 2 San Marcos Stakes where United prevailed as the 4/5 favorite.
That was all it took. He won his next two stakes races, the Grade 2 Charlie Whittingham at Santa Anita in May, and the Grade 2 Eddie Read at Del Mar in July. In the latter, he turned aside Sharp Samurai, who would later go on to finish second to Maximum Security in the Pacific Classic.
Mandella said after that race he thought seriously about entering United in the Pacific Classic. That, despite the fact United trained on dirt, but never raced on anything but turf. Instead, Mandella called an audible and sent United into the Grade 2 Del Mar Handicap on the Pacific Classic undercard.
Red King Checkmates United With Bold Move
The 1 3/8-mile turf race should have been the perfect place for United and his stretch-running, distance-chewing style. Until it wasn't. Until Umberto Rispoli aboard Red King pulled off a riding coup d'etat, going six-wide around the pack with a half-mile to go. The audacious move literally smashed and grabbed the race away from United, who lost by a head.
Mandella was disappointed, but nonplussed. After all, United is 3-for-4 this year, with a narrow second outlier. He's already banked $400,000 this year, nearly a third of his $1,293,549 career earnings. And United's 105 Equibase from that race was his worst in nine races, or since he clocked a 103 in an April 2019 allowance.
This is a horse for this course and this race.
"We just hope for better luck this time," Mandella told Santa Anita's Ed Golden.