Tiger Woods went to the White House on Monday to receive the Presidential Medal of Freedom. President Donald Trump said after Woods won the Masters in April that he would be awarding the highest civilian honor in the United States.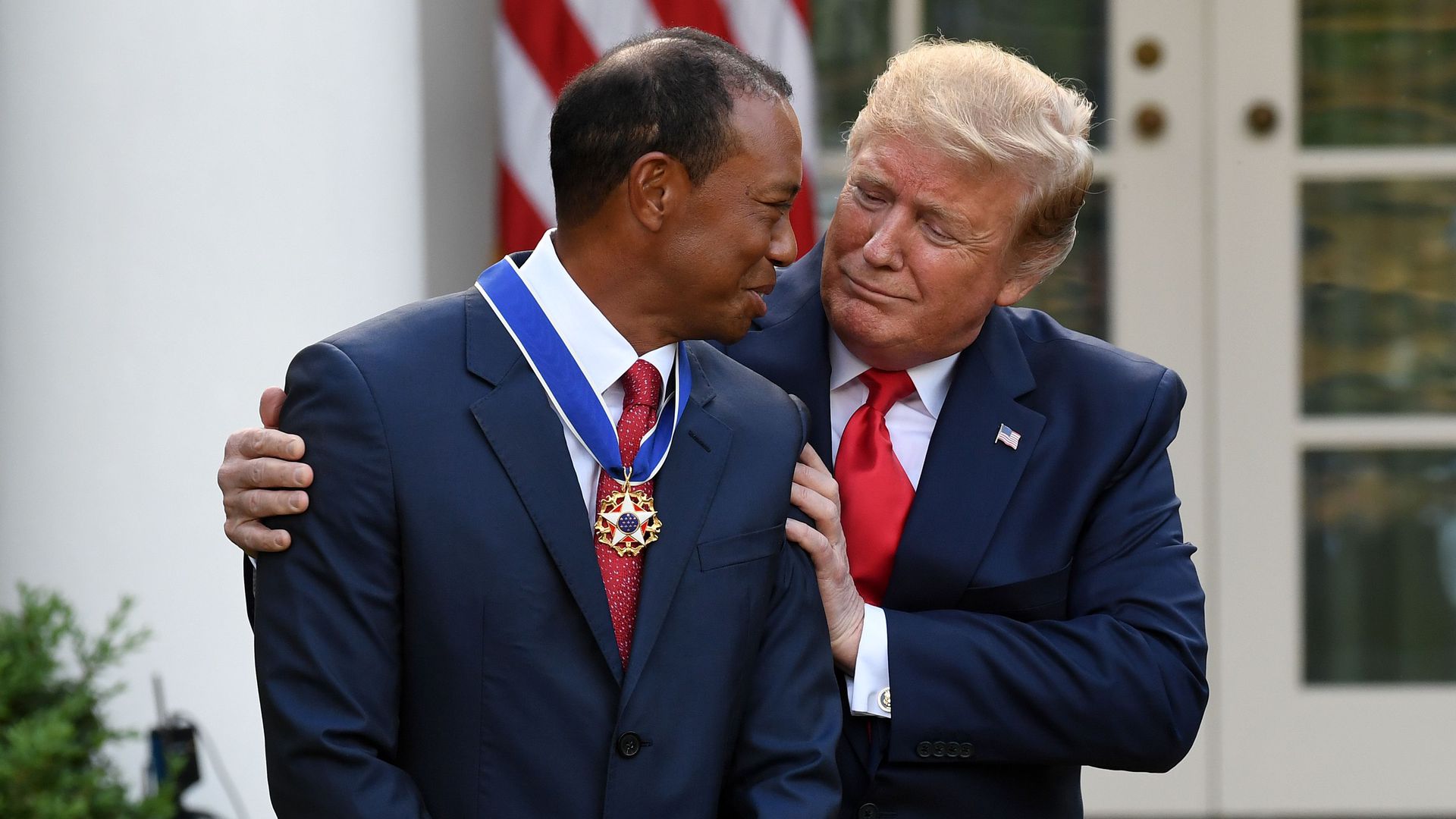 Woods was joined at the ceremony by his mother, Kultida; daughter, Sam Alexis, 11; son, Charlie Axel, 10; and girlfriend, Erica Herman. Woods' caddie Joe LaCava also attended.
Trump honored Woods in a ceremony in the Rose Garden, and said that it was well deserved.
"This evening, we are in the presence of a true legend, an extraordinary athlete who has transformed golf and achieved new levels of dominance," Trump said during the presentation. "He's also a great person. He's a great guy."
Woods became emotional when he spoke at the White House, mentioning those that had supported him, including his father, Earl, who died in 2006.
"You've seen the good and bad, the highs and lows, and I would not be in this position without all of your help," Woods said.
Woods Joins Iconic Golfers
Woods is the fourth golfer to receive the Medal of Freedom. Then-President George W. Bush presented the honor to Arnold Palmer in 2004 and Jack Nicklaus a year later. Then-President Barack Obama gave the award to Charlie Sifford in 2014. Sifford was the first African-American to join the PGA Tour.
Nicklaus posted on Twitter a congratulatory message to the golfer that is chasing his record of 18 major championships.
"Heartfelt congrats to @TigerWoods on receiving the Presidential Medal of Freedom this evening! His impact on golf and his ability to inspire others to play this great game is on par with his incredible talent!" Nicklaus wrote.
In all 29 athletes have received the distinction. Last year Trump named Minnesota Vikings' defensive end Alan Page, Dallas Cowboys' quarterback Roger Staubach, and New York Yankees' slugger Babe Ruth.
Critics Pile on Golfer
President John F. Kennedy established the Presidential Medal of Freedom in 1963, an offshoot of the award originated by President Harry S. Truman in 1945 to honor civilian service during World War II. It was designed to recognize those individuals who have made especially meritorious contributions to the security or national interest of the United States, to world peace, or to cultural and other significant public or private endeavors."
Presidents can designate anyone for the award, but there are those who believe the relationship Woods and Trump have, played a big part in the 43-year-old receiving the honor. Woods and Trump have been friends for years, and have business interests together. Woods designed a golf course for Trump in Dubai, though the facility has yet to open. The two have also played golf together numerous times.
Trump did not acknowledge the business ties, focusing his remarks Monday on Woods' achievements.
"Tiger, we are inspired by everything you've become and attained. The job you've done is incredible," Trump said. "Your spectacular achievements on the golf course, your triumph over physical adversity, and your relentless will to win, win, win. These qualities embody the American spirit of pushing boundaries, defying limits and always striving for greatness."
Woods has defended Trump in the past, most recently telling Yahoo Sports that people should have respect for any president.
"Well, he's the President of the United States," Woods said. "You have to respect the office. No matter who is in the office, you may like, dislike personality or the politics, but we all must respect the office."