Stefanos Tsitsipas will take part in the 2019 Nitto ATP Finals this November after clinching his position in the year-end event with a semifinal run at the Rolex Shanghai Masters.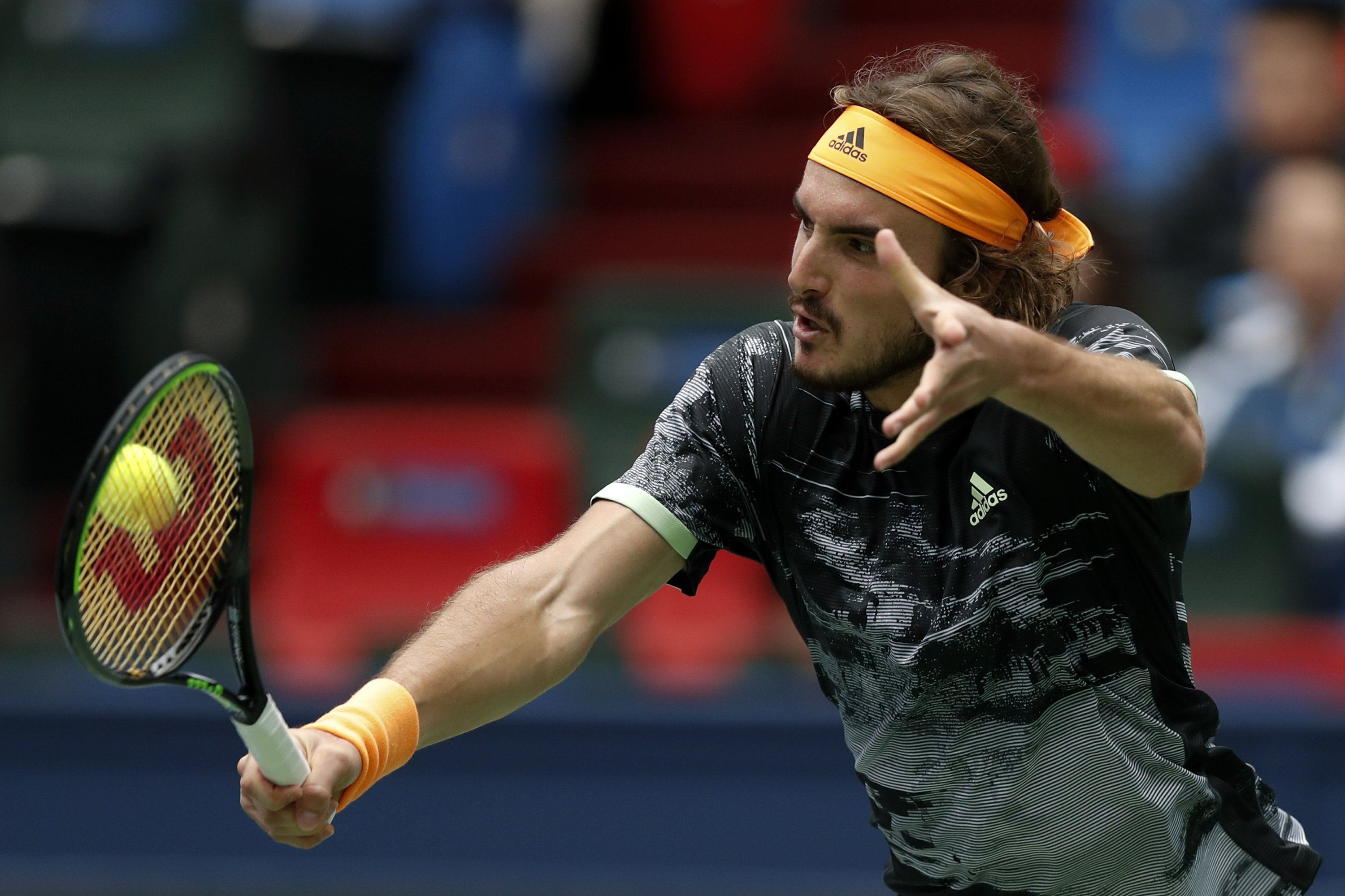 The Greek 21-year-old guaranteed his position in the ATP Finals London on Friday, after he pulled off an upset over world No. 1, Novak Djokovic, to reach the semifinals.
Tsitsipas Earns 'Bucket List' Accomplishment
Tsitsipas came from behind to beat the 16-time Grand Slam winner 3-6, 7-5, 6-3. And though he lost to the red-hot Daniil Medvedev 7-6 (7-5), 7-5 in the semifinal, Tsitsipas did enough to ensure he'd finish in the top eight of the year-end, Nitto ATP Finals standings.
"It's sweet," Tsitsipas told reporters after finding out that he would be playing in the ATP Finals. "It's something that I have been trying to get, and it was in my bucket list from the beginning of the year. So, I'm glad I secured my spot at the Nitto ATP Finals."
Of course, getting a win over an opponent as accomplished and talented as Djokovic was, perhaps, even more important in the moment.
"I played really well and felt in the zone in the second and third set in the rallies we were playing," he said. "I felt my serve was going very well today and I wasn't struggling with it too much. That was an extra boost for me out there. I am really happy that I pulled out a great victory like this."
The result put Tsitsipas at No. 6 in the annual Nitto ATP Finals standings, while he stayed at No. 7 in the official world rankings, which count all events from the past 52 weeks.
Zverev, Berrettini Control Final ATP Finals Positions
The Shanghai Masters final saw Medvedev score a 6-4, 6-1 win over Alexander Zverev. That result moved Medvedev up to third place in the ATP Finals standings ahead of Roger Federer, but also moved Zverev up to seventh place, pushing the 22-year-old German talent closer to clinching his own position in London.
With the points from Shanghai added to the rankings list, the bubble for the ATP Finals London is beginning to stretch a bit, though several players still have a realistic chance of claiming one of the two remaining positions.
---
2019 Nitto ATP Finals Standings (As of Oct. 14)
Rafael Nadal (9,225 points)
Novak Djokovic (7,945)
Daniil Medvedev (5,875)
Roger Federer (5,690)
Dominic Thiem (4,525)
Stefanos Tsitsipas (3,730)
Alexander Zverev (2,855)
Matteo Berrettini (2,525)
Roberto Bautista Agut (2,485)
David Goffin (2,325)
Fabio Fagnini (2,235)
Kei Nishikori (2,180)
Gael Monfils (2,170)
Players in bold have clinched a position in the ATP Finals
---
Zverev is currently sitting in seventh with 2,855 points, while Matteo Berrettini has jumped into eighth position with 2,525 points. That's just 40 points ahead of Roberto Bautista Agut (2,485), with David Goffin (2,325), Fabio Fognini (2,235), and Kei Nishikori (2,180) all close behind.
Fognini is playing this week at the Stockholm Open, while Goffin is in the European Open – both 250-point events. However, the race for the final two spots will likely come down to the two, 500-level events happening next week, as well the Paris Masters in the final week of October, which is the final event before the ATP Finals London.