The massive Bobcat Fire, burning just five miles away from Santa Anita Park, resulted in the Southern California track pushing its opening day back a week to Friday, Sept. 25.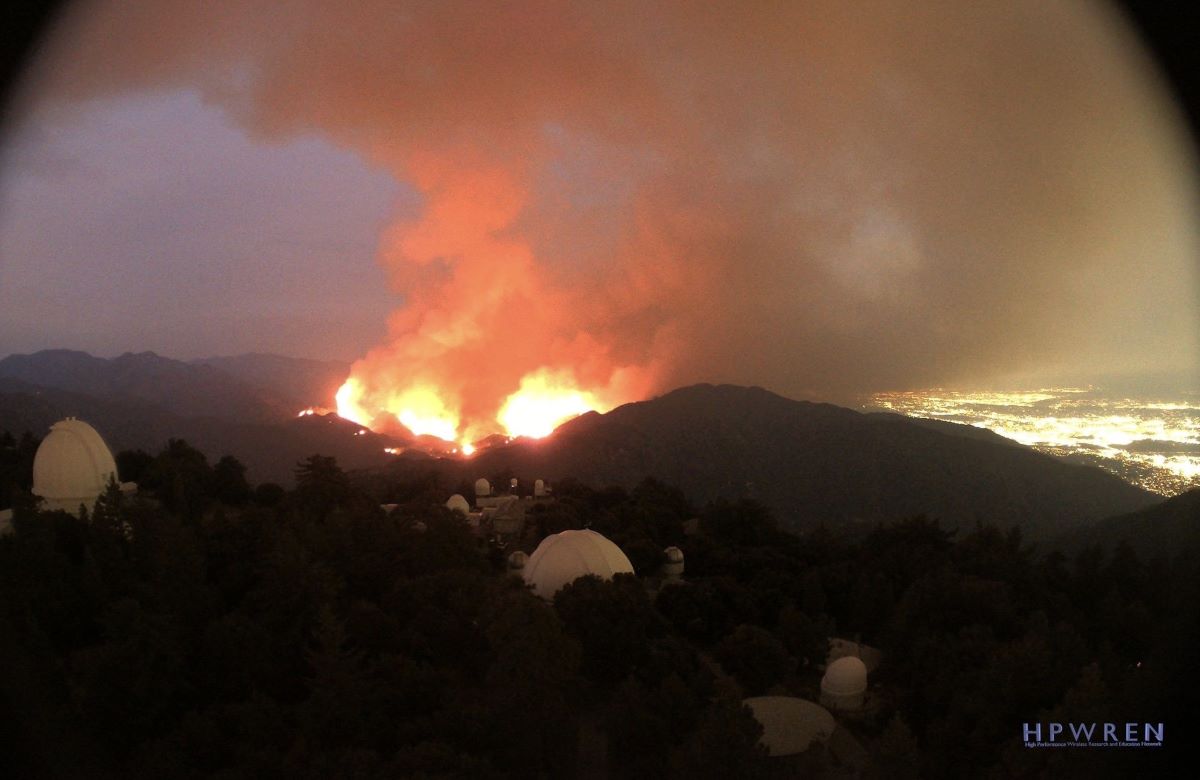 Originally set to open this Friday, a week earlier than usual, Santa Anita returns to its customary last weekend of September opening. It does so because of the bad air quality settling over the San Gabriel foothills, and the impact of the fire on area communities. As of Monday morning, the US Forest Service reported only 6% containment of the fire, which burned more than 57 square miles in the foothill communities northeast of downtown Los Angeles.
Aidan Butler, executive director of California Operations for The Stronach Group, Santa Anita's parent company, said his track opened a Red Cross evacuation center in the Santa Anita grandstand. As of Monday, the fire forced 305 homes to evacuate as nearly 900 firefighters battled the flames and smoke.
"The current weather pattern has kept the smoke in the valley and the air quality is quite poor right now," Butler said in a statement. "The Red Cross is using Santa Anita as the evacuation zone for people – including many of our horsemen – whose homes are less than two miles from here. As excited as we are to welcome back live racing, we are first and foremost committed to safety. This is the responsible decision to make at this time, so people can plan accordingly."
The #RedCrossLA has re-opened its evacuation point at Santa Anita Park – Gate 5 for those affected by the #BobcatFire.

Please come to the evacuation point if you need refuge; every resident will be given safe lodging and food. pic.twitter.com/8MiqTcseez

— Red Cross Los Angeles (@RedCrossLA) September 13, 2020
Bobcat Fire Takes Two Racing Days Away from Santa Anita
That costs Santa Anita two racing days from its original 18-day fall meet. Steve Lym, Santa Anita's vice president of racing and racing secretary, said the stakes races from opening weekend will move to the following weekend. Chief among those is the Speakeasy Stakes, which served as a Breeders' Cup Turf Spring "Win and You're In" qualifier. That's one of seven Breeders' Cup Challenge Event races on Santa Anita's fall slate.
Now, it joins three Grade 1 races on Saturday, Sept. 26, including the Awesome Again, Rodeo Drive, and American Pharoah stakes.
"The smoke has impacted some training schedules, so postponing until next weekend will allow everyone a chance to be ready to go," Lym said. "We are planning on filling extra races throughout the meet to give our horsemen the opportunity to run their horses."
Delays Caused by Heat, Rain and Now, Fire and Smoke
Santa Anita is no stranger to weather-related delays. Several years ago, it canceled racing days due to a Southern California heatwave. Last year, it pushed back the 2019-2020 Winter/Spring opener due to a winter storm that brought torrential rain to the track and snow in the outlying foothills.
Three years ago, the Lilac Fire north of San Diego killed 46 horses and displaced nearly 400 others when flames swept through the San Luis Rey Training Center.
Santa Anita isn't the only California track or Stronach Group property affected by the state's wildfires. Golden Gate Fields in Berkeley canceled racing last Friday, Saturday, and Sunday due to poor air quality. The track tweeted that "conditions have not improved to where it is suitable to have live racing."
Live racing for Sunday, September 13 has been canceled. Conditions have not improved to where it is suitable to have live racing.
The health and safety of all horses and people in our community remains our top priority.

— Golden Gate Fields (@GGFracing) September 13, 2020