The New York Mets are one game out of first place in the National League East thanks to the emergence of rookie first baseman Pete Alonso, who is fourth in the NL with 19 RBI and tied for fourth in the NL with 8 home runs.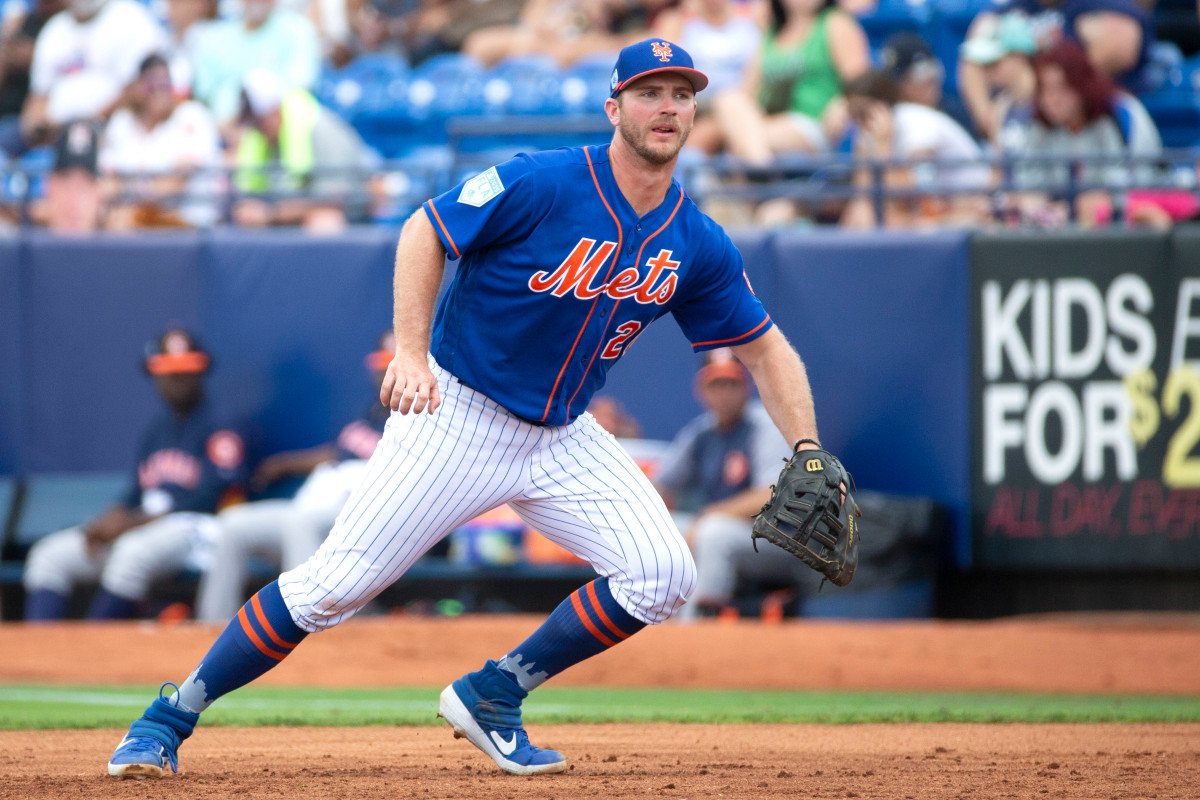 The rookie made the Opening Day roster and he's now hitting .325. Last year, Alonso started in AA Binghampton. He played 65 games in the Eastern League and hit 15 home runs before he got promoted to AAA Las Vegas. In the Pacific Coast League, Alonso played 67 games and hit 21 home runs with 67 RBI.
WHO IS PETE ALONSO?
Birthdate: 12/4/94
Hometown: Tampa, FL
Position: 1B
Bats: Right
Throws: Right
Drafted: 2nd Round 2016 Draft by NY Mets
Alonso came into Spring Training hoping to make the roster. He won the job at first base. He's played in every game of the season with the Mets and made millions of new fans overnight.
Hot Start for Petey-A
Alonso set a new MLB record with at least 11 extra-base hits in his first ten games. Since 1900, no other rookie achieved that feat. Anytime you can do something that no one has done in 120 years is pretty darn special.
Alonso quietly entered the record books and the season had only begun. Now it's 21 games in and everyone in the tri-state arena knows about the new Mets rookie. Fantasy nerds have taken notice of his slash line: .325/.416./727.
"He just grinds out every at-bat," said Mets manager Mickey Callaway said, "If somebody makes a mistake, he just hits it hard."
Alonso bashed eight home runs and drove in 19 RBI to lead the Mets. If it weren't for a sensational start by Christian Yelich and Cody Bellinger, we'd probably be hearing more about Alonso. He's fourth in the NL in RBI and tied for fourth in dingers. The rest of the country is in the dark about him, but they'll soon find out about Alonso's prowess when the Mets come to town.
The Mets are only 11-10, but they're just one game back behind the Atlanta Braves in a hotly-contested NL East. Meanwhile, the Mets are facing a reality where they might have Jacob deGrom out for a while if his elbow does not improve. The Mets ace is currently on the 10-day IL with right elbow soreness.
According to the South Point Casino and Sports Book in Las Vegas, the NY Mets are now 16/1 odds to win the 2019 World Series.