Gary "Kraken" Sanchez, the starting catcher for the New York Yankees, had a disappointing 2018 season hitting .189, while leading the majors with 18 passed balls.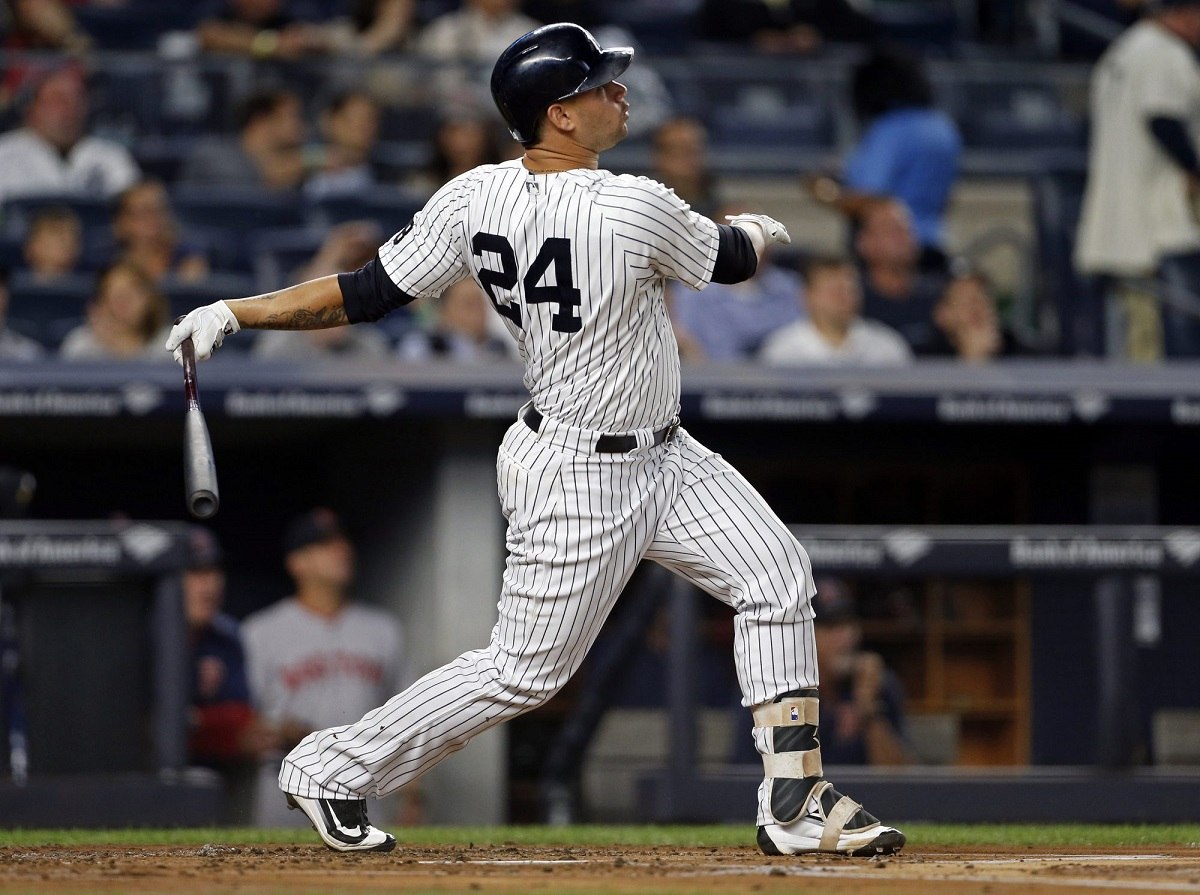 Sanchez missed 73 games last season and played hurt most of the year nursing a sore shoulder. The Yankees hope a healthy Sanchez in 2019 will look more like his former self that was named an All-Star in 2017 when he smacked 33 home runs.
Sanchez, 26, made his MLB debut late in the 2015 season. He is entering his fourth full season as the Yankees catcher. In 2016, he was the runner-up for American League Rookie of the Year.
WHO IS GARY SANCHEZ?
Born: 12/2/1992
Hometown: La Victoria, Dominican Republic
Nickname: Kraken
Number: 24
Position: Catcher
Bats/Throws: Right/Right
Career: .252 AVG, 71 HR, 185 RBI
Honors: 2017 All-Star
Sanchez's best season occurred in 2017 when he hit .278 overall with 33 home runs and 90 RBIs. He made the All-Star team that year and was named a Silver Slugger.
Ugly 2018
The scary thing about the New York Yankees last season is that they won 100 games with Gary Sanchez having his worst year as a professional baseball player. Sanchez's shoulder injuries affected his fielding and hitting. Sanchez's catching has always been suspect, but he didn't help matters with 18 passed balls in only 89 games.
Teams can overlook a subpar defensive catcher so long as they make it up to you at the plate. However, Sanchez hit well-below the so-called Mendoza Line with an anemic .189 batting average. Sure, he hit 18 home runs and drove in 53 RBI, but it's the batting average that make fans cringe.
In 2016, Sanchez almost won the Rookie of the Year with a .299 batting average. He also showed glimpses of his power with 20 home runs and 42 RBIs. In his second season, Sanchez appeared in 122 games. His averaged dipped a bit, but he finished with .278 plus 30 dingers and 90 RBIs.
After an outstanding 2017 season, the Yankees hoped Sanchez would continue to improve in 2018. However, his stats took a nosedive.
Release the Kraken
The Yankees are the team to beat in 2019. The legion of Yankees fans would love to see Kraken hit well above the Mendoza line this year. But if Sanchez returns to anything like the 2017 season, then the Kraken will truly return to terrorize opposing pitchers.
Sanchez's defense will always come under fire. So long as he drives in runs, the team will overlook his defense.
"I don't care about a couple passed balls," said former Yankees pitcher and current announcer David Cone. "It's a small sacrifice to pay on the defensive end, because Sanchez will get the runs back with his bat."
Sanchez's swing looked good in spring training. If the Kraken returns, he definitely has the ability to lead the Yankees in home runs. The bookmakers in Las Vegas listed Giancarolo Stanton at the top of their home run props with 40.5 over/under. Aaron Judge was seventh on list with 35.5 home runs. Sanchez was not even in the Top 30. The Kraken's total is listed at 26.5 home runs.
If Sanchez stays healthy, he should easily surpass 27 home runs. Fangraphs projected that Sanchez will hit .245 with 29 HR and 70 RBI this season.
NY YANKEES TOP 10 CATCHERS
Red Kleinow (1904-1911)
Ed Sweeney (1908-1915)
Wally Schang (1921-1925)
Bill Dickey (1926-1943)
Yogi Berra (1946-1963)
Elston Howard (1955-1967)
Thurman Munson (1969-1979)
Rick Cerone (1980-1984, 1987)
Jorge Posada (1995-2011)
Gary Sanchez (2015-Present)
If the Yankees release the Kraken, he could compete with Stanton and Judge for the overall team home run title. The dangerous trio of Stanton, Judge, and Sanchez should combine for 100+ home runs this year. The Yankees set the single-season home run record in 2018 and that happened with Judge and Sanchez missing significant time due to injuries.
According to the South Point Casino and Sports Book in Las Vegas, the Yankees are the favorite to win the World Series at 9/2 odds.