Kevin Harvick ran away from the field at the Las Vegas Motor Speedway on Sunday, capturing his second straight Monster Energy NASCAR Cup Series victory.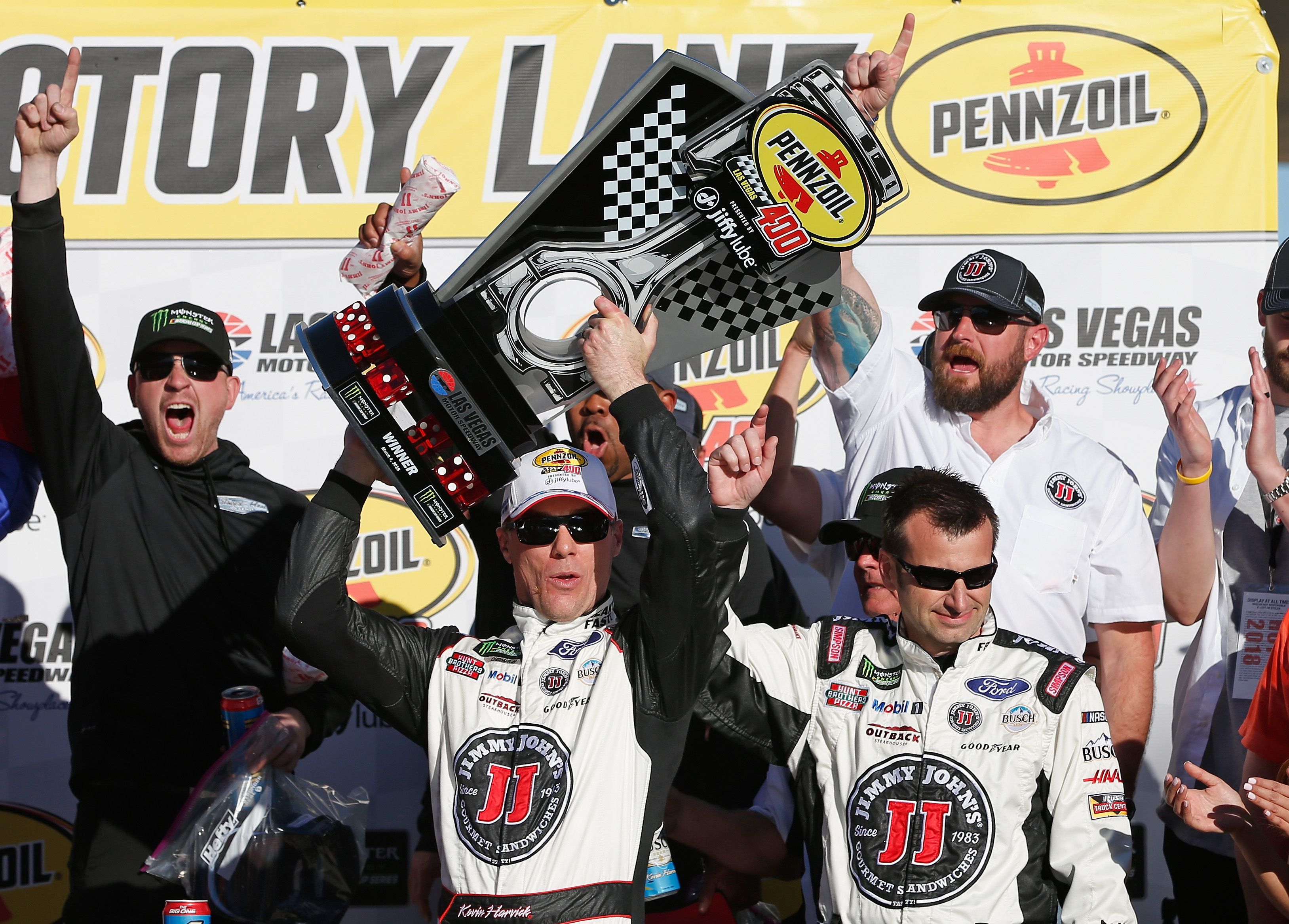 In just the third race of the season, Harvick easily piloted his Stewart-Haas Racing Ford to the win at the Pennzoil 400, finishing 2.9 seconds ahead of Kyle Busch. Not only did Harvick pick up the overall victory, but he won all three stages of the race and led for 214 of the 267 laps, a new track record.
"These last two weeks, we've just hit on everything we needed to," Harvick told ESPN. "My [team has] done their homework on a number of things. Just really proud of everybody."
Adjusted Outcomes
Some of the early season dominance might come from Harvick's team better adjusting to new rules that are in place this year. While bodies were built using templates last year, this season NASCAR is using a camera and projector system to scan the body of each vehicle.
"I don't know if they've picked it up quicker than we have or the rules have benefited their body style more than it did ours," 2017 NASCAR Cup Series champion Martin Truex Jr. told ESPN. "We have to hand it to them: they did their homework and they're really fast and they're doing a good job."
Truex finished fourth at Las Vegas, with Kyle Larson slotting in at third just behind Busch. Larson also won the Xfinity Series race on Saturday. Ryan Blaney rounded out the leaderboard with a fifth place finish.
Harvick's early success could be setting him up for a career best season. The 42-year-old has never won more than five NASCAR Cup Series races in a single season, and only won two last year.
Having won the two races he finished (Harvick crashed in the Daytona 500, finishing 31st), he's almost certain to eclipse last year's total, and he has plenty of time to set a career best. He'll also be one of the favorites in Phoenix next week, where he has won six of the last 11 races on that track.
100 Wins for Harvick
The latest win also marked a milestone for Harvick. It was his 100th career win across the three national series run by NASCAR, a number that only Richard Petty, Kyle Busch and David Pearson had previously reached.
"It's been a lot of years accumulated with a lot of great race teams and people and situations," said Harvick. "When you tag that triple-digit number to it, it really lets you realize that you've been fortunate to accomplish a lot of things."
The hot start by Harvick has put him among the top choices to walk away with the 2018 NASCAR Cup Series championship. While Truex is still a 7/2 favorite at Marathon Bet, Harvick (6/1) has moved up to third choice alongwide Larson (6/1). Kyle Busch is also expected to be a strong contender, with the bookmaker listing him just behind Truex at 4/1.