Reigning NL Cy Young Award winner Jacob deGrom will once again take the mound as the New York Mets' ace for the 2019 season. But as of now, the franchise has yet to offer a long-term deal to its star pitcher, and deGrom says he doesn't know when that might happen.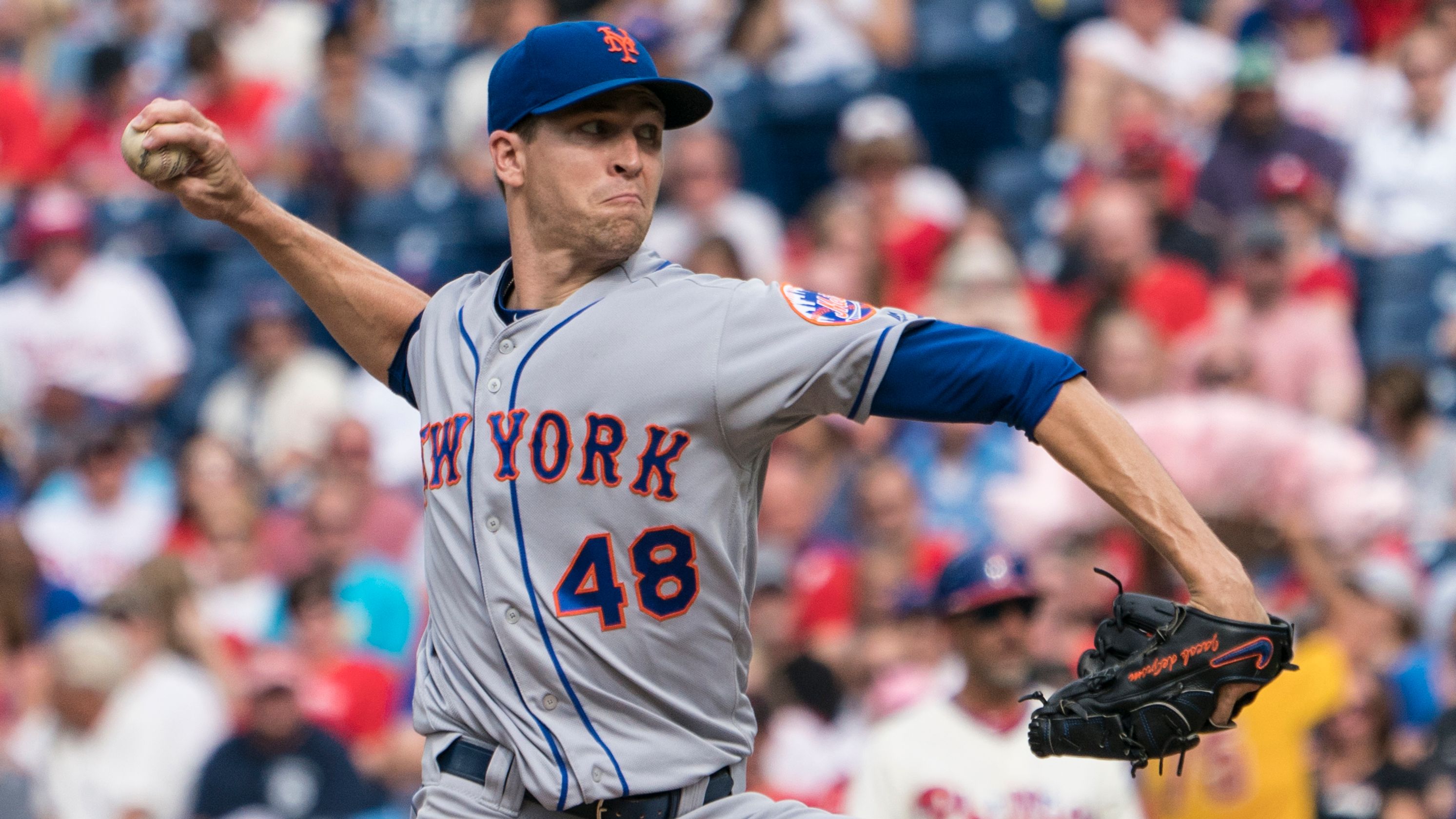 Speaking to reporters on Thursday, deGrom says he has been given no indication as to when or if the Mets will approach him with a contract offer that could keep him with the team for the bulk of his remaining career.
deGrom Wants to Stay in New York
As of now, the 30-year-old starter will make $17 million in the upcoming season, and is under New York's control for 2020 as well.
"I honestly have no clue," deGrom said when he was asked about progress on a potential contract. "There hasn't really been many talks. But that can change in one phone call. I just don't really know."
The situation may not be all that tense, at least at this point. During the Thursday press conference, deGrom repeatedly expressed that he wants to stay in New York for the long haul, though he sometimes seemed to question whether the team feels the same way.
"I would like to be a part of this team's future," deGrom said. "I would like the feeling to be mutual, but that's just something that we're going to have to see."
Van Wagenen Says Talks Will Happen
Mets general manager Brodie Van Wagenen also talked to reporters on Thursday, saying that he planned to talk to deGrom agent Jeff Berry to start working on a deal.
"Everybody knows that Jacob deGrom is great," Van Wagenen told reporters. "Everybody knows that Jacob deGrom deserves to be handsomely rewarded for his performance. We need to make sure that the contract and what we're willing to do is something he's willing to do, and it makes sense for this organization short-term and long-term."
Earlier in the week, multiple media outlets reported that deGrom's team and the Mets had set a deadline of Opening Day for talking about a contract extension in order to avoid any distractions during the regular season.
But if a contract isn't signed by then, it could have some impact on how the pitcher approaches the season.
deGrom Could Limit Work to Protect Value
Berry made waves in December when he sent a memo to MLB players suggesting that they should consider limiting their workloads to protect their value if they were soon to become free agents. That led to talk that DeGrom, who threw 217 innings last year, might want to scale back in the hopes of avoiding injury before what could be his last big payday.
At Thursday's press conference, deGrom acknowledged that his health could be a consideration going forward.
"I'm going to have to sit down with [my agents] and really see what they think is best for me moving forward," deGrom said. "You play this game because you love it, and then you have an opportunity to look out for your family and your future, so I think just you have to see what's right for you to do."
If the Mets hope to contend for a playoff spot in 2019, they'll want to get as much out of deGrom as possible. Last season, he led the majors with a 1.70 ERA and struck out 269 batters, though he finished with a 10-9 record due to poor run support.
If things click for New York, they could be a potential contender in the National League. William Hill lists the Mets as a 22/1 pick to win the World Series in 2019, though having the Braves (14/1), Phillies (16/1) and Nationals (18/1) in the same division will give them a tough road to the postseason.