Denny Hamlin was the third driver, joining Kyle Busch and Brad Keselowski, to win a second NASCAR Cup Series Race when he took the O'Reilly Auto Parts 500 at Texas Motor Speedway on Sunday. Hamlin was a 25/1 pick to win.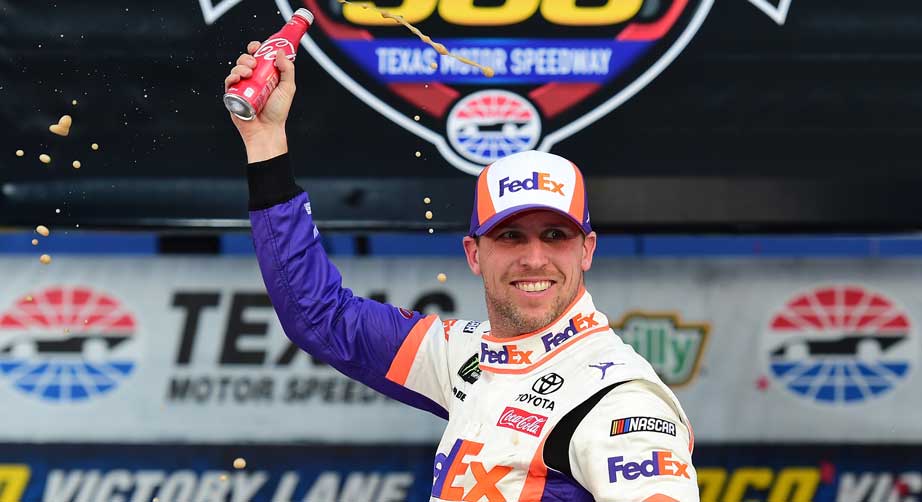 What was so surprising about Hamlin's victory was that he did despite multiple penalties. He got knocked for speeding on Lap 64 and an uncontrolled tire on Lap 173. He also missed pit road under green during a pit cycle in Stage 1 and had a slow pit stop after a tire changer dropped a pit gun. The last time a driver overcame two penalties on pit road and won was Keselowski at Talladega in October 2014.
The 38-year-old credited his Toyota and the Joe Gibbs Racing team for his 33rd career victory.
"Just a fast car … that could really pass anyone in the field," Hamlin said. "That means a lot. It definitely was a different type of race here, trying to draft and everything and trying to get out of everyone's way."
Harvick Struggles Continue
Kevin Harvick's 2019 slump continued, as he finished eighth at Texas Motor Speedway. He has yet to win a race this year.
"Our day was a disaster," Harvick said. "Our car drove terrible and that pretty much sums it up. We're further off than we were last week. We haven't been close to a race-winning car in a race yet."
By this time last year Harvick had three victories, sweeping the West Coast races in Las Vegas, Phoenix, and Fontana. This year he has six top-10 finishes, but has not led a lap since Las Vegas.
Johnson Continues to Improve
Jimmie Johnson's resurgence in 2019 continues, despite not yet winning a Series Cup event. He did win the unofficial Clash at Daytona in January.
The 43-year-old did not win last year, and is trying to break his winless streak. A strong sign was his performance at Texas Motor Speedway. The eight-time Cup champion lead 60 laps of the race. That is 24 more than he had all of last year.
Johnson also posted his third 10 ten. At this point last year, he only had one, a ninth-place finish at Fontana.
Single-Car Qualifying Possible
Drafting during qualifying continues to be a concern, and NASCAR chief racing development officer Steve O'Donnell said on SiriusXM NASCAR channel that every option is being considered, including single-car qualifying.
"We're going to look at every option, including the possibility of going to single-car qualifying," O'Donnell said. "The reason we haven't is that's on the teams. That's parts and pieces. We've tried to be as efficient as possible trying this method of (group) qualifying. But we're definitely going to look at it and see what we can do. We've got a couple of weeks to do that. We'll make adjustments as needed."
Talladega uses single-car qualifying and the next track that could see it is Kansas Speedway for the Kansas 400 on May 11.
This Week's Odds, Pick
The drivers are at Bristol Motor Speedway for the Food City 500. The favorite is Kyle Busch at 5/2, but we like Johnson at 25/1. He has won this race twice, most recently in 2017, and he's finished inside the top-10 in seven of his last nine appearances.