Tight end Hunter Henry incurred another injury bad beat when the LA Chargers TE fractured his left knee in Week 1 during an overtime victory against the Indianapolis Colts.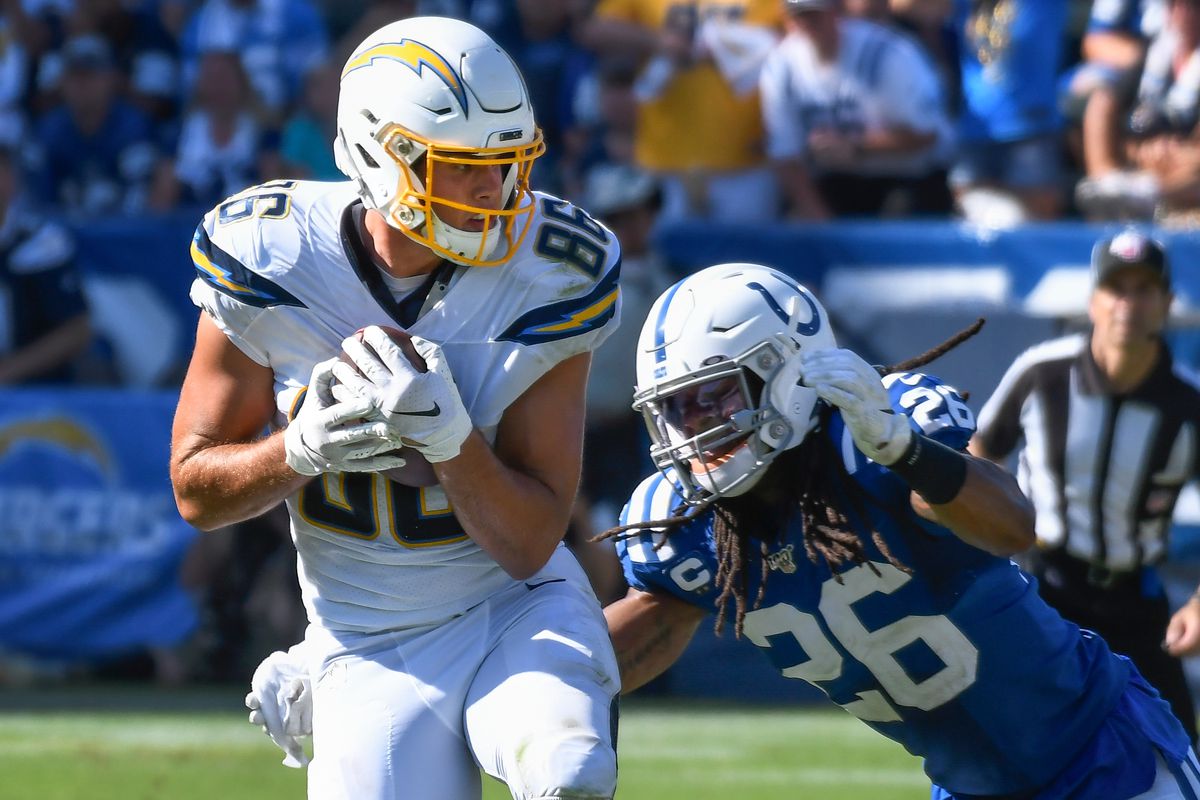 Henry took a big hit to his leg in the second half, but only missed a couple of plays before returning to action. Henry finished the game, which went into overtime.
In Week 1 against the Andrew Luck-less Colts, Henry caught four passes for 60 yards.
WHO IS HUNTER HENRY?
Age: 24
Hometown: Little Rock
College: Arkansas
Position: TE
Draft: 2nd Round, 2016 Draft by San Diego
Henry missed all of the 2018 regular season with a torn ACL injury, but returned to play in a playoff game against the New England Patriots.
After a strong training camp and solid preseason, the LA Chargers were high on Henry this upcoming season. They hoped he would be a formidable force in the passing game along with Keenan Allen and Mike Williams. In his first two seasons (including the final season for the Chargers in San Diego), Henry caught 12 touchdowns and made 81 receptions for over 1,057 yards.
Next Up… Green and Culkin
The NFL is a war of attrition. The next man up in the TE rotation is Virgil Green. Denver selected Green out of Nevada back in the 2011 NFL Draft. Green played tight end for the Broncos for seven seasons, primarily as a back up. He caught four touchdowns with the Broncos in limited action.
Virgil played in all 16 games last season with the Chargers, but he made only 18 catches for 210 yards and one touchdown.
Sean Culkin, a third-year TE out of Missouri, spent last season deep down the depth chart with the Chargers. Culkin made one catch for 24 yards in the only game where he made a contribution. Culkin began the season as the third-string tight end.
With the knee injury sidelining Henry for at least six weeks, Green got promoted to the first string, while Culkin moved up the depth chart as the backup.
Rivers of Trust
With Henry out once again, Green is in, and somewhat familiar with playing alongside Philip Rivers. However, Rivers still doesn't have the same faith in Green that he developed with Henry.
It's difficult to gain the trust of Rivers, but as soon as he knows you won't drop a ball and can make a play, he'll find a way to get the ball to you. While Rivers breaks in a new tight end, this might mean more balls for the wideouts and running backs.
Mike Williams went down with a minor knee injury against the Colts. He's expected to play in Week 2. Keenan Allen is Rivers trusted wideout. Allen hauled in eight catches for 123 yards and a touchdown in the first game of the season.
Running back Austin Ekeler made everyone forget about Mel Gordon's holdout for the moment. Ekeler made fantasy dorks drool last weekend with three touchdowns. He caught six passes for 96 yards and two touchdowns. He also rushed for 58 yards and a touchdown.