Yes, February seems to be rather early to discuss qualifying for November's Breeders' Cup Classic, but Japan's Café Pharoah became the first horse to qualify for the Breeders' Cup's marquee race when he won Sunday's February Stakes at Tokyo Racecourse.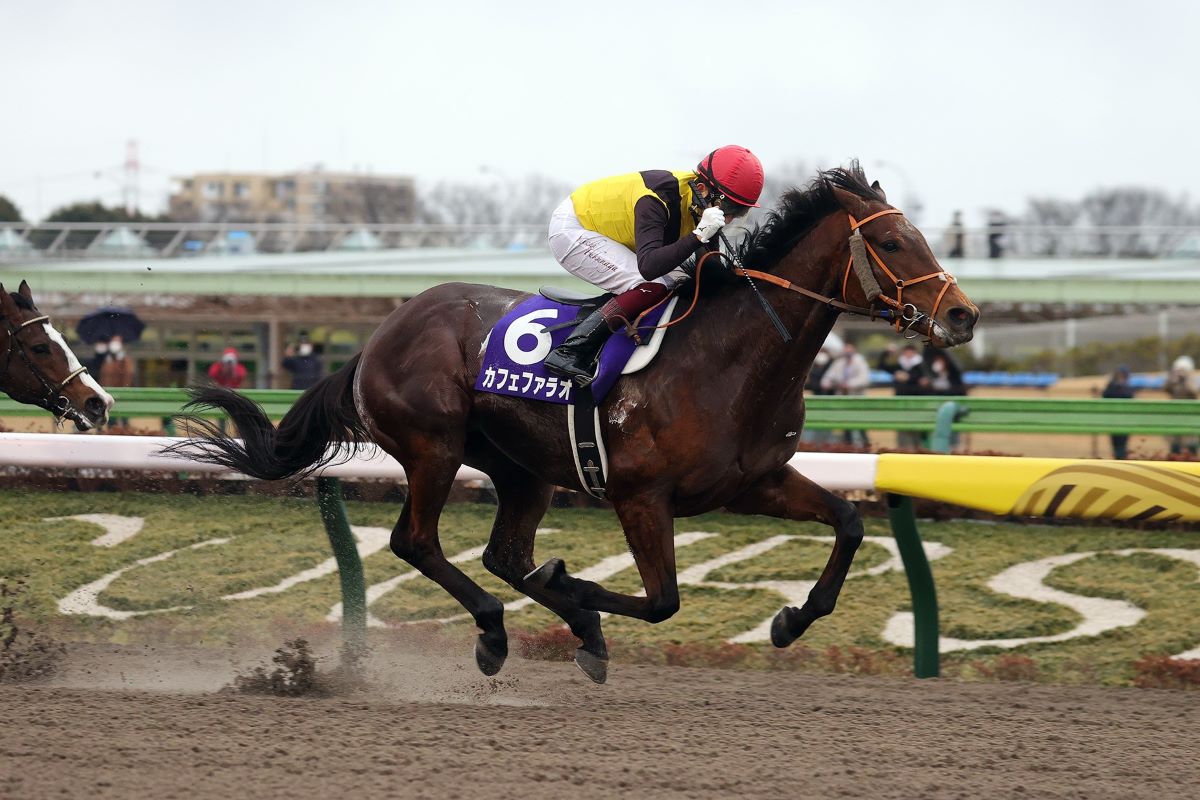 Café Pharoah's defense of his 2021 February Stakes title in this Breeders' Cup Challenge Series race; yes, he won last year's event, gave him an automatic "Win and You're In" berth in the 1 ¼-mile Classic. This year's Breeders' Cup returns to Keeneland Nov 4-5. That track played host in 2020, doing so without fans.
Casual racing fans may recognize Café Pharoah on one front: he's the first son of Triple Crown winner American Pharoah to win a Grade/Group 1 race. His victory in this race last year gave him that distinction.
He won that race by three-quarters of a length. This time, Café Pharoah widened his margin of victory to 2 ½ lengths. Leaving the gate as the 5/1 second choice in the 16-horse field, Café Pharoah hit the final turn of the mile race in sixth. He sling-shotted out of the turn into third, closing on filly Sodashi. After passing her, Café Pharoah reeled in pacesetter T M South Dan with a furlong to go, then pulled away.
Café Pharoah's BC Classic berth comes in record fashion
"Café Pharoah's start wasn't that sharp, but he recovered well and we were able to sit in a good position in third, where he didn't have to bear too much sand in his face," winning jockey Yuichi Fukanaga said after the race. "After that, I just tried to keep him focused, especially after taking over the lead in the final stages."
The victory came in 1:33.8 on a muddy track, a stakes and Tokyo Racecourse record for a mile.
Both Café Pharoah and his jockey engineered comebacks of a sort. Fukanaga injured himself in a Dec. 12 fall in Hong Kong. This was his 33rd Japan Racing Association Group 1 victory. And Café Pharoah broke a three-race losing skid that included an 11th-place finish in the other JRA Group 1 dirt event, December's Champions Cup.
This is a dirt horse for dirt course
Trained by one of Japan's top conditioners, Noriyuki Hori, Café Pharoah picked up his sixth win in 11 starts. He's 4-for-4 in dirt mile races at Tokyo Racecourse.
This victory not only comes with Classic pre-entry and entry fees paid, but with a $40,000 travel allowance. That goes to all starters based outside North American as an incentive to run in the fall classic.
Extra incentive came last November from Marche Lorraine (Distaff) and Loves Only You (Filly and Mare Turf). That Japanese duo became the first two horses from that country to win Breeders' Cup races.