In the latest episode of "Bronx ER", Yankees designated hitter Giancarlo Stanton is injured once again. The slugger suffered a setback with a calf injury after getting hit by a pitch while on a rehab assignment with the Yankees Single-A team Tampa Tarpons.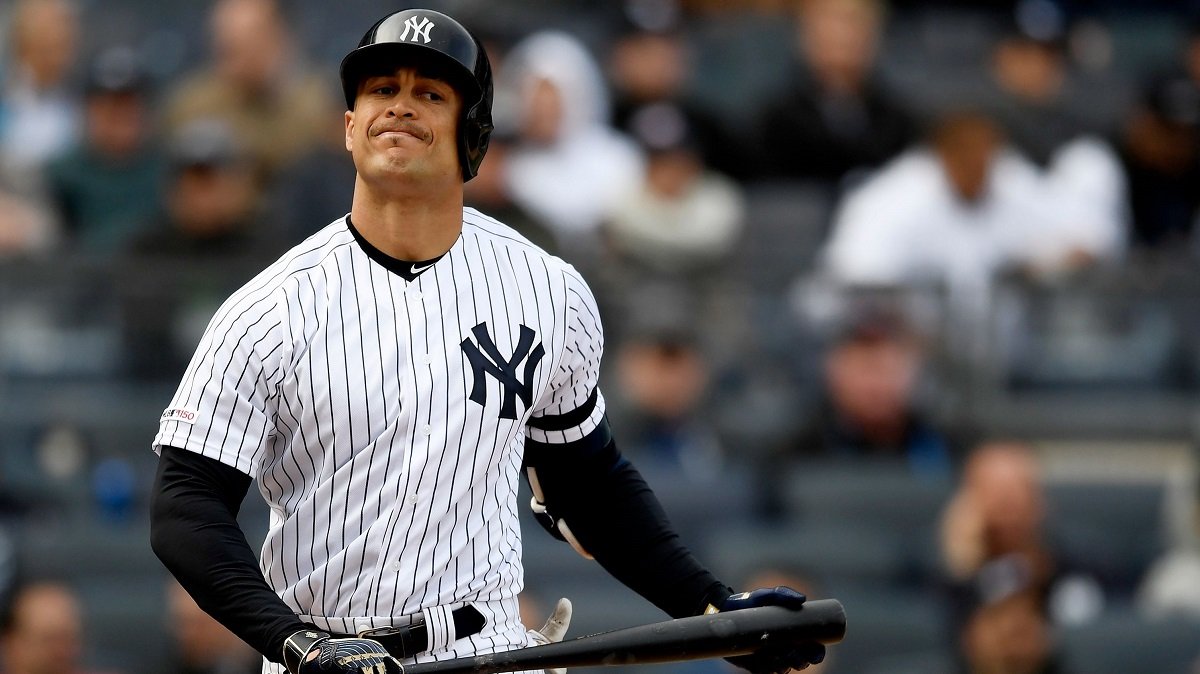 Stanton, 29, injured his calf after he got hit by a pitch during live batting practice. Team doctors said it was a mild calf strain. As a precautionary reason, the Yankees will postpone the rest of Stanton's rehab for 10-15 days while his calf heals.
Stanton is one of 17 unfortunate members of the Yankees who spent time on the IL this season.
"Good news is at least it seems somewhat minor in the grand scheme of things," Boone said. "It's a bump in the toad, but hopefully it's not something that keeps him down very long."
Stanton played in three games this season before the Yankees sent him on the IL with a biceps injury. In three games of action, Stanton hit .250 with zero homer runs and zero RBI in only 8 official at-bats. He drew 8 walks in his limited action.
After Stanton went on the IL in early April, the Yankees got bad news that he also injured his shoulder. It was a separate incident but it required Stanton to remain on the IL longer than his initial diagnosis. Just when it seemed as though Stanton's biceps and shoulder were no longer an issue, he took a errant pitch to his leg. More back luck for the Yankees.
Judge and Stanton: 5 HR
Aaron Judge and Giancarlo Stanton were expected to hit 100 home runs last season. Both fell below expectations after a slow start from Stanton and Judge missing a couple of months with a fractured hand.
Coming into this season, bookmakers lowered their expectations and suggested the power duo of Stanton and Judge would only hit 80 or so home runs. It seemed like a good number considering the 2018 Yankees set the MLB record for home runs in a season.
In 158 games last season, Stanton hit .266 with 38 home runs and 100 RBI in his first full season in pinstripes. In 2017 with the Miami Marlins, Stanton led the majors with 59 home runs and he drove in 132 RBI.
Stanton played just three games before he hit the IL. Judge played 20 games before he injured his left oblique muscle. Judge smacked five home runs before he went on the IL. In 2019, Stanton and Judge combined for just five home runs.
Kraken and Torres
Luckily the Yankees have plenty of other power hitters ready to step up. Luke Voit carried the Yankees for a good part of April. Then the Kraken woke up.
Yankees catcher Gary Sanchez has been on a tear since he returned to the lineup from a stint on the IL. Sanchez has homered in three consecutive games against the Baltimore Orioles and now has 15 home runs. Seven of Sanchez's homers have occurred in six games at Camden Yards. It's always been known as a hitter-friendly park, but the Yankees crushed that advantage.
The Yankees have been feasting on the Orioles this season. The O's have terrible starting pitching, which is the primary reason the Orioles coughed up 100 home runs faster than any other team in MLB history.
Gleyber Torres hit two home runs last night against the O's. He has 12 on the season, and 10 of them were against Baltimore.
Despite the lack of the Yankees top power hitters, the Yankees hit 78 home runs through 48 games with 17 different players going yard. Sanchez leads the team with 15 dingers, followed by Torres (12), Voit (8), Clint Frazier (8), Brett Gardner (7), and Aaron Judge (5).