Quantity is likely to exceed quality Saturday in the 2019 Pacific Classic Saturday at Del Mar.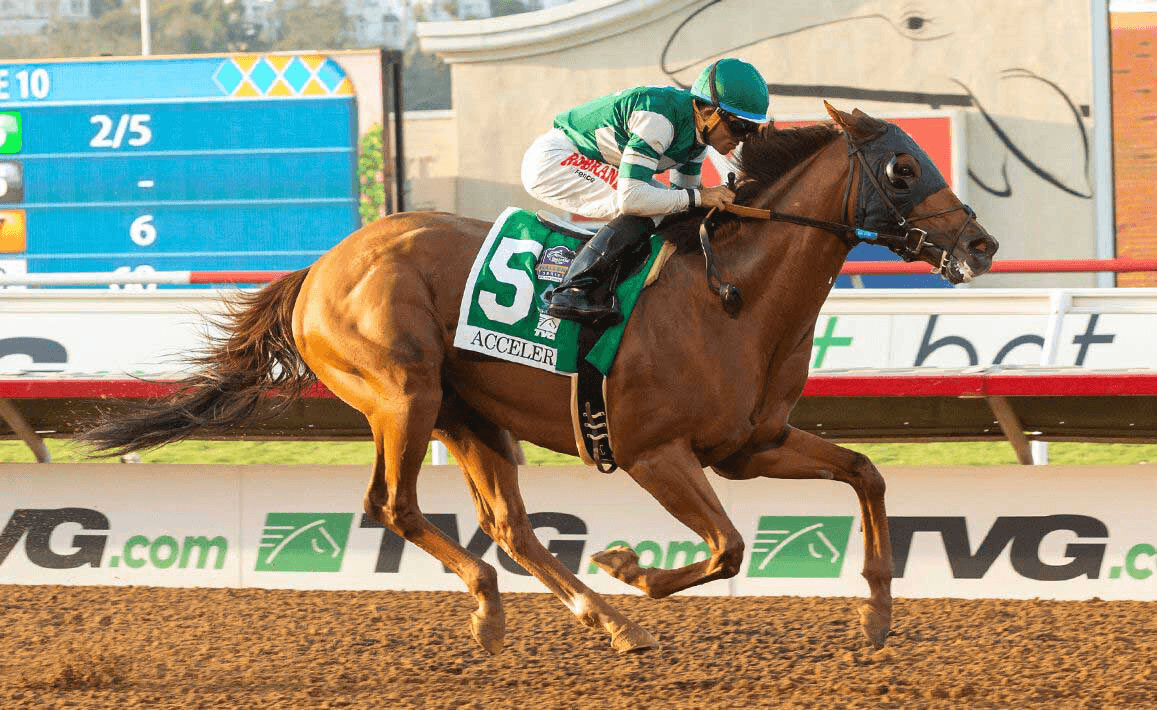 Ten are entered this year, and if they all make the gate, the summer showcase race at the Northern San Diego track will boast its largest field in six years. The 2013 Pacific Classic had 12 starters in a race won by Game On Dude, but since then the field has dwindled, with the previous two years featuring only seven runners.
Last year, Accelerate, from John Sadler's barn, scared off most of the competition. As expected, the runner-up to Triple Crown winner Justify as Horse of the Year, impressively throttled the six taking a shot against him.
Fans will not be seeing the nation's top older horse McKinzie, the Bob Baffert trainee who won the winner of the Whitney Stakes two week ago at Saratoga. Also among the missing are John Sadler's Gift Box and Catalina Cruiser. Gift Box, victorious over McKinzie by a whisker in the Santa Anita Handicap in April, is reportedly not currently in tip-top condition.
Catalina Cruiser, who did just enough to win the San Diego Handicap at Del Mar in July, is now pointing to shorter, one-turn races, according to Sadler. That could be the $200,000 Pat O'Brien Stakes at Del Mar on Aug. 24 or the $600,000 Forego at Saratoga also Aug. 24 on the Upstate New York track's Travers Stakes undercard. Both go at seven furlongs — that's 7/8th of a mile.
Eastern Horses Come West to Fill Out Pacific Classic Field
Four eastern shippers are among the expected starters. They are Quip, Seeking the Soul, Tenfold, and War Story. The locally based candidates are Campaign, Draft Pick, For the Top, Higher Power, Mongolian Groom, and Pavel.
Pavel was one of last year's seven runners. He finished a well-beaten second to Accelerate.
The prospective field this year lacks a standout. Campaign, Quip, Seeking the Soul, Tenfold, and War Story have won graded stakes this year, but not a Grade 1, top-level event. Casual fans may bemoan the absence of McKinzie, Gift Box and Catalina Cruiser. However, bettors are most assuredly excited by a contentious race featuring horses from the barns of top eastern trainers like Steve Asmussen, Dallas Stewart and others. They're heading west to hopefully scoop up the cash and then head home.
Here's how the field stacks up with the early odds, jockey and trainer:
War Story – 8/1 – Tiago Pereira – J. Navarro
Quip – 9/2 – Florent Geroux – R. Brisset
Pavel – 7/2 – Mario Gutierrez – D. O'Neill
For The Top – 12/1 – Martin Garcia – B. Baffert
Seeking the Soul – 3/1 – John Velazquez – D. Stewart
Higher Power – 8/1 – Flavien Pratt – J. Sadler
Tenfold – 8/1 – Mike Smith – S. Asmussen
Campaign – 6/1 – Rafael Bejarano – J. Sadler
Mongolian Groom – 20/1 – Abel Cedillo – E. Ganbat
Draft Pick – 20/1 – Joe Talamo – P. Eurton
The $1 million Pacific Classic is run at 1 1/4 miles on the dirt. The winner receives $600,000 plus a fees-paid berth to the Breeders' Cup Classic at Santa Anita on Nov. 2. It's a Grade 1 race in the system that evaluates and rates stakes races nationally.
Stakes-Laden Undercard Excites Bettors
The Pacific Classic headlines the best day of racing this summer at the Southern California circuit's summer outpost.
Here's a look at the other stakes events in support of the Pacific Classic:
Del Mar Oaks – 1 1/8 mile – Turf — $300,000 – Fillies, Three-year-olds
Del Mar Handicap –1 3/8 mile – Turf –$250,000 – Three-year-olds & up
Green Flash Handicap – 5/8 mile–Turf –$100,000 – Three-year-olds & up
Torrey Pines Stakes – 1 mile – Dirt — $100,000 – Fillies, Three-year-olds
Arlington Million Day hero Chad Brown is expected to have horses joining the festivities at Del Mar. He ships in Cambier Parc and Dogtag for the Del Mar Oaks. Brown is fresh off his bravura performance at Arlington Park where he swept the last four races on the Million Day card including the Beverly D, Secretariat, the Arlington Million and the Pucker Up.