Paysafecard Online Casinos & Sports Betting Sites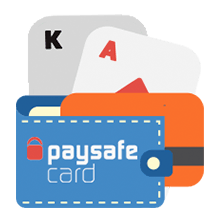 Paysafecard is a fantastic depositing option regularly accepted at online gambling sites, however it has a major difference to the other depositing options – it allows players to fund their gambling accounts using cash. This means that Paysafecard online gambling is not only perfect for those without a bank account, but that it's also ideal for anyone concerned about online security, as you'll never need to enter any banking details online.
How We Rate Casinos, Poker Sites & Sportsbooks
How to Deposit Using Paysafecard

If you want to make a deposit using Paysafecard, the first thing you'll need to do is head to the Paysafecard site and sign up for an account. This is a really quick process, and it is also completely free. You will then need to use the Paysafecard site to locate your closest retailer, before then heading there and buying a Paysafecard voucher using cash or a credit/debit card. Once you have the voucher, you can reveal the code and then enter this code to your Paysafecard account. The money is then automatically added, and you can then spend it at any real money online gambling site that accepts this form of payment.
When it comes to withdrawals, most online gambling sites do not offer Paysafecard as an option, which means that a different method will need to be used. There are a few Paysafecard online gambling sites that do allow withdrawals to be made in this way though, although they are rare. This inability to withdraw using Paysafecard can cause problems for some, especially those who do not have a bank account, so you should consider this before deciding to deposit with Paysafecard.
Paysafecard has a major difference to the other depositing options – it allows players to fund their gambling accounts using cash.
The Advantages and Disadvantages of Using Paysafecard
The biggest advantage of using Paysafecard is pretty clear to see – the fact that you can pay with cash means that you never need to enter your banking details online. While all of our recommended online gambling sites can be trusted completely with these details, some are still unsure about trusting them with this important information, so Paysafecard is the ideal solution. The fact that Paysafecard is pretty much free to use when depositing is also another massive advantage it has over other payment options.
The biggest disadvantage has already been mentioned, and it is the fact that withdrawals generally aren't possible when using Paysafecard. If you don't mind using another withdrawal option, such as credit/debit card, Skrill or Neteller, this shouldn't be a problem though. The inconvenience of having to leave the house and track down a Paysafecard retailer also puts some people off using this depositing option, although this fact can help some to limit the amount they spend at online gambling sites.
Play at a Great Paysafecard Online Gambling Site

Paysafecard really is the perfect choice for those not wanting to share their banking details online, and this is why it has become so popular with players throughout the world. There are loads of different sites that allow you to make deposits using Paysafecard, and we have reviewed many of them here on this site. So, to find the one that is best for you, you just have to read through the reviews and pick the one that best fits your personal requirements. You can completely trust all of the reviews we write, as we are not owned by any online casino.
There are so many good reasons to use Paysafecard, with the biggest being the fact that it is the securest payment method around. You also usually won't have to pay any fees when you deposit using this method, and it's accepted at the majority of online gambling sites throughout the world. So, why not find a great Paysafecard online gambling site today?
Frequently Asked Questions