Some Background on the US Masters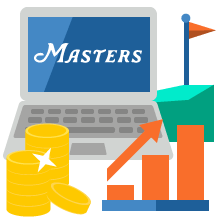 Now familiar to millions of fans and to those enjoying online gambling the US Masters (also known as The Masters Tournament) is one of the four major championships on the PGA Tour. The finest golfers from around the world compete each year for a chance to take home the illustrious Masters title and join the elite of green jacket winners.
The Masters differs from other major tournaments in that the event is held at the same venue each year: Augusta National Golf Club. The site is widely considered to be amongst the best golf courses in the world, and is ranked as the number one course in the United States.
The Masters tournament has been held every year since its inception in 1934 barring 1943-45 during World War II and over its 76-year history has only seen 16 professionals win the tournament on more than one occasion. Only the best players in the world have been able to master the difficult Augusta National Golf Course, with Jack Nicklaus, Arnold Palmer, and Tiger Woods amongst the championship leaders.
With so many people following every inch of the careers of certain players as part of their US Masters online gambling, it should be no surprise to some that Americans dominated The Masters for most of its history. In fact, up until 1980 (after an incredible 43 annual events), only one non-US golfer had ever lifted The Masters trophy. Gary Player holds that honor, with the South African legend winning in 1961, 1974, and 1978. Not until Seve Ballesteros's victory in 1980 did players from every corner of the globe begin to win The Masters.
The Greatest Masters Names of All Time
When you sign up for US Masters online gambling, you'll see the range of tournaments, matches and players you can get odds on. Real money betting on the internet is fast and offers incredble variety on the web, tracking so many players in real time, so you'll have plenty of information to make your bets with when gambling online on US Masters fixtures.
Eight professionals currently occupy the top of The Masters championships leaderboard, with all of them having won at least three tournaments. Nick Faldo, Gary Player, and, since his win in 2010, Phil Mickelson all make up a small portion of that group. However, three golfers surpass even those legendary names. Tiger Woods and Arnold Palmer have four Masters titles to their names, while Jack Nicklaus sits atop them all with an enviable six championship wins at Augusta.
The following is a list of The Masters winners from the past two decades:
2016 - Danny Willett (ENG)
2015 - Jordan Spieth (USA)
2014 - Bubba Watson (USA)
2013 - Adam Scott (AUS)
2012 - Bubba Watson (USA)
2011 - Charles Schwartzel (RSA)
2010 - Phil Mickelson (USA)
2009 - Angel Cabrera (ARG)
2008 - Trevor Immelman (RSA)
2007 - Zach Johnson (USA)
2006 - Phil Mickelson (USA)
2005 - Tiger Woods (USA)
2004 - Phil Mickelson (USA)
2003 - Mike Weir (CAN)
2002 - Tiger Woods (USA)
2001 - Tiger Woods (USA)
2000 - Vijay Singh (FJI)
1999 - Jose Mario Olazabal (ESP)
1998 - Mark O'Meara (USA)
1997 - Tiger Woods (USA)
Betting on the Masters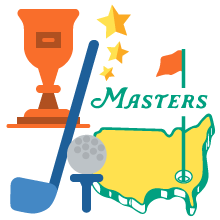 The Masters is the world's most prestigious golfing tournament, and massive hype surrounds it every year. Therefore, you won't be surprised to hear that it is also the tournament that attracts the most amount of online gambling. US Masters real cash bets are wildly varied, although the most popular type of bet is the outright winner, however in this post Tiger Woods era, many different players can win each tournament, meaning that picking an individual is often tough.
Because choosing the winner is so difficult, many now choose to bet on whether a player will finish in the leading 4/5 golfers. This leads to lower odds, however provides a much better chance of seeing a prize at the end.
US Masters online gambling is not only an exciting gambling opportunity, but also a potentially lucrative challenge. If you would like to know more about golf betting online, check our golf gambling guide.
Bonuses for the Masters
Online sportsbooks are desperate for players to choose them when the Masters rolls around, and they try everything to make themselves look attractive to internet gamblers. This is why you'll find loads of great promotions on the web before the Masters starts, which can lead to things such as enhanced odds or even extra money in your account.
Because there are so many new bonuses when the Masters starts, it's important to look around before placing any real money bet, as if you don't you could end up with lower odds, or fail to take advantage of a great offer. Don't worry though, as we'll bring you news of the best US Masters gambling online bonuses right here.