In his first game back since a freak sneaker blowout, Zion Williamson shot a perfect 13-for-13 from the field to score 29 points in a 84-72 victory for Duke over Syracuse in the ACC tournament quarterfinals.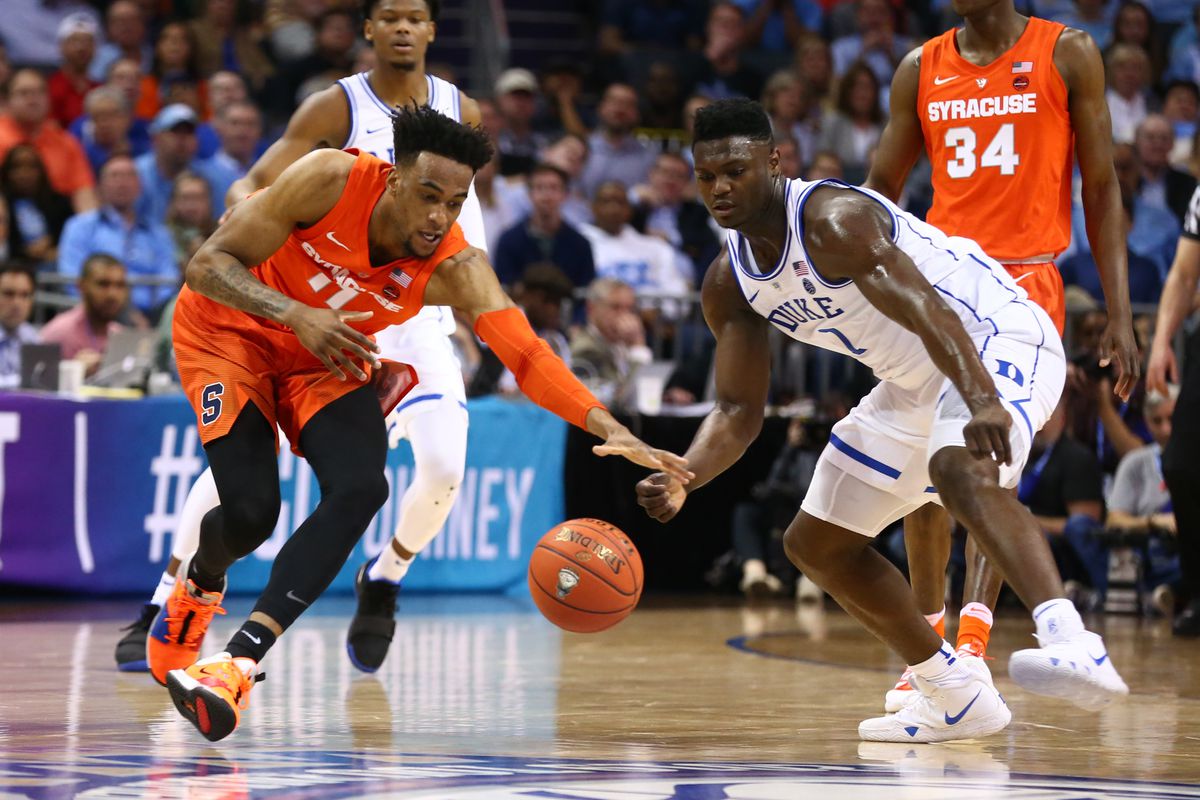 Williamson dropped 21 points in the first half. Overall, he added 15 rebounds, 5 steals, and 2 assists in 36 minutes of action. He missed five starts for Duke since injuring his knee in the opening minute of a huge rivalry game against North Carolina in early February.
"I knew I was ready to come back a couple of days ago," said Williamson. "There was never any pressure to rush back when I wasn't ready. I felt ready a few days ago and it was good to get back."
Including the game Williamson went down, Duke went 3-3 without Zion in the lineup. Even with Zion's health in question, oddsmakers listed Duke as the favorite to win March Madness at 2/1 odds.
2019 ACC Tourney
Virginia won the ACC regular season and they were awarded the #1 seed in the conference tournament. North Carolina finished second and got the #2 seed, while Duke locked up the #3 seed.
With a victory over Syracuse, Duke advanced to the semifinals. Syracuse stunned Duke at home earlier in the season with an overtime upset. Duke struggled against Syracuse's trademark zone defense and shot horribly from three-point range. The Blue Devils shot that so many bricks that night they could've built a new library on campus.
In the quarterfinals against the Orange, Duke struggled from three-point range with a 7-for-23 clip. Cam Reddish, Tre Jones, and RJ Barrett combined for 5-for-20 from downtown. Lucky for Duke, they didn't have to rely on their shooters to win this game.
After all, it was Zion's night. In his first game back to the lineup, Williamson hit his only three-point attempt and he also hit all 12 of his other shots from the floor. Williamson dominated inside the painted and Syracuse could not stop the guy who will probably be the first pick in the 2019 NBA Draft.
Round 3: Duke vs. UNC
Duke faces North Carolina for a third time this season. UNC is going for a tri-sweep. They won the first two games essentially without facing Zion Williamson. In the first meeting after the Zion sneaker blowout, the Tar Heels took advantage of a Zion-less defense and attacked the basket. Senior Luke Maye scored 30 points to lead UNC to a 16-point victory. In the second meeting of the season, Carolina won by nine points on their home court to sweep the regular season series.
Now with Zion back in the lineup, we will be able to see a full Duke squad take on UNC. The oddsmakers listed Duke as a 3-point favorite in this highly-anticipated ACC tournament semifinal.
In the other ACC semifinal game, #12 Florida State faces #2 Virginia. Virginia blew out North Carolina State to advance to the semis. FSU, which holds the #4 seed in the ACC tournament, defeated Virginia Tech 65-63 in overtime. FSU's Terance Mann only scored 10 points, but the senior guard sunk a buzzer beater as time expired in overtime to send the Seminoles to the semifinals. Virginia is currently a 9-point favorite against FSU.