St. John's could not stop Duke's Zion Williamson, who scored 29 points and unleashed several thundering dunks during a 30-point rout 91-61.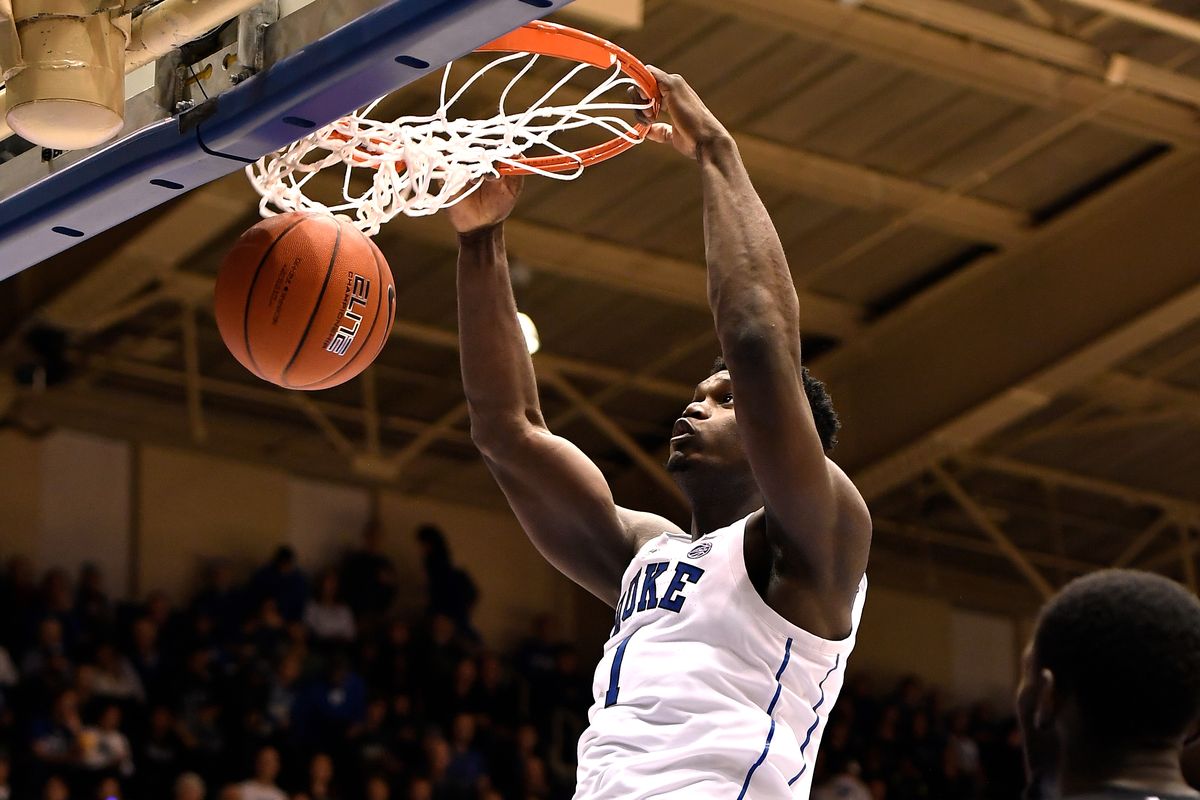 Williamson added six rebounds and five steals. He went 13-for-17 from the field, shooting 76.5 percent from the floor.
Duke improved to 19-2 and won five games in a row since they were upset by Syracuse in overtime. St. John's dropped to 16-6. They are currently in fourth place in the Big East.
Zion 29
Zion Williamson kicked off his career at Duke with a hot start and he's been getting better and better with each game. In his collegiate debut, Williamson scored 28 points in 23 minutes against #2 Kentucky.
Williamson is averaging 22 points and 9.2 assists per game. He scored 25-plus points in ten games this season, which set a freshman record at Duke. Against Syracuse, he set a career-high with 35 points.
Williamson missed only four shots against St. John's. It's hard to miss shots when you're constantly throwing down dunks. As if Williamson didn't need any more fodder to pad his highlight wheel, he entertained the Cameron Crazies with several monstrous dunks.
Ponds Shutdown
Duke's Tre Jones put on an all-around outstanding performance. The freshman guard scored 13 points and added 7 rebounds, 7 assists, and 3 steals. Jones also played amazing defense against St. John's superstar guard Shamorie Ponds. Ponds was coming in hot, scoring 20-plus in seven-straight games, including a 37-point outburst against Georgetown in overtime.
Ponds, a 6-foot-1 shooting guard from Brooklyn, averages nearly 21 points per game and shooting 49.3 percent from the field. Jones and Duke held him to 11 points on 27.3 percent shooting. Ponds went 3-for-11 from the field, including 0-for-3 from three-point land.
Zion at MSG?
In a surprise move, the Knicks traded All-Star center Kristaps Porzingis this week in a seven-player deal with the Dallas Mavericks. The Knicks cleared over $71 million in cap space and will aggressively pursue top free agents such as Kevin Durant, Kyrie Irving, and Kawhi Leonard. Now that the Knicks can afford to pay both Durant and Irving lucrative contracts, will they actually want to play for the dysfunctional Knicks and their not-so-beloved owner James Dolan?
The Knicks are one of the worst teams in the NBA this season. They have a chance at landing the #1 overall pick in the 2019 NBA Draft. Fans in the tri-state area would love to see Zion Williamson join the Knicks. One of the New York City tabloid newspapers ran a photoshopped image on its back cover featuring Kevin Durant, Kyrie Irving, and Williamson wearing a Knicks uniforms.
"It would be dope to play with KD and Kyrie but whatever team drafts me," said Williamson. "I'm going to be ready to play hard and work."
Williamsons has already proven he can live under a microscope, especially in the digital media age. The social media sensation already had over a million followers before he played his first game at Duke.
"Nobody has brought in the exposure that he brought in," said Duke head coach Mike Krzyzewski. "When does that happen? It may never happen, and it's happening for him. And we are such high profile. Everything is looked at closely, and his excellent play is looked at by everybody. And the thing about that kid is, he doesn't want all that attention, and he handles it so well."
On Deck: UVA Looms
This week, Duke hosts Boston College (11-9). With a big game next weekend against #3 Virginia (20-1), the Blue Devils cannot overlook Boston College this week.
Meanwhile, Zion Williamson will continue to have his name in the New York City sports ether with the Knicks tanking for the top pick.