In what could be an early fight-of-the-year candidate, Zhang Weili outlasted Joanna Jedrzejczyk on Saturday to defend her women's strawweight title at UFC 248 in Las Vegas.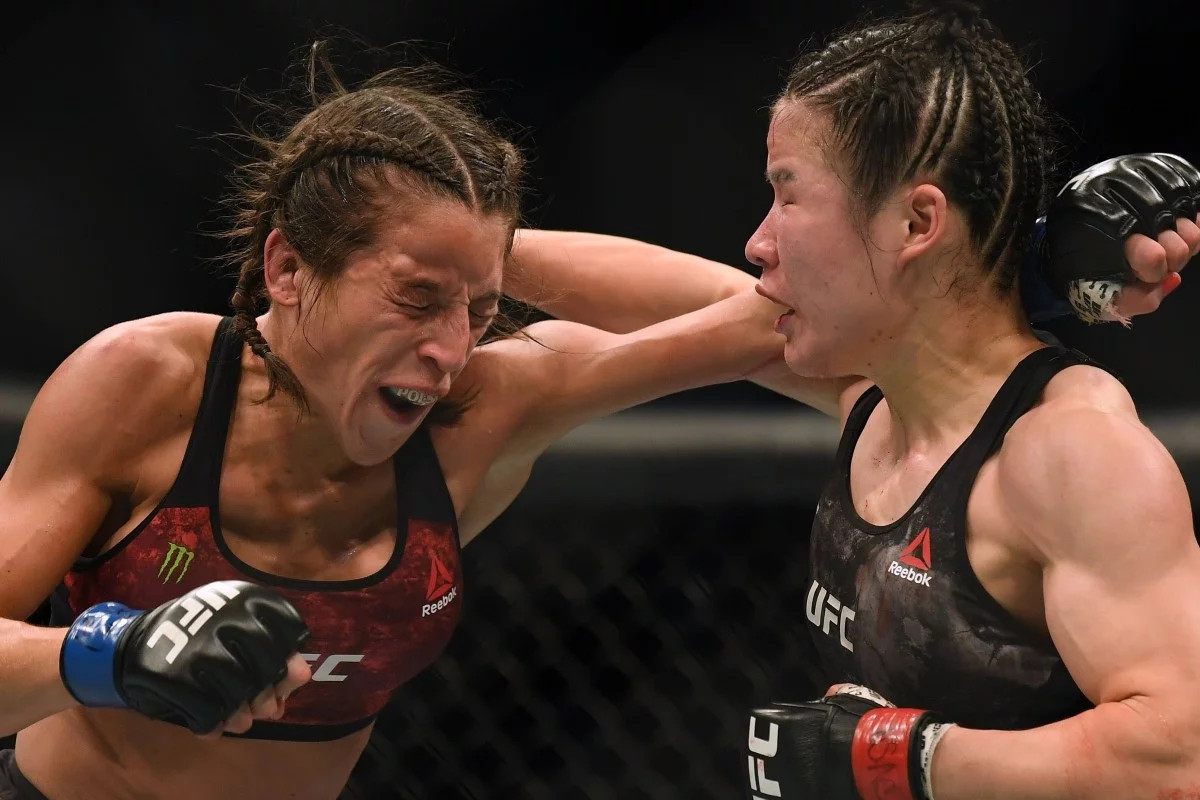 The bout ended in a split decision, with Zhang (21-1) winning 48-47, 48-47, 47-48.
Zhang Earns Praise from Jedrejczyk
Many close decisions result in protests from the losing side. But that wasn't the case here, as Jedrzejczyk (16-4) was quick to praise the winner.
"She did a great job. I felt her punches," Jedrzejczyk said after the fight. "The swelling was bothering me. I felt it more and more, but we're good. Congrats, champ. I'm very happy we gave a good fight."
Zhang was forced to leave China early in her training camp due to the growing coronavirus outbreak. She spent time in Thailand and Abu Dhabi before finally being allowed to enter the United States.
"It was hard with the coronavirus in my country, everybody knows that," Zhang said afterwards. "The coronavirus is getting much better, and I hope everybody stays together and fights together. We can win this."
Adesanya, Romero Combine for Main Event Snoozer
That co-main event appeared to set the stage for an incredible main event on Saturday night. But the middleweight championship bout between Israel Adesanya and Yoel Romero didn't deliver for fans.
Adesanya won the fight by unanimous decision (48-47, 48-47, 49-46) to retain his title, but the bout featured very little activity from either fighter. Romero started out by standing defensively in the middle of the Octagon for the first couple of minutes. Adesanya largely refused to initiate the action, leading to a bizarre standoff.
Adesanya would eventually go to work on Romero's legs, while Romero would counter with the occasional left hand. But the bursts of activity were so limited that the referee even warned the two fighters before the fourth round that they had to do more to provide a worthy championship fight.
"You gotta give the judges something to score."

Referee Dan Miragliotta spoke to Israel Adesanya and Yoel Romero before the start of the fourth round. #UFC248 pic.twitter.com/GO2hVo5NJG

— SportsCenter (@SportsCenter) March 8, 2020
"It's not the fight I wanted to have," Adesanya told reporters afterwards. "I can't force a guy to fight. I can force a guy to make mistakes, which I did by exposing his legs later on. But for me, if a guy stands there for the first two minutes and has his hands up, am I supposed to risk my belt and get clipped by him? That was really bizarre."
Nurmagomedov: McGregor Needs Big Win Before Rematch
Khabib Nurmagomedov (28-0) maintains that he has no interest in fighting a rematch with Conor McGregor. But the UFC lightweight champion's team says that there's a chance a second fight could happen if McGregor proves himself first.
Nurmagomedov's manager, Ali Abdelaziz, says that if McGregor can beat No. 4 contender Justin Gaethje (20-2) – who Abdelaziz also manages – then he might earn another title shot.
"Dana White is the best promoter of all time because he understands fighting and matchmaking," Abdelaziz told ESPN. "The only way Conor McGregor can fight for a title is if he beats someone like Justin Gaethje. If he were to do that, it would be hard to deny him."
Combate Americas Cancels Event Due to Coronavirus Outbreak
Combate Americas cancelled three March events on Monday, including a show scheduled for this Friday in Tucson, Arizona. The promotion also cancelled events scheduled to take place in Mexico City and San Antonio later in the month.
"We put the health and safety of our athletes, fans, and staff above all other considerations," Combate Americas CEO Campbell McLaren said in a statement.
Combate Americas is the first US-based MMA promotion to cancel an event due to coronavirus concerns. Both the UFC and Bellator are moving ahead with all scheduled events for the time being.