Zach Plesac just wanted to rip off his shirt in the Cleveland Indians locker room on Sunday. Now, that decision has landed the starting pitcher on the injured list.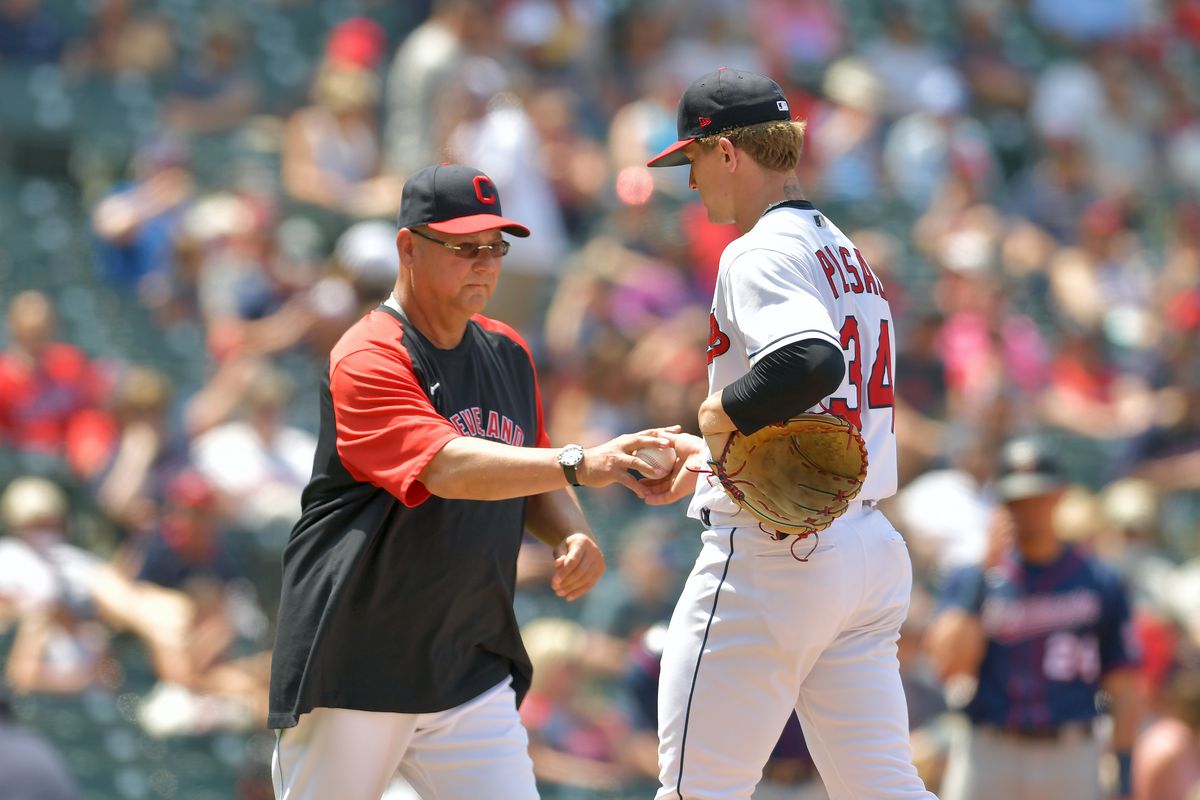 Cleveland manager Terry Francona told reporters on Tuesday that the team was placing Plesac on the IL due to a non-displaced fracture of his right thumb.
Plesac 'aggressively' rips shirt, fractures thumb
On Sunday, Plesac gave up five runs in 3.2 innings against the Minnesota Twins. Afterward, the 26-year-old ripped off his shirt "rather aggressively," according to Francona, and caught his thumb on a chair in the Cleveland locker room. The thumb didn't improve on Monday.
"It was pretty swollen yesterday," Francona said. "As you can imagine, our wheels started to turn."
Plesac underwent an X-ray on Monday, revealing the fracture. He will meet with a hand specialist on Wednesday to learn more about the injury and how much time he might miss.
Plesac is 4-3 with a 4.14 ERA in 10 starts this season.
Harper moves to IL after slump
The Philadelphia Phillies have placed Bryce Harper on the 10-day IL with a bruised left forearm Tuesday after the former NL MVP suffered through a 0-16 slump. Manager Joe Girardi sat Harper for two straight games, saying that he was giving the outfielder a break due to his struggles at the plate.
Girardi now says he was hiding the injury so that opposing teams wouldn't know that Philadelphia was playing with a shortened bench.
Man. The Phillies org should be embarrassed of the way they've handled JT Realmuto, Didi Gregorius, and now Bryce Harper's injury situations.

This is basic roster management here. And Joe Girardi INSISTED Bryce was healthy.

Plain old embarrassing. https://t.co/CI9Kb6Vrpe

— Alex Carr (@AlexCarrMLB) May 25, 2021
"The idea here is to win games," Girardi told The Athletic. "I understand you want to know. But there are distinct advantages that I can give another club if they know everything that's going on over here. So I'm sorry that I had to do that. But we're trying to win games, and he's just not ready to go."
Despite the slump, Harper is hitting .274 with seven homers and 13 RBIs, and an .884 OPS.  The Phillies made Harper's stint on the IL retroactive to Sunday. Harper is a +1500 pick to win the NL MVP Award this year, according to odds posted by FanDuel Sportsbook.
Shoulder tightness shortens Kluber's start
Corey Kluber threw just 58 pitches for the Yankees on Tuesday night, leaving the game after allowing two runs in three innings during New York's 6-2 loss to the Toronto Blue Jays. Kluber was coming off throwing the first no-hitter for any Yankees pitcher since 1999 in his previous start.
Kluber reported that he had trouble getting his right shoulder loose before, and during the game. He says the tightness doesn't resemble the pain he felt when he suffered a shoulder tear last year.
As we await news of Corey Kluber's MRI, here's a clip from @MandMWFAN talking about the Klubot's injury last night. pic.twitter.com/ltpBXJCWV8

— WFAN Sports Radio (@WFAN660) May 26, 2021
"As soon as I got the arm going, it felt kind of heavy, not painful or anything," Kluber told reporters. "I tried to throw a few innings in hopes that the adrenaline would get it going. I just wasn't quite able to."
Kluber hasn't landed on the IR as of yet, but will undergo an MRI and other imaging tests on Wednesday. The 35-year-old is 4-3 with a 3.04 ERA on the year. FanDuel rates Kluber as a +4500 dark horse to win the AL Cy Young Award this season, far behind favorite and teammate Gerrit Cole (+100).