The New York Yankees are looking to trade outfielder Clint Frazier for a starting pitcher before the trade deadline and the latest rumors out of the Big Apple suggest that GM Brian Cashman is eying Marcus Stroman from the Toronto Blue Jays or Zack Wheeler from the NY Mets.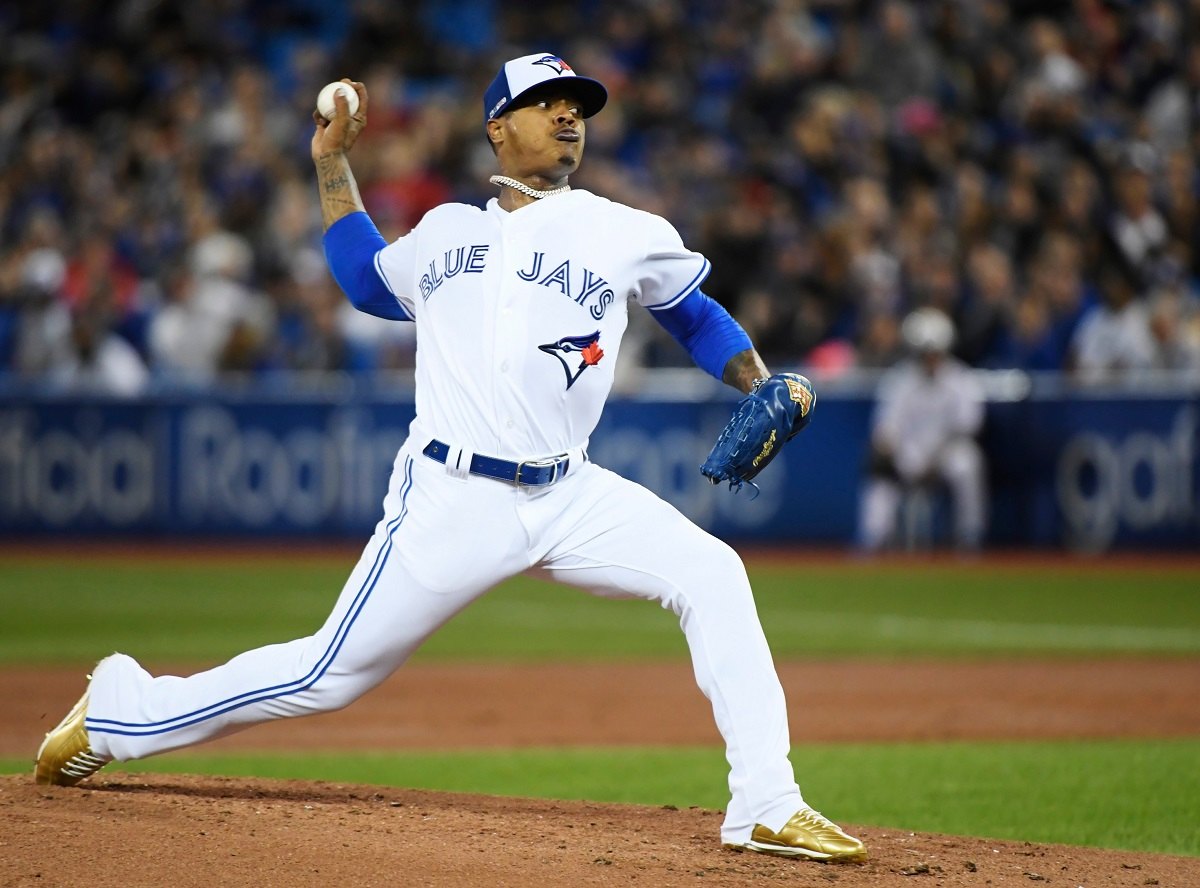 The trade deadline is July 31 and the Yankees have several prospects they could deal including starting pitcher Deivi Garcia, infielder Tyler Wade, infielder Thiaro Estrada, pitcher Chance Adams, pitcher Joe Harvey, and lefty reliever Jonathan Tarpley.
San Francisco's Madison Bumgarner, 29, has been linked to the Yankees for the better part of a year. However, the lefty is always mentioned on potential short lists, yet still remains a member of the Giants. Bumgarner is 5-7 with 121 strikeouts this season on a last place squad. He also has postseason experience (8-3 overall and 2.11 ERA) with three World Series titles. He also has a 4-0 record in the World Series with a blistering 0.25 ERA in 36 innings pitched.
YANKEES TRADE RUMORS – PITCHERS:
Marcus Stroman (Toronto) 5-10, 3.25 ERA, 1.27 WHIP
Zack Wheeler (NY Mets) 6-6, 4.69 ERA, 1.27 WHIP
Noah Syndergaard (NY Mets) 7-4, 4.55 ERA, 1.24 WHIP
Madison Bumgarner (SF Giants) 5-7, 3.86 ERA, 1.21 WHIP
Right after the MLB Draft, the Yankees dangled a lowball offer to unsigned free agent Dallas Keuchel, who signed with the Atlanta Braves instead. Keuchel missed over three months of the season after no teams wanted to pay him his requested salary.
Instead of grabbing a pitcher, Brian Cashman added more firepower to the lineup. The Yanks and Seattle Mariners worked out a trade for DH/1B Edwin Encarnacion. The slugger made the Bronx Bombers even more dangerous, but it left fans uneasy with so many pitchers on the IL including their ace Luis Severino, who went down in Spring Training.
The Yankees struggled with injuries all season with the Bronx ER fully stocked with position players and pitchers. CC Sabathia, James Paxton, Domingo German, and Johnny Lasagna were starters who all spent time on the IL along with Severino.
Marcus, Zack, or Noah in Pinstripes?
The Yanks scouted a couple of pitchers that would love to ditch the dysfunctional Mets and swap boroughs to play for a World Series contender. Noah Syndergaard would be the dream choice, but a long shot. If Mets GM Brodie Van Wagenen decides to cut a deal with Brian Cashman, then it will most likely be Zack Wheeler.
It feels like Noah Syndergaard, 26, is squandering some of the best years of his life in Queens. The long-haired hurler is 7-4 with a 4.55 ERA and 110 whiffs during the tumultuous season.
Zack Wheeler, 29, is 6-6 with a 4.69 ERA in 19 starts. He also struck out 130 in only 119 innings. Wheeler recently went on the 10-day IL with shoulder fatigue, which might have hurt his chances to jump a sinking ship.
Right-handed Marcus Stroman, 28, does not have numbers that jump out of you with a 46-44 career record. He's been relegated to playing north of the border with the Toronto Blue Jays. Stroman has a big book on AL East hitters and can throw six different pitches. This season, Stroman has a 5-10 record and a solid 3.25 ERA in 19 starts. Combined with a better analytics squad and the deep lineup of bashers, Stroman could jump into the Yankees rotation right away and contribute without skipping a beat.
The first place Atlanta Braves and Rocco Baldelli's Minnesota Twins are also interested in Stroman.
Ace in the Pen?
Luis Severino, the Yankees ace from last season, missed the entire season with shoulder problems. He's expected to return to the lineup sometime this summer after multiple delays and setbacks.
However, no one has a idea on how effective Severino will be when he returns to the Bronx. Even if he's healthy, no one can estimate how much rust he'll have to shake off before he can return to last season's form. So long as he's back to normal by the playoffs, none of this really matters.
Aaron Boone could tap Severino as a long reliever and/or spot starter. Boone tinkered with an opener and found success with a Chad Green opening inning followed up by four innings from Nestor Cortes. Perhaps he would consider coupling Green with Severino until Sevy finds his groove.
Domingo German filled in perfectly for Severino… until German injured his hip and tried to hide the injury from the team. After some much-needed rest, German returned to the rotation and looked sharp.
Sabathia has been the weakest of the starters with two stints on the IL. He reached two major milestones this season with 3,000 strikeouts and his 250th victory.
Set-up man Dellin Betances is on the IL with a shoulder problem. The Yanks already have one of the best bullpens in baseball with Adam Ottavino, Zack Britton, Tommy Kahnle, and Aroldis Chapman. If Betances returns and Severino comes out of the bullpen, it makes the pen even more ridiculously dominant.